2010 AMA Motorcross Pala Results
Chaparral Motorsports
|
September 13, 2010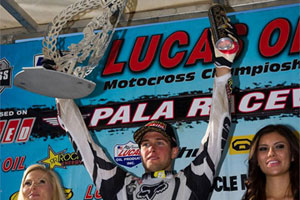 The final round of the Lucas Oil AMA Pro Motocross Championship held at Pala Raceway proved to be a weekend filled with multiple ups and downs. Rockstar Makita Suzuki's Ryan Dungey won both motos and the overall at the final race of the 2010 AMA Pro Motocross series at Pala Raceway in Southern California.

Dungey won 10 overalls this year - nine in a row - with 19 moto wins. That, along with his 2010 AMA Supercross Championship title, makes him the most successful Rookie ever.

Said Dungey: "My team and this group of people have taught me well. I'm fortunate to work with so many great people and now that the season is over, we'll enjoy the Championship and then put our heads down and be tough in preparing for Supercross in January."

Dungey started the day with victory in Moto 1 in which he took over the lead by the third lap and then steadily put time between him and the rest of the field, crossing the line 28 seconds ahead of second place. When the gate dropped on the second moto, he didn't get as-smooth-a start as he would've liked, but he methodically picked off riders and by the midway point of the moto he took over the lead.

"I'm happy I went 1-1 on the day, and I enjoyed the Pala track," Dungey said after the race. "It was tough out there and it took a lot of physical and mental fitness. I prepare for tracks like this, so having a rough race shows the hard work we all put in during the week."
The 250 class championship was finally decided at the first-ever National Motocross held at the newly constructed Pala Raceway.
450 Motocross Pala Results:
1. Ryan Dungey (Suzuki) 1-1
2. Andrew Short (Honda) 3-2
3. Brett Metcalfe (Honda) 2-3
4. Ben Townley (Honda) 6-4
5. Ryan Sipes (Yamaha) 4-6
6. Kyle Chisholm (Yamaha) 9-5
7. Kevin Windham (Honda) 7-8
8. Justin Brayton (Yamaha) 12-7
9. Kyle Regal (Honda) 5-14
10. Nicholas Wey (Kawasaki) 11-9
11. Daniel Reardon (Yamaha) 16-10
12. Ben Evans (Kawasaki) 15-12
13. Michael Byrne (Yamaha) 14-13
14. Mike Alessi (KTM) 8-21
15. Matthew Goerke (Yamaha) 10-40

450 Motocross Championship Points:
1. Ryan Dungey, 543
2. Brett Metcalfe, 398
3. Andrew Short, 393
4. Ben Townley, 324
5. Mike Alessi, 314
6. Kyle Chisholm, 266
7. Josh Grant, 260
8. Ryan Sipes, 244
9. Kyle Regal, 224
10. Nick Wey, 223

250 Motocross Pala Results:
1. Dean Wilson (Kawasaki) 1-1
2. Tyla Rattray (Kawasaki) 2-2
3. Trey Canard (Honda) 4-3
4. Eli Tomac (Honda) 8-4
5. Justin Barcia (Honda) 6-5
6. Cole Seely (Honda) 3-12
7. William Hahn (Honda) 7-7
8. Broc Tickle (Honda) 5-9
9. Martin Davalos (Yamaha) 14-6
10. Les Smith (Honda) 13-11
11. Phillip Nicoletti (KTM) 11-13
12. Austin Howell (Suzuki) 10-14
13. Tommy Weeck (Suzuki) 9-18
14. Gareth Swanepoel (Yamaha) 38-8
15. Topher Ingalls (Yamaha) 15-15

250 Motocross Championship Points:
1. Trey Canard, 474
2. Tyla Rattray, 446
3. Christophe Pourcel, 443
4. Dean Wilson, 437
5. Justin Barcia, 348
6. Eli Tomac, 327
7. Broc Tickle, 287
8. Blake Wharton, 285
9. Martin Davalos, 251
10. Will Hahn, 213