Dirt Bike Motocross Goggle Buyers Guide
Chaparral Motorsports
|
September 7, 2010
Goggles have the important task of protecting your eyes from dust, rocks and other flying trail-riding debris, like roost, bugs branches, you name it, its coming at-cha. Goggles can cost between $20-100. Depending on its function and fashion, it's important to weigh your needs verses your budget to make the right selection. This motorcycle goggle buyer's guide will help you understand how to select a new pair of riding goggles that best suit your riding style.

Finding the Features to Suit Your Riding

The basic determining factors for both style and features in goggles are riding conditions and activity level.

Vision, weight, strength and comfort are the most important features in finding a perfect fit. Vision is the first factor to consider. Find goggles that offer the best peripheral and straight-ahead vision. Try the goggle on with your helmet or a display helmet of the same type you wear while riding. Check the vision on the sides. How about when you look down and forward, does the top of the goggle frame obscure your view? The lens should be optically correct and clear without any distortion even where it curves.

The second critical factor is fit and comfort. The goggle should fit securely against your face. The goggle frame should recess into the eye port of your helmet without obstruction. Avoid stretching or bending the goggle to fit the helmet. The foam should be consistent around your face. Check for pressure points and that the materials used in the foam do not irritate your skin. Just like when checking a helmet for fit, look for pressure points that show up as red spots on your face or head. These will cause headaches over a period of time so take your time to fit your goggles. Try different style frames. If you are having a difficult time finding one that doesn't create pressure points, consider a frame with outrigger straps.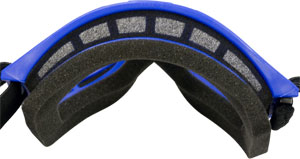 Frame

Frames come in a variety of shapes, styles and structural designs. The goggle frames should be constructed from a flexible material. Most are made from polyurethane Many top of the line goggles include an articulated outrigger strap positioning system. This feature helps to balance pressure distribution of the strap, giving the goggle a better fit. Check for venting or venting systems that increase airflow and keep the lens fog-free.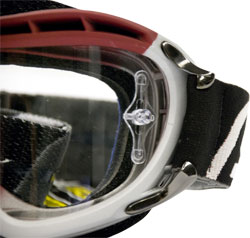 Lens

There is a vast array of lens choices for each brand. MX lenses will be equipped with tear off posts, to mount tear offs. If you race, this is a must so look for goggle that has this feature. Dual-paned lenses work well in cold moist conditions to reduce fogging. These lenses create a thermal barrier. The best and most scratch resistant are made from Lexan. Polycarbonate lens materials are generally the most durable. When making a purchase, look for an anti-scratch or anti-fog coating option. Depending on your riding location or style, different color lenses will help adapt your eyes. To help you make the best selection for the day here is a list:
Clear: Clear lens allow maximum light transmission for all weather conditions, including late afternoon and night riding. Clear lens are also the best choice when riding in bad weather. Grey or Smoke: Grey/Smoke lens reduces glare while maintaining visual clarity in bright conditions. Grey or Smoke gradient: Graduated grey/smoke tint lens relieves fatigue and eye-strain for long rides in direct sunlight. Yellow: This shade often used by competition shooters increases the depth of field and visual clarity in overcast condition with low or flat light. Blue: Blue lens provide visual clarity with increased contrast in most light conditions. Rose/Persimmon/Amber/Verimillion: Light colored lens improved depth perception in all weather, especially in cloudy or bright light conditions. This lens color helps on dusty rides as well. Vermillon (pink) lenses increase contrast in most conditions. This lens with a silver mirror is ideal for most riding conditions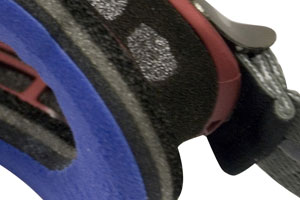 Foam

The number one reason why people need to replace their goggles is foam deterioration. Foam is an equally important factor when making a goggle purchase. Higher end goggles, like Oakley tend to have better foam. Check out the way a goggle's foam is attached to the frame. If it looks slipshod, then it probably won't last very long. Some goggles utilize a multi layer foam system. They'll have firmer foam to spread the compression evenly across the face next to the goggle frame, and softer foam on the outside closer to the face for comfort. Several models even come with a third layer of wicking material that keep sweet in check, thus decreasing the amount of moisture in the goggle cavity, which helps keep fog down. Spy Optic even makes a model that has replaceable foam. Check our the Spy Magneto goggle to see if this goggle meets your riding needs.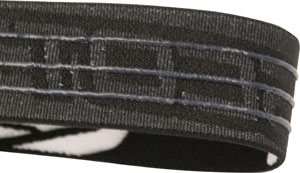 Strap

Straps are made from a heavy woven nylon that is elastic and adjustable. Don't want to look like a Mulley with your strap falling down to the bottom of your helmet in the back? Look for straps with inner silicone beads to reduce slippage on your helmet. Straps have really come a long way from the red white and blue early Scott goggle straps. Now part of the fashion statement, goggle straps come in a huge variety of designs and color explosions.


Accouterments

Tear offs are great to maintain visual acuity in adverse conditions like races, mud runs, and nasty conditions. Just pull, toss and your clear again. Roll offs are a higher tech version and perform the same function as tear offs. A knob advances film for clear clean view. An advantage that the roll off system has over tear-offs is that one roll will provide 23-35 clear views, rather than 10. Tear-offs also can be cumbersome. In an fit of excitement, I have pulled the entire stack off in one pull, leaving me dusty and dirty for the rest of the race. Nose Guards are available for many goggles and give added protection and nose coverage.

Goggle care

Always keep the goggles stored in a goggle bag. This will help to keep your lenses from getting scratched and help extend the life of the foam. When cleaning goggles and lenses, never use household window cleaner. Use water and a very mild soap. Be sure to completely rinse and air dry before storing for long periods of time. Do not leave the goggle in areas of concentrated heat and sunlight, such as on a dashboard or hanging from a rearview mirror in your pickup.

Suggestions for Riding Style

If you race, tear off posts are a must.

If you ride in bright, dusty conditions, proper lens shading to reduce glare and increase visibility is a feature you would need.

For muddy wet conditions, a roll off system will be an accessory you want to consider.

For sandy desert riding, Scott makes the Desert goggle, Oakley and Fox make a Sand goggle that feature specialized vent foam with increased density and a reduction in pore size to reduce dust and sand particle penetration.

If you require a certain look, there is a multitude of goggles to fit the bill, from intense colors to absolutely wild painted designs and vibrant straps.

If you wear corrective eyeglasses you will want a pair of goggles that will accommodate your glasses. Lots to ponder so here are some features you should consider before making a goggle purchase.

Final Suggestions and Tips

When you find the goggles that best work for you, buy several pair. Keep one with a clear lens, one with a smoke lens and one with a rose/persimmon/amber lens. This way you will not have to change out your lens at the track or on the trail and can just swap as necessary