Built For Adventure - 2012 Yamaha Super Ténéré
Chaparral Motorsports
|
September 2, 2010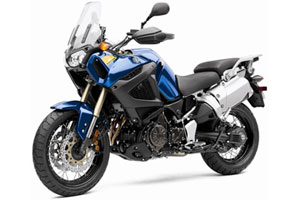 Where the pavement ends the adventure begins for the all new 2012 Super Ténéré. With Paris-Dakar rally heritage, the Super Ténéré allows a rider to experience all the facets motorcycling has to offer. Adept at handling the open road, canyon roads, or unpaved back roads, there probably isn't a place in the world where the Super Ténéré doesn't feel right at home.

The heart of the Super Ténéré is a compact DOHC 1,200cc parallel twin engine with an unusual 270-degree crank whose close firing order gives the engine its power characteristic. The engine is fed by a downdraft twin-bore fuel -injection system utilizing 12-hole injectors.

2012 Yamaha Super Ténéré Specs
Engine
Type: 1199cc, liquid-cooled, 4-stroke 2-cylinder DOHC
Bore x Stroke: 98.0 x 79.5mm
Compression Ratio: 11.0:1
Fuel Delivery: Fuel Injection with YCC-T
Ignition: TCI: Transistor Controlled Ignition
Transmission: Constant mesh, 6-speed
Final Drive: Shaft
Chassis:
Suspension / Front: Telescopic fork, 43mm tube, adjustable preload, compression and rebound damping, 7.48-in travel
Suspension / Rear: Monoshock, adjustable preload and rebound damping, 7.48-in of travel
Brakes / Front: Dual 310mm hydraulic disc, ABS/Unified Brake System
Brakes / Rear: 282mm single disc
Tires / Front: 110/80R 19M/C
Tires / Rear: 150/70R 17M/C
Dimensions:
Length: 88.6 in
Width: 38.6 in
Height: 55.5 in
Seat Height: 33.26 or 34.25 in
Wheelbase: 60.6 in
Rake (Caster Angle): 28.0°
Fuel Capacity: 6.0 gal
Fuel Economy*: N/A
Wet Weight**: 575 lb
Other:
Warranty: 1 Year (Limited Factory Warranty)
The 2012 Super Ténéré incorporates Yamaha's YCC-T ride-by-wire technology which is matched to a traction-control system which regulates ignition timing and fuel injection volume based on rear wheel spin. Three rider-selected modes are available to match conditions and the rider's preference.

Yamaha's D-Mode has two settings: there's T-mode for touring and general riding, giving a softer response, and an S-mode for sporty riding when the rider wants the most performance possible. A dual-axis primary balancer cancels engine vibration for all-day riding comfort.

Power is put to the ground through a six-speed wide-ratio transmission. A clean and reliable shaft drive system transfers the power to a hypoid rear gear to ensure everything is as compact as possible.

The Super Ténéré features a steel frame offering the best balance of strength and flexibility, designed to absorb jolts from uneven road surfaces. The engine is a stressed member of the frame. Locating the crankshaft low and close to the foot pegs lends the bike a light feel, even off road.

The Super Ténéré features ABS and a Unified Brake System (UBS) that work together to help prevent wheel lock during braking. This system operates the front and rear brakes together at the front brake lever, which is helpful when the rider is standing on the pegs. Applying the rear brake first overrides UBS to provide traditional separate front and rear brake control. Front and rear hydraulic discs are both wave-type for great performance on or off road.

Fully adjustable suspension is fitted on both front and rear. The 43mm forks have 7.48 inches of travel and feature adjustable preload, compression and rebound damping. The rear shock has an adjustable spring pre-load mechanism operated by the turn of a knob. The rear shock also features rebound-damping adjustment.

With a generous 6-gallon fuel tank, the Super Ténéré allows for long touring with less down time for fill-ups. Because there is no universal size when it comes to motorcycle riders, the Super Ténéré features a variable seat height, with one-inch adjustability.

Grooved foot pegs provide versatility. While the rider is seated, rubber cushions improve comfort. When the rider stands to tackle more technical riding conditions, the rubber compresses, letting the rider's boots contact the metal foot peg surface.

The 2012 Super Ténéré will be available through a Priority Delivery Program at Yamaha dealerships nationwide beginning in September with customers placing advance deposits of $500.00 and deliveries beginning in May of 2011. The Super Tenere has a starting MSRP of $13,900 and will be available in Blue as pictured as well as Raven.

Full information on all Yamaha models can be found at http://www.yamaha-motor.com.

2012 Super Ténéré Priority Delivery Program
The 2012 Super Ténéré is a limited production model.

Here's how to order:
Step 1: Contact Chaparral Motorsports, 800-732-3648, any time between September 1, 2010 through March 31, 2011.
Step 2: Secure your 2012 Super Ténéré by placing a $500 deposit with Chaparral Motorsports.
Step 3: Chaparral Motorsports will notify you when your new 2012 Super Ténéré is ready to pick up.

You will also receive:
Priority Delivery: September 1, 2010 through March 31, 2011. Customer orders will be filled according to the sequence received (i.e., the first orders received will be the first units delivered).
Special Financing Available - 5.99% APR for up to 72 months for Qualified Buyers. See details below.
Special Accessory Packages Available



* Fuel economy estimates are based on US EPA exhaust emission certification data obtained by Yamaha. Your actual mileage will vary depending on road conditions, how you ride and maintain your vehicle, accessories, cargo and operator/passenger weight.
** Wet weight includes the vehicle with all standard equipment and all fluids, including oil, coolant (as applicable) and a full tank of fuel. It does not include the weight of options or accessories. Wet weight is useful in making real-world comparisons with other models.