Honda Unveils 2011 Models
Chaparral Motorsports
|
September 1, 2010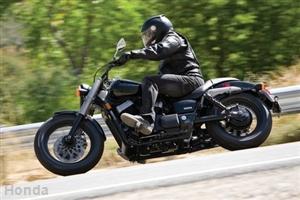 Honda has announced several of its upcoming 2011 models, expected to hit motorcycle stores by December 2010.

The new or revamped models include four cruisers - the Fury, Interstate, and the Shadow RS and Phantom. While the Shadow Phantom offers an understated look and feel, the Fury chopper catches the eye and begs to be ridden. Meanwhile, the Interstate, indicative of its name, is a better bike for cross-country riders who love the open road.

In addition to the cruisers, Honda is bringing back two popular dirt bike models in the CRF80F and CRF100F. These versatile bikes are aimed at beginners new to motorsports, yet still provide enough performance for experienced riders to consider.

"The 2011 model year lineup continues to expand for Honda," said Powersports Press Manager Bill Savino. "Here we have a variety of very popular cruisers and customs, a pair of Honda off-road machines that have remained extremely popular with riders over the years, plus a revamped and very impressive Big Red MUV. Our selection of models for 2011 keeps growing and there will be more to follow."

The company has also announced that 2011 Sabre and Stateline customs will be available at a later date.