UTV Buyer's Guide: Best Buy For Ranch Or Farm
Chaparral Motorsports
|
August 1, 2010
One of the fastest growing segments of the powersports market is the explosion in popularity of the UTV/RTV. Although not really intended to replace your tractor or truck, these four-wheeled rough and tough vehicles can perform many of the same tasks and chores with relative ease and have the added benefit of ATV-like agility. Unlike the traditional ATV, the UTV carries its passengers in a side-by-side manor and is more easily operated by anyone who can drive a vehicle with automatic transmission. UTV's offer greater stability and increased hauling capacity over their all terrain cousin, and riding side-by-side increases the enjoyment for passengers.

Amazingly useful, they're kind of like a microwave oven. Once you get one, you'll wonder how you did it all before without one. It also reminds me of that first time I used a utility tractor and the abrupt realization of how much more work in less time I could get done with it than without it.

A properly equipped UTV can take hands and their tools across a huge ranch, to mend a fence or into rugged backcountry. A UTV can take a couple hunters, their dog and their gear to their remote hunting land. Aside from their utility, Utility vehicles are just plain fun on the trails, at riding parks, or at the sand dunes. UTV's can be harnessed into moving snow, grading earth, pulling mowers and tillers and all manners of hauling. Although the bed of a UTV is much smaller than that of a pickup, it is sufficient for most of the normal jobs around the house, ranch or farm. Some beds can even provide hydraulic power.

Most UTV's are powered by an efficient four-stroke, single or twin cylinder gasoline engine ranging in size from around 300cc to more than 750cc. Since UTV are intended to be driven offroad, four-wheel drive is an option offered on most. The 4X4 option will get you almost anywhere you need to be.

When deciding on which model will suit your needs best, consider what those needs are and write them down. Will you be doing heavy hauling? If yes then bed capacity and towing ability will be a major deciding factor. If you just need to haul a couple of bales of hay to the far end of the corral, then almost any of the models available will work well. Some models offer second row seating if you are moving a larger crew. Features like tilting beds and farm/ranch tool features make them the perfect utility vehicle for the Rancher or farmer.

The Best UTV For You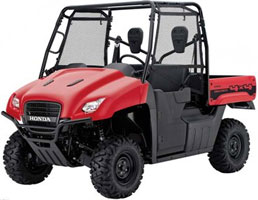 Honda Big Red
There's a simple reason why Honda's Big Red can tackle tough jobs that would have other MUVs yelling uncle. Big Red works the best because it's built the best. Proof? Just check out the features and attention to detail Big Red offers. Proven Honda engine. Automotive-style Honda Automatic Transmission with hydraulic torque converter. Independent suspension, Lots of rider safety features, and best of all, Big Red's even better for 2011, with the addition of a bench-style seat, more cargo bed and towing capacity, and new Maxxis Big Horn tires. When you've got a tough job - or just rugged country to explore - you need an MUV that's big on features: Honda's Big Red.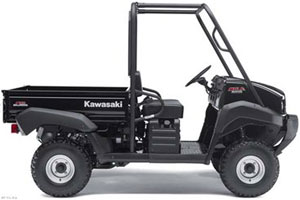 Kawasaki Mule 4010 4x4
When hills, mud, gravel and other natural obstacles get in the way of a job that just has to get done, four-wheel drive is the key feature in your utility vehicle's repertoire. And when it comes to four-wheel drive utility vehicles, Kawasaki's 2011 Mule 4010 4x4 is a standout performer. The Mule 4010 4x4 offers a dizzying array of features, including a full-sized chassis, selectable four-wheel drive system, reliable digital fuel injection, Electric Power Steering (EPS) system, fully automatic transmission, locking rear differential, a tilting cargo bed and much more.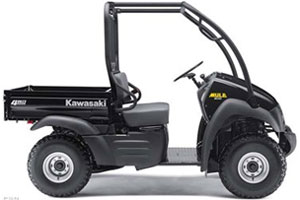 Kawasaki Mule 610 4x4
Think of Kawasaki's Mule 610 4x4 utility vehicle as a standard Mule 600 with a large dose of extra functional punch: selectable four-wheel drive. The added traction of four-wheel drive, combined with the 610 4x4's go-anywhere personality, make it a true workhorse on the job or at play, and one that costs far less to purchase and own than you'd imagine. An added bonus is the Mule 610 4x4's easy transportability, as it fits easily into the bed of a full-sized pickup. This versatility and affordability make the 610 4x4 a serious bang-for-the-buck utility machine.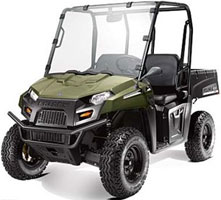 Polaris EV-LSV
Go green with the environmentally friendly Polaris EV-LSV is the most capable electric LSV available. It offers superior performance and all weather capability. This UTV offers a 30 hp 48V high-efficiency AC-inducted electric motor, on-demand True All Wheel Drive, 4 wheel indepenent suspension, 1,000 lbs. (453.6 kg) payload capacity and 1,250 lbs. (681 kg) towing capacity.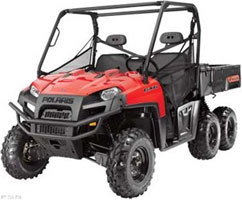 Polaris Ranger 6x6 800
The Polaris RANGER 6x6 800 is built with unmatched traction and capacity. It's the ultimate 6x6 side-by-side for farming, ranching, hunting, contracting and construction work. Key Features are 40 hp 760 cc Twin-Cylinder EFI engine, independent six-wheel suspension, on-Demand True Six-Wheel Drive (6WD) and 2,000 lbs. (907.2 kg) payload / towing capacity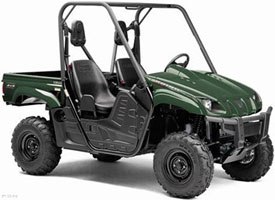 Yamaha Rhino 700 FI Auto
Not only will the Rhino get you almost anywhere, it'll get you there with an amazing high level of comfort and ease, thanks to its powerful engine, Ultramatic transmission and long-travel four-wheel independent suspension. This versatile best-selling side-by-side in America is a great choice for any ranch or farm.