Motorcycle Gloves Buyer's Guide
Chaparral Motorsports
|
February 12, 2010
|
Last Updated: January 16, 2021
An important factor guiding glove designers when building a motorcycle glove is the protection the glove will provide for the specific task asked of it. Comfort and durability are equally important factors. All gloves are designed with these main aspects as a guide, however gloves are then further specialized to meet the needs of the motorcyclist's riding style, additional protection requirements and prevailing weather conditions.
There are three factors buyers should consider when purchasing new motorcycle riding gloves: weather, riding style, and comfort.
Weather
Weather plays a huge role in the function of safety gear. When preparing for a ride, forecasting the weather conditions is usually part of the preparation. Finding a suitable, weather appropriate glove with just the right balance between dexterity, protection and defense against the elements can be a challenge. There are several types of motorcycle gloves with specific design features for various weather and riding conditions and they typically breakdown into four different categories: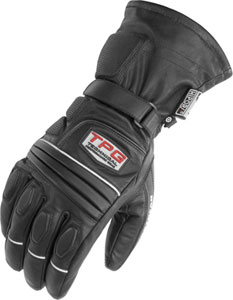 Extreme cold / water proof
Moderate cold / wind and water resistant
Average temperatures/ standard glove
Warm weather / vented breathable
Extreme cold
For extreme cold and wet conditions it is all about finding a glove with effective layering. These layers Trap warmth inside and keep water out with the internal liner, and the outer shell.Gloves designed for cold and wet riding conditions are often made up of this outer abrasion resistant shell and a waterproof and thermal heat retaining liner. Some exteriors shells use Nylon Suplex® as with the MSR Cold Pro and MSR XC Cold Pro gloves, while the waterproof linings consist of the high-tech Hipora® or Goretex® membrane materials. An additional layer of Thinsulate® thermal insulation is added to increase heat retention. Neoprene is often used around the knuckles for resistance to the cold while allowing greater flexibility. These specialized materials are very thin and allow the manufacturers to develop gloves that will keep hands warm in extreme conditions without sacrificing finger dexterity and free hand movement.
Layering is an effective way to trap and retain body heat, however motorcycle gloves need to allow the maximum possible amount of free movement. Finger dexterity is the key to increased comfort and fatigue reduction, so these very technical materials are used to trap heat, repel cold wind and rain while avoiding excessive layering. You can't ride well if you roll out looking like Ralphie Parker's kid brother Randy. Gloves with this degree of weather protection are great for wet, and cold rides where riding long distances in such conditions would have an adverse effect on your performance and enjoyment.
Moderate cold
Gloves in this category concentrate on repelling wind and trapping heat, but are not waterproof. The Fox Polarpaw, Moose XCR Cold weather glove and the MSR Windbreak glove all provide additional insulation with a built in layer of fleece or a Thinsulate thermal liner. They are water resistant, but not waterproof as with extreme cold weather gloves. These gloves offer protection from the weather with flexibility similar to that of the lighter gloves designed for average temperatures. The Fox and the Moose gloves resemble lighter motocross gloves with a short cuff and hook and loop closure, and the MSR Windbreak has a longer gauntlet similar to its cousins in the Cold Pro series.
Rides in moderately cold conditions that are dry or only subject to light rains will be enhanced by the use of gloves from this category. Because your fingers lack body fat, your hands are a part of your body most difficult to keep warm. When your body temperature drops, the body begins to divert and expend energy in an attempt to retain heat. Using one of the insulated gloves in the moderate cold category will help your digits retain important body heat thus increasing your comfort and reducing fatigue.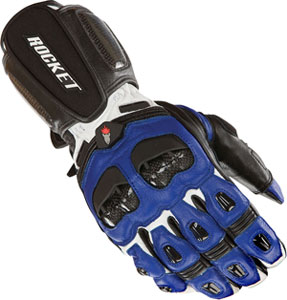 Average temperatures
Gloves made for average temperatures in the 60 to 80 degree range, concentrate wholly on protection and free movement. These are your standard motocross and outdoor gloves that use lighter materials like Spandex, Cordura, Clarino and direct injection rubber knuckle panels. Gloves in the category will use two layers of Clarino on the palms to take full advantage of the abrasion resistant qualities of this material for safety. The idea here is maximum performance, hand and finger mobility and ultimate protection. On those perfect weather riding days these are the gloves you want as they give you the maximum freedom of movement and the maximum protection you need to perform at your best.
Warm weather
When ambient temperature is above body temperature, heat is transferred into the body rather than out. Just as excessive heat robs horsepower from your motorcycle, increased body heat drains a rider of energy and strength. Since there must be a net outward heat transfer, the mechanism to reduce excess body heat is the evaporation of perspiration from the skin. When perspiration evaporates, it cools the body. This process is an important means of heat transfer and cooling for the human body. When a rider is subjected to ambient temperatures above the normal body temperature the passing of air as you ride across body perspiration helps encourage evaporation and the body cooling process.
In warm, hot and dry weather you need a glove that is lighter and more breathable than the standard offroad glove. Gloves made for these conditions enhance the body's natural cooling process by using the lightest materials perforated for ventilation making them the coolest and the least restrictive of all gloves. They will often feature direct injection air intakes and exhaust vents to encourage the highest airflow volume. To lighten the glove, manufactures will typically build vented gloves with only one layer of Clarino on the palm, and in many case this too is vented. The single layer of Clarino, or synthetic suede, offers abrasion resistance without the heat retaining effects of double layering.
Fox Flexair, Thor AC, Moose Sahara, Answer Alpha Air, MSR NXT vented all incorporate many of these features into their designs. Vented gloves work well in conditions where the need to keep your body temperature down is so important. The design does the reverse of a cold weather glove. Here, rather then trap and retain body heat, the gloves are designed to vent and help the body reduce its temperature. Warm weather gloves are ideal for late spring and summer when the days are longer and the heat of the sun can really sap your strength. Being able to stay cooler in such unsympathetic conditions will help you maintain your performance and comfort.
So now you can see why choosing the right glove for the prevailing weather conditions is one important factor when buying gear. By selecting a glove designed for specific conditions, you can enhance and maintain your performance and comfort levels.
Riding style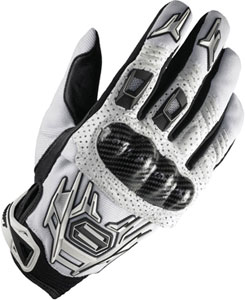 Your riding style is another important element when selecting the right glove for the task. When discussing riding style here, it is important to understand that we're also referencing the type of riding, as well as your own personal riding preferences and needs. If you race motocross on a weekly basis, the stress and demands put on your gear is much different than that of an occasional trail rider. If you ride mostly in damp or muddy conditions, again the needs are much different than the dry warm environment of the desert racer.
The different types of offroad riding are
Desert racing/riding
Motocross
Woods/Enduro
Dual Sport
Trials
Trail riding
If you extend your riding season into the cold wet winter months, or frequent riding areas that are subject to much cooler, wetter conditions you will want to consider an extreme cold weather glove. In adverse weather conditions that are wet and very cold. The MSR Cold Pro and XC Cold Pro gloves are hard to match in keeping your hands dry and warm. These cold weather gloves work so well that they are also popular with snowmobilers as well. The longer gauntlet and knit cuff separate them from other extreme cold weather gloves. Waterproof lining that is insulated to retain heat make them a good choice for rides in the mountains, woods and during wetter seasons of the year when the temperature drops.
Moderate cold weather gloves for rides where the temperature will drop, but the likelihood of rain or damp conditions is minimal are the perfect blend of insulation and free movement . Higher altitudes like mountain and forest riding and even the desert in winter can get windy and frigid. The Fox Polarpaw and the MSR Windbreak are ideal for these dryer conditions where the need for insulation still exists. These offer needed heat retention when an extreme cold glove is overkill, yet a standard motocross or offroad glove will not suffice. For conditions that prove to be wet, however not excessively cold, MSR makes the Mud Pro glove that works well in wet muddy circumstances. They incorporate soft rubber knobs on the palms and fingers to increase grip, neoprene on the back for warmth and even have a small rubber wiper blade on the index finger to swipe away water from your goggles. These moderate climate gloves are highly appreciated by woods and enduro riders who often find themselves exposed to the elements of cold, mud and rain showers.
Ventilated warm weather gloves work well in the harsh desert and dry warm riding conditions. Lightweight and robust, they offer just the right balance between protection and comfort. The desert is a hostile environment. Harsh on its inhabitants, and even harder on its visitors. With little precipitation during the year, the desert is dry, dusty and temperatures easily reach triple digits during the summer months. Its varied terrain often made up of rocks, sand washes, dry lake beds, cattle crossings, rolling hills, brush and cactus requires that a glove have ample protection as well. The Fox Bomber glove is ideal for the demands of desert. Ventilated and light, yet offers extra protection above the normal vented glove with a double layer palm and ballistic knuckle coverage. Lighter vented gloves like the Fox Airline, Answer Alpha air and fox Flexair are excellent for warm climate areas and specialized riding disciplines that require extreme dexterity and nimbleness like trials riding.
Motocross is a demanding sport that requires a glove that provides the maximum amount of dexterity and the maximum amount of protection. You can often find this style glove with a padded palm or non-padded version. This is a matter of preference, where padding offers additional comfort and non-padded gloves minimizes potential material bunching that can lead to blisters. There are so many excellent MX gloves that I am hard pressed to present a favorite. This is where you really need to try them on, weigh the features and comfort and most importantly select a glove that fits your precise preferences. The standard motocross glove is durable enough to function during demanding races and versatile enough to work well on the trail. Because of the greater degree of protection they also make an excellent Dual Sport glove.
Comfort
This is a significant factor and should be weighed heavily and not just for creature comforts sake. The overall comfort of a glove can affect your riding either positively or negatively. Size, liner materials and articulation are determining factors here. If a glove doesn't fit well it can restrict blood flow through the arms, cause blisters, calluses or irritating pressure points. All of this can increase fatigue while decreasing performance. Finding the right glove with the right fit will boost your performance, most noticeably on longer rides.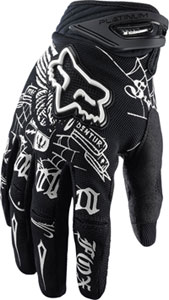 Fitting the glove properly:
Proper glove fit is essential for comfort. Gloves that are too loose, may bunch and cause blisters, too tight and they may restrict blood flow and increase the potential for arm pump.
To figure out your size, take a cloth measuring tape from the center of your palm and measure back around the hand across the knuckles. This measurement in inches will help you narrow down your size.
| | | |
| --- | --- | --- |
| Inches | Alpha Size | Numeric Size |
| 7.5" - 8" | SM | 8 |
| 8.5" - 9" | MD | 9 |
| 9.5" - 10" | LG | 10 |
| 10.5" - 11" | XL | 11 |
| 11" + | XXL | 12 |
Once you've found your glove size start trying gloves on from various manufacturers. Be sure to wrap your hands around the grips on a bike in the show room. Some gloves are articulated, which means the pattern is cut so that the gloves are most comfortable in the riding position. Check the palm and make certain that there isn't any excess material that may bunch up and increase the potential for blisters. Ensure that the cuffs and the overall fit isn't too tight. Gloves should be comfortably snug in the riding position, not tight.
Taking the time to understand your needs, the features and benefits offered and proper sizing will make the next pair of gloves you purchase the best you have ever owned. Trying on several pairs from various makers will help you to narrow down your choice to those most perfect to the idiosyncrasy and nuance of your hands. Once you find that perfect pair of gloves, consider buying several pair and keeping one in reserve. You will appreciate the thought that went into your glove purchase your very first ride.