By browsing, you consent to our

use of Cookies

.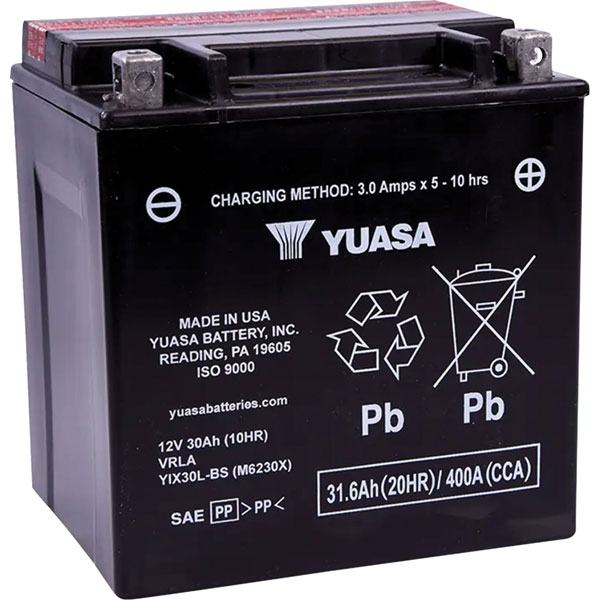 Free Shipping Over $75

Low Price Guarantee

No Hassle Returns

The Yuasa Maintenance Free VRLA Battery is a powerful, low-hassle, mess-free and long-lasting option compared to conventional batteries. This motorcycle battery is constructed carefully from damage-resistant polypropylene with a regulated lead acid spill-proof design. Because it is made with absorbed glass mat separators, water loss is not an issue. After initial preparation, use the included secure cover to seal your battery and never worry about refilling it or being caught off guard by messy leaks, corrosion or seepage, even during long-term storage.
Not only is this battery mess-free and easy to use, it is also powerful thanks to its through-partition construction and patented separators. Compared to typical lead antimony types, this motorcycle battery can hold its gravity at least three times longer thanks to its lead calcium design.
PP (Polypropylene) cover and container thwart damage from gas, oil, and impact
Valve Regulated Lead Acid (VRLA) spill-proof design
Absorbed Glass Mat (AGM) Separators eliminates water loss
Lead calcium design allows the battery to hold its specific gravity more than three times longer than conventional lead antimony types
Shipped dry along with its own pack of high-gravity acid that's added at the time of installation
Once filled with acid from its special packs, the battery is virtually maintenance free
Comes with pre-measured acid tubes that dealer easily empties into battery
Includes a seal that is then placed across top of battery to create a sealed, spill-proof battery
Totally sealed, all of the acid is absorbed in the special plates and separators, so there is no need to worry about acid leaks on valuable vehicle parts and accessories
Once it's filled with acid the battery is permanently sealed - so you'll never need to fill it with water or check the acid level
Much longer periods between charges when the battery is used in a standby mode, like winter storage
Heat-sealed, bonded unit fabrication protects against seepage and corrosion
Unique sealed posts resist corrosion for longer battery life
Patented separators provide high cranking power
Through-partition construction delivers maximum power
Never needs refilling but may need periodic charging
12 Volt
One year manufacturer's warranty
Chaparral carries several Yuasa Maintenance Free VRLA Batteries including: YT4B-BS, YT7B-BS, YT9B-BS, YT12A-BS, YT12B-BS, YT14B-BS, YT19BL-BS, YIX30L-BS, YTX4L-BS, YTX5L-BS, YTX7A-BS, YTX7L-BS, YTX9-BS, YTX12-BS, YTX14-BS, YTX14L-BS, YTX15L-BS, YTX16-BS, YTX16-BS-1, YTX20-BS, and YTX20L-BS.
Specifications
SKU
358-1317
Brand
Yuasa