By browsing, you consent to our

use of Cookies

.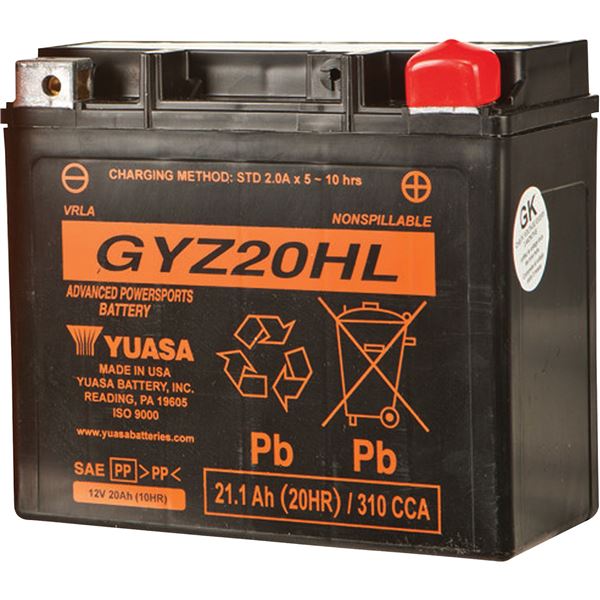 Fast, Free Shipping

Low Price Guarantee

No Hassle Returns

Every biker has their preference when it comes to brands, parts, and batteries. The latter of these, batteries, are one of the most important parts of your bike, and none will serve you better than the GYZ Series battery. Often cited as the most powerful battery available for dirt bikes and motorsport bikes, it boasts more amp hours so you can enjoy more accessories. It's also factory activated and maintenance free. You never need to worry about running your battery into the ground when you have more AH to work with and a robustly constructed terminal. Use it for your ATV, metric, V-twin, or any other dirt bike in need of an AGM battery.
AGM (Absorbed Glass Mat) separators with superior grid and component designs
Improved charge recovery capability from a deeply discharged condition
Longer shelf life
Improved life cycle performance
Extreme vibration resistance
Supplied "factory activated" (filled, sealed and charged at the factory)
Heavy duty, flush mounted terminals; embedded brass nut
Upgrade for customized motorcycles requiring the best performance
Note: Factory activated batteries should be charged once a month when not in service.
Chaparral carries several Yuasa GYZ Series Batteries including: GYZ16H, GYZ16HL, GYZ20L, GYZ20H, GYZ20HL, and GYZ32HL
Specifications
SKU
358-1368
Brand
Yuasa

California Prop 65
WARNING: Cancer and Reproductive Harm - www.P65Warnings.ca.gov
Part Numbers
| | SKU | MPN | Availability | In-Store Pickup |
| --- | --- | --- | --- | --- |
| | 358-1368 | YUAM716GH | 10+ In Stock. Ready to ship. | 2 In Stock. |
| | 358-1370 | YUAM720GZ | 10+ In Stock. Ready to ship. | - |
| | 358-1372 | YUAM723GHL | 10+ In Stock. Ready to ship. | 2 In Stock. |
| | 358-1369 | YUAM72RGH | 10+ In Stock. Ready to ship. | 2 In Stock. |
| | 358-1371 | YUAM720GH | 10+ In Stock. Ready to ship. | 3 In Stock. |
| | 358-1367 | YUAM716GHL | 10+ In Stock. Ready to ship. | - |