By browsing, you consent to our

use of Cookies

.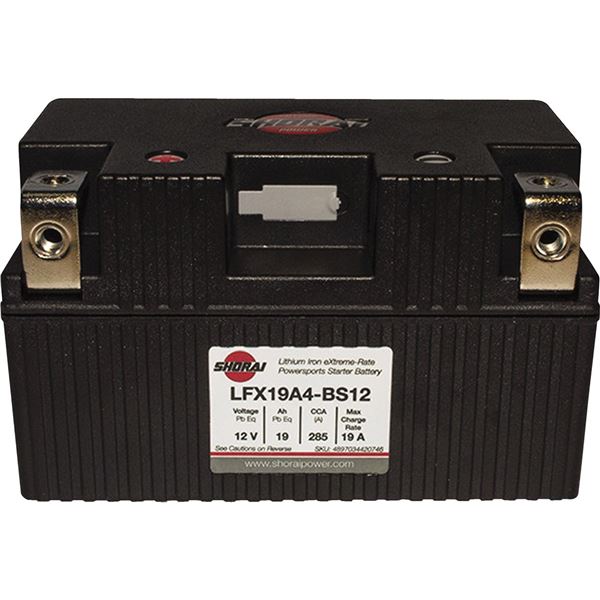 Fast, Free Shipping

Low Price Guarantee

No Hassle Returns

Shorai LFX Lithium batteries come in a variety of case shapes and sizes, capacity options, and right/left polarity options, for the best possible fitment. If the LFX is slightly smaller than the original battery in one dimension or another, high-density, adhesive-backed foam sheets are included in the package. These can be trimmed and applied to the battery box in minutes, to make a solid fit, with the added benefit of providing additional thermal and vibration insulation. Cable connections can be made either at tops or sides of the terminals. All these options and sizes allow Shorai LFX to offer a "drop-in" installation for most powersports vehicles, including 6-volt vintage vehicles.
Ultra light motorcycle, quad, and side-by-side batteries - on average 1/5 the weight of lead acid batteries
Military spec carbon composite case
Zero sulfation for longer service life vs lead-acid batteries
Holds unloaded charge for one year without maintenance
Faster cranking for better starts
Super fast recharge state
No explosive gasses during charge, no lead, no acid
Drop in replacement for your O.E.M battery
Self adhesive high-density foam shims insure a great fit to the battery box
Foam shims provide additional vibration and thermal insulation
Environmentally friendly, just discharge and dispose
3 year manufacturer's warranty
Shorai LFX battery packages include:
Lithium motorcycle or ATV/UTV battery
Terminal screws
Set of spare terminal screws
Shorai decals in various sizes
User manual
LFX Standard Battery:
Recommended as the best overall pick for most applications, and has been selected to give strong cranking performance and long lifespan.
LFX Duration Battery:
Recommended for those who want the strongest possible cranking performance and lifespan. Users with extra electrical accessories, especially anti-theft alarms, or regular use in below freezing temperatures should choose the Duration option.
Note: Shorai 12V LFX Lithium Batteries require a charging system output of 13.1 Volts or higher at idle, and must not exceed 15.2 volts at maximum output.
Chaparral carries several Shorai batteries, including: 12N11-3A-1, 12N11-3A-1-D, 12N12A-4A-1, 12N5.5-3B, 12N5.5-4A, 12N5.5-4A-D, 12N5-4B, 12N5-4B-D, 12N5-4B-D2, 12N7-4A, 12N7-4A-D, 12N7D-3B, 12N9-3A, 12N9-3A-D, 12N9-4B-1, 51814L, 51913L, 53030L, 6N11-2D, 6N11A-1B, 6N12A-2C, 6N6-1B, B38-6A, B54-6, HYB16A-AB, KMX14-BS, SYB14L-A2, SYB14L-B2, SYB16L-B, Y50-N18A-A, Y50-N18L-A, Y50-N18L-A-CX, Y60-N24-A, YB10A-A2, YB10L-A2, YB10L-B, YB10L-B2, YB12A-A, YB12A-B, YB12AL-A, YB12AL-A2, YB12B-B2, YB12C-A, YB14-A2, YB14A-A2, YB14-B2, YB14L-A1, YB14L-A2, YB16AL-A2, YB16-B, YB16B-A, YB16B-A1, YB16-B-D, YB16-B-D2, YB16CL-B, YB18L-A, YB3L-A, YB3L-A-D, YB3L-A-D2, YB3L-B, YB4L-B, YB4L-B-D, YB4L-BS, YB5L-B, YB5L-B-D, YB5L-B-D2, YB6L-B, YB7-A, YB7-A-D, YB7B-B, YB7C-A, YB7L-B, YB7L-B-D, YB9A-A, YB9-B, YB9L-A2, YB9L-B, YIX30L-BS-D, YT12A-BS, YT12A-BS-D, YT12B-BS, YT12B-BS-D, YT14B-BS, YT14B-BS-D, YT4L-BS, YT5L-BS, YT7B-BS, YT7B-BS-D, YT9B-BS, YT9B-BS-D, YTR9-BS, YTX12-BS, YTX12-BS-D, YTX14AH-BS, YTX14AHL-BS, YTX14-BS, YTX14H, YTX14H-BS, YTX14H-BS-D, YTX14L, YTX14L-BS, YTX15L-BS, YTX16-BS-1, YTX20CH-BS, YTX20H-BS, YTX20H-BS-D2, YTX20HL-BS, YTX20HL-BS-D, YTX20HL-BS-D2, YTX20L-BS, YTX20L-BS-D, YTX20L-BS-D2, YTX24HL-BS, YTX24HL-BS-D, YTX4L-BS, YTX4L-BS-D, YTX4L-BS-D2, YTX5L-BS, YTX5L-BS-D, YTX7A-BS, YTX7A-BS-D, YTX7L-BS, YTX7L-BS-D, YTX9-BS, YTZ10S, YTZ10S-D, YTZ12S, YTZ12S-D, YTZ14S, YTZ5S, YTZ5S-D, YTZ7S, and YTZ7S-D.
Specifications
SKU
388-0004
Brand
Shorai