By browsing, you consent to our

use of Cookies

.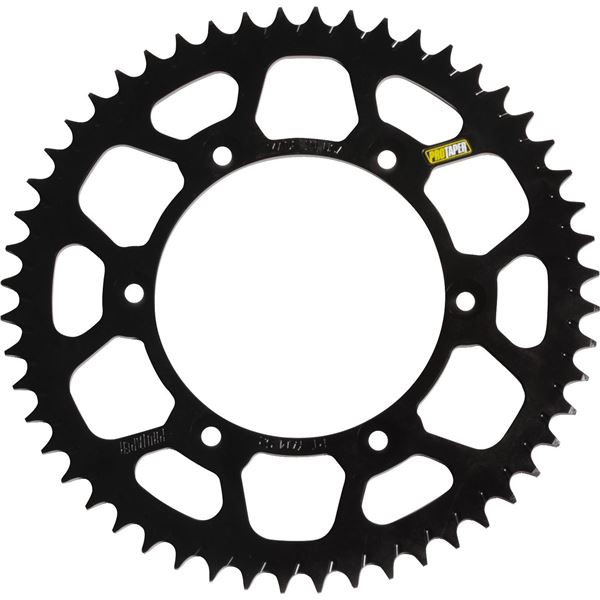 Free Shipping Over $75

Low Price Guarantee

No Hassle Returns

With the perfect balance of weight, strength and durability, ProTaper Race Spec aluminum rear sprockets have been precision CNC machined to the strictest of tolerances from the highest quality alloy that has been specially formulated for Offroad motorcycle sprockets. Laboratory designed by engineers to achieve maximum balance and optimization of key features like load distribution, reduction of unsprung rotating mass and tooth endurance result in a rear sprocket that is unparalleled in the market.
Made of 7075-T6 Heat Treated Aluminum
Precision CNC machined to strictest of tolerances
CNC machined edge chamfers and inlay for subsurface ProTaper sticker location
The exclusive design enhances durability and increases the sprocket/chain contact area by 40%, resulting in significantly increased sprocket life over other brands
Deep penetrating anodized finish
Engineer designed lightening window pattern to achieve optimum balance of weight and strength
Exclusive ProTaper angled mud groove design every tooth on both sides which prevents dirt build up that leads to horsepower loss and sprocket wear
Countersinks to concentrically locate sprocket regardless of hub center guide
Made in the USA
This motorcycle sprocket has the perfect blend of weight and strength to allow your bike to perform at its best. It's made from Heat Treated Aluminum that is CNC machine edged for enhanced durability.
Specifications
SKU
302-033295
Brand
Pro Taper

California Prop 65
WARNING: Cancer and Reproductive Harm - www.P65Warnings.ca.gov
Part Numbers
| | SKU | MPN | Availability | In-Store Pickup |
| --- | --- | --- | --- | --- |
| Black 49 Tooth | 302-033295 | 033295 | 2 In Stock. Ready to ship. | 2 In Stock. |
| Black 50 Tooth | 302-033235 | 033235 | 2 In Stock. Ready to ship. | 2 In Stock. |
| Blue 50 Tooth | 302-033221 | 033221 | 2 In Stock. Ready to ship. | 2 In Stock. |
| Black 50 Tooth | 302-033207 | 033207 | 2 In Stock. Ready to ship. | 2 In Stock. |
| Black 48 Tooth | 302-033205 | 033205 | 2 In Stock. Ready to ship. | 2 In Stock. |
| Black 51 Tooth | 302-033297 | 033297 | 1 In Stock. Ready to ship. | - |
| Black 48 Tooth | 302-033291 | 033291 | 1 In Stock. Ready to ship. | - |
| Orange 51 Tooth | 302-033271 | 033271 | 1 In Stock. Ready to ship. | - |
| Orange 49 Tooth | 302-033269 | 033269 | 1 In Stock. Ready to ship. | - |
| Black 53 Tooth | 302-033241 | 033241 | 1 In Stock. Ready to ship. | - |
| Black 51 Tooth | 302-033237 | 033237 | 1 In Stock. Ready to ship. | - |
| Red 50 Tooth | 302-033236 | 033236 | 1 In Stock. Ready to ship. | - |
| Red 48 Tooth | 302-033232 | 033232 | 1 In Stock. Ready to ship. | - |
| Black 50 Tooth | 302-033220 | 033220 | 1 In Stock. Ready to ship. | - |
| Black 48 Tooth | 302-033216 | 033216 | 1 In Stock. Ready to ship. | - |
| Black 46 Tooth | 302-033214 | 033214 | 1 In Stock. Ready to ship. | - |
| Black 51 Tooth | 302-033208 | 033208 | 1 In Stock. Ready to ship. | - |
| Black 51 Tooth | 302-033192 | 033192 | 1 In Stock. Ready to ship. | - |
| Black 48 Tooth | 302-033189 | 033189 | 1 In Stock. Ready to ship. | - |
| Black 50 Tooth | 302-033296 | 033296 | Unavailable. | - |
| Black 47 Tooth | 302-033294 | 033294 | Unavailable. | - |
| Black 53 Tooth | 302-033293 | 033293 | Unavailable. | - |
| Black 52 Tooth | 302-033292 | 033292 | Unavailable. | - |
| Black 44 Tooth | 302-033287 | 033287 | Unavailable. | - |
| Black 42 Tooth | 302-033286 | 033286 | Unavailable. | - |
| Black 40 Tooth | 302-033285 | 033285 | Unavailable. | - |
| Green 53 Tooth | 302-033284 | 033284 | Unavailable. | - |
| Green 52 Tooth | 302-033283 | 033283 | Unavailable. | - |
| Orange 53 Tooth | 302-033273 | 033273 | Unavailable. | - |
| Orange 52 Tooth | 302-033272 | 033272 | Unavailable. | - |
| Orange 50 Tooth | 302-033270 | 033270 | Unavailable. | - |
| Orange 48 Tooth | 302-033268 | 033268 | Unavailable. | - |
| Black 48 Tooth | 302-033244 | 033244 | Unavailable. | - |
| Black 54 Tooth | 302-033243 | 033243 | Unavailable. | - |
| Red 53 Tooth | 302-033242 | 033242 | Unavailable. | - |
| Red 52 Tooth | 302-033240 | 033240 | Unavailable. | - |
| Black 52 Tooth | 302-033239 | 033239 | Unavailable. | - |
| Red 51 Tooth | 302-033238 | 033238 | Unavailable. | - |
| Red 49 Tooth | 302-033234 | 033234 | Unavailable. | - |
| Black 49 Tooth | 302-033233 | 033233 | Unavailable. | - |
| Black 48 Tooth | 302-033231 | 033231 | Unavailable. | - |
| Black 47 Tooth | 302-033230 | 033230 | Unavailable. | - |
| Black 46 Tooth | 302-033229 | 033229 | Unavailable. | - |
| Black 45 Tooth | 302-033228 | 033228 | Unavailable. | - |
| Blue 53 Tooth | 302-033227 | 033227 | Unavailable. | - |
| Black 53 Tooth | 302-033226 | 033226 | Unavailable. | - |
| Blue 52 Tooth | 302-033225 | 033225 | Unavailable. | - |
| Black 52 Tooth | 302-033224 | 033224 | Unavailable. | - |
| Blue 51 Tooth | 302-033223 | 033223 | Unavailable. | - |
| Black 51 Tooth | 302-033222 | 033222 | Unavailable. | - |
| Blue 49 Tooth | 302-033219 | 033219 | Unavailable. | - |
| Black 49 Tooth | 302-033218 | 033218 | Unavailable. | - |
| Blue 48 Tooth | 302-033217 | 033217 | Unavailable. | - |
| Black 47 Tooth | 302-033215 | 033215 | Unavailable. | - |
| Black 51 Tooth | 302-033213 | 033213 | Unavailable. | - |
| Black 50 Tooth | 302-033212 | 033212 | Unavailable. | - |
| Black 49 Tooth | 302-033211 | 033211 | Unavailable. | - |
| Black 48 Tooth | 302-033210 | 033210 | Unavailable. | - |
| Black 52 Tooth | 302-033209 | 033209 | Unavailable. | - |
| Black 49 Tooth | 302-033206 | 033206 | Unavailable. | - |
| Black 47 Tooth | 302-033204 | 033204 | Unavailable. | - |
| Black 53 Tooth | 302-033194 | 033194 | Unavailable. | - |
| Black 52 Tooth | 302-033193 | 033193 | Unavailable. | - |
| Black 50 Tooth | 302-033191 | 033191 | Unavailable. | - |
| Black 49 Tooth | 302-033190 | 033190 | Unavailable. | - |
| Black 47 Tooth | 302-033188 | 033188 | Unavailable. | - |
| Green 51 Tooth | 302-033179 | 033179 | Unavailable. | - |
| Green 50 Tooth | 302-033178 | 033178 | Unavailable. | - |
| Green 49 Tooth | 302-033177 | 033177 | Unavailable. | - |
| Green 48 Tooth | 302-033176 | 033176 | Unavailable. | - |