By browsing, you consent to our

use of Cookies

.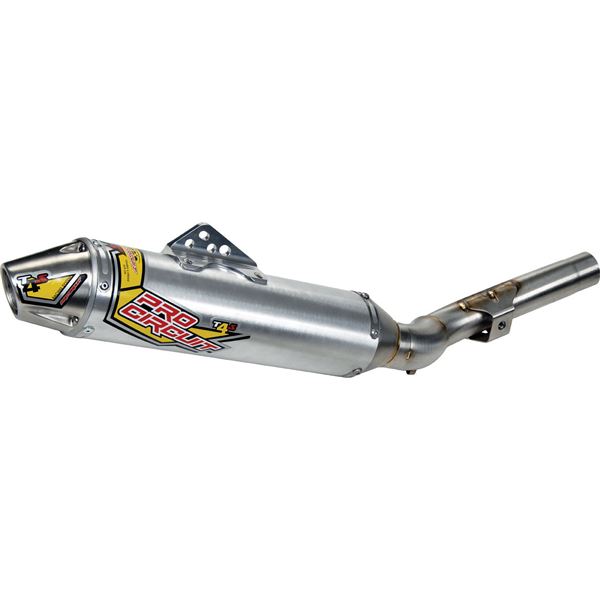 Fast, Free Shipping

Low Price Guarantee

No Hassle Returns

The T-4 Slip-On has an impressive design, polished aluminum canister, stainless steel mid pipe and endcap and ultra responsive performance. The T-4 Slip-On was developed to increase the horsepower and torque throughout the power curve. This silencer is designed to be used with O.E.M stock head pipes or Pro Circuit head pipes.
Aluminum/stainless construction for reduced weight and increased durability
Incredible horsepower gains when compared to stock
Strong mounting bracket(s) for increased durability
Designed for easy disassembly and repacking when needed
Removable USFS approved spark arrestor
Note: Image for reference only. Product may vary according to vehicle.
Increase horsepower and give your bike some easy style points with an easy-to install motocross exhaust. Durable and ultra-responsive, use this polished aluminum and stainless steel add-on with stock or Pro Circuit head pipes.
Specifications
SKU
997-4S07250
Brand
Pro Circuit
Frequently Bought Together

California Prop 65
WARNING: Cancer and Reproductive Harm - www.P65Warnings.ca.gov
Part Numbers
| | SKU | MPN | Availability | In-Store Pickup |
| --- | --- | --- | --- | --- |
| Aluminum | 997-4S07250 | 4S07250 | 2 In Stock. Ready to ship. | 2 In Stock. |
| Aluminum | 997-4Y10450 | 4Y10450 | 1 In Stock. Ready to ship. | - |
| Aluminum | 997-4T05250 | 4T05250 | 1 In Stock. Ready to ship. | - |
| Aluminum | 997-0121125A | 997-0121125A | 1 In Stock. Ready to ship. | - |
| Aluminum | 997-4Y90600 | 4Y90600 | Unavailable. | - |
| Aluminum | 997-4Y09450 | 4Y09450 | Unavailable. | - |
| Aluminum | 997-4Y09250 | 4Y09250 | Unavailable. | - |
| Aluminum | 997-4Y07450WR | 4Y07450WR | Unavailable. | - |
| Aluminum | 997-4Y07250-WR | 4Y07250WR | Unavailable. | - |
| Aluminum | 997-4Y07250 | 4Y07250 | Unavailable. | - |
| Aluminum | 997-4Y06450 | 4Y06450 | Unavailable. | - |
| Aluminum | 997-4Y05230 | 4Y05230 | Unavailable. | - |
| Aluminum | 997-4Y03450 | 4Y03450 | Unavailable. | - |
| Aluminum | 997-4Y03250 | 4Y03250 | Unavailable. | - |
| Aluminum | 997-4Y02426 | 4Y02426 | Unavailable. | - |
| Aluminum | 997-4Y01250 | 4Y01250 | Unavailable. | - |
| Aluminum | 997-4Y00250 | 4Y00250 | Unavailable. | - |
| Aluminum | 997-4Y00225 | 4Y00225 | Unavailable. | - |
| Aluminum | 997-4T09450 | 4T09450 | Unavailable. | - |
| Aluminum | 997-4T07250 | 4T07250 | Unavailable. | - |
| Aluminum | 997-4T04450 | 4T04450 | Unavailable. | - |
| Aluminum | 997-4T03450 | 4T03450 | Unavailable. | - |
| Aluminum | 997-4T00400 | 4T00400 | Unavailable. | - |
| Aluminum | 997-4S97650 | 4S97650 | Unavailable. | - |
| Aluminum | 997-4S10450 | 997-4S10450 | Unavailable. | - |
| Aluminum | 997-4S10250 | 4S10250 | Unavailable. | - |
| Aluminum | 997-4S09250 | 4S09250 | Unavailable. | - |
| Aluminum | 997-4S08400SM | 4S08400SM | Unavailable. | - |
| Aluminum | 997-4S07450 | 4S07450 | Unavailable. | - |
| Aluminum | 997-4S05450 | 4S05450 | Unavailable. | - |
| Aluminum | 997-4S03400S | 4S03400S | Unavailable. | - |
| Aluminum | 997-4S03400 | 4S03400 | Unavailable. | - |
| Aluminum | 997-4S01250 | 4S01250 | Unavailable. | - |
| Aluminum | 997-4Q05450 | 4Q05450 | Unavailable. | - |
| Aluminum | 997-4Q05250 | 4Q05250 | Unavailable. | - |
| Aluminum | 997-4K94250 | 4K94250 | Unavailable. | - |
| Aluminum | 997-4K93650S | 4K93650S | Unavailable. | - |
| Aluminum | 997-4K93650 | 4K93650 | Unavailable. | - |
| Aluminum | 997-4K10450 | 4K10450 | Unavailable. | - |
| Aluminum | 997-4K10250KLR | 4K10250KLR | Unavailable. | - |
| Aluminum | 997-4K10250 | 4K10250 | Unavailable. | - |
| Aluminum | 997-4K08450X | 4K08450X | Unavailable. | - |
| Aluminum | 997-4K08450 | 4K08450 | Unavailable. | - |
| Aluminum | 997-4K08250 | 4K08250 | Unavailable. | - |
| Aluminum | 997-4H96200 | 4H96200 | Unavailable. | - |
| Aluminum | 997-4H85600 | 4H85600 | Unavailable. | - |
| Aluminum | 997-4H09450 | 4H09450 | Unavailable. | - |
| Aluminum | 997-4H09150R | 997-4H09150R | Unavailable. | - |
| Aluminum | 997-4H08450 | 4H08450 | Unavailable. | - |
| Aluminum | 997-4H07450 | 4H07450 | Unavailable. | - |
| Aluminum | 997-4H06450 | 4H06450 | Unavailable. | - |
| Aluminum | 997-4H05450 | 4H05450 | Unavailable. | - |
| Aluminum | 997-4H04450 | 4H04450 | Unavailable. | - |
| Aluminum | 997-4H04250R | 4H04250R | Unavailable. | - |
| Aluminum | 997-4H03450 | 4H03450 | Unavailable. | - |
| Aluminum | 997-4H02450 | 4H02450 | Unavailable. | - |
| Aluminum | 997-4H00650S | 4H00650S | Unavailable. | - |
| Aluminum | 997-0151145-A | 0151145-A | Unavailable. | - |
| Aluminum | 997-0151135A | 997-0151135A | Unavailable. | - |
| Aluminum | 997-0151125A | 0151125A | Unavailable. | - |
| Aluminum | 997-0141145A | 997-0141145A | Unavailable. | - |
| Aluminum | 997-0141125A | 997-0141125A | Unavailable. | - |
| Aluminum | 997-0121145A | 0121145A | Unavailable. | - |
| Aluminum | 997-0111125A | 997-0111125A | Unavailable. | - |