By browsing, you consent to our

use of Cookies

.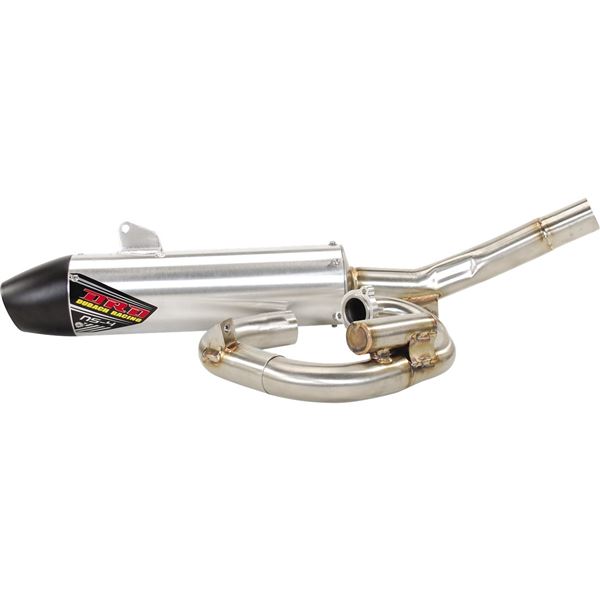 Fast, Free Shipping

Low Price Guarantee

No Hassle Returns

Lighter than the stock exhaust, TIG-welded construction and billet aluminum mounting hardware. Features a welded construction (no springs), light weight magnesium end cap, removable bolts (not rivets) at the inlet cap for easy repacking, and a stepped perforated core (reduced heat) for increased durability.
Performance improvements over stock system
Lightweight magnesium end cap riveted on
Welded construction for reduced weight
Stepped perforated core for increased durability
Removable bolts at inlet cap for easy repacking
Includes roll style packing which extends packing life
All stainless steel/aluminum systems come with a spark arrestor screen
SS/AL features stainless steel header and mid pipe and an aluminum muffler
SS/CF (Stainless Steel Tubing/Carbon Fiber Can) features a stainless steel mid pipe and carbon fiber muffler
Note: Carbon Fiber systems are for closed course tracks only; they do not come with or accept a spark arrestor screen
Note: Image for reference only. Actual product may vary according to vehicle.
Specifications
SKU
996-7366
Brand
Dr D

California Prop 65
WARNING: Cancer and Reproductive Harm - www.P65Warnings.ca.gov
Part Numbers
| | SKU | MPN | Availability | In-Store Pickup |
| --- | --- | --- | --- | --- |
| Stainless/Aluminum | 996-7366 | 7366 | 3 In Stock. Ready to ship. | - |
| Stainless/Carbon Fiber | 996-7367 | 7367 | 2 In Stock. Ready to ship. | - |
| Stainless/Carbon Fiber | 996-7317 | 7317 | 2 In Stock. Ready to ship. | - |
| Stainless/Aluminum | 996-7433 | 7433 | 1 In Stock. Ready to ship. | - |
| Stainless/Carbon Fiber | 996-7430 | 7430 | 1 In Stock. Ready to ship. | - |
| Stainless/Carbon Fiber | 996-7375 | 7375 | 1 In Stock. Ready to ship. | - |
| Stainless/Carbon Fiber | 996-7371 | 7371 | 1 In Stock. Ready to ship. | - |
| Stainless/Aluminum | 996-7370 | 7370 | 1 In Stock. Ready to ship. | - |
| Stainless/Aluminum | 996-7324 | 7324 | 1 In Stock. Ready to ship. | - |
| Stainless/Carbon Fiber | DRD-7572 | 7572 | Unavailable. | - |
| Stainless/Aluminum | DRD-7571 | 7571 | Unavailable. | - |
| Stainless/Carbon Fiber | 996-7687 | 7687 | Unavailable. | - |
| Stainless/Aluminum | 996-7685 | 7685 | Unavailable. | - |
| Stainless/Carbon Fiber | 996-7679 | 7679 | Unavailable. | - |
| Stainless/Aluminum | 996-7677 | 7677 | Unavailable. | - |
| Stainless/Carbon Fiber | 996-7667 | 7667 | Unavailable. | - |
| Stainless/Aluminum | 996-7666 | 7666 | Unavailable. | - |
| Stainless/Carbon Fiber | 996-7661 | 7661 | Unavailable. | - |
| Stainless/Aluminum | 996-7660 | 7660 | Unavailable. | - |
| Stainless/Carbon Fiber | 996-7659 | 7659 | Unavailable. | - |
| Stainless/Aluminum | 996-7658 | 7658 | Unavailable. | - |
| Stainless/Aluminum | 996-7648 | 7648 | Unavailable. | - |
| Stainless/Aluminum | 996-7647 | 7647 | Unavailable. | - |
| Stainless/Aluminum | 996-7646 | 7646 | Unavailable. | - |
| Stainless/Aluminum | 996-7645 | 7645 | Unavailable. | - |
| Stainless/Aluminum | 996-7644 | 7644 | Unavailable. | - |
| Stainless/Aluminum | 996-7643 | 7643 | Unavailable. | - |
| Stainless/Aluminum | 996-7642 | 7642 | Unavailable. | - |
| Stainless/Carbon Fiber | 996-7637 | 7637 | Unavailable. | - |
| Stainless/Aluminum | 996-7636 | 7636 | Unavailable. | - |
| Stainless/Aluminum | 996-7629 | 7629 | Unavailable. | - |
| Stainless/Aluminum | 996-7627 | 7627 | Unavailable. | - |
| Stainless/Carbon Fiber | 996-7624 | 7624 | Unavailable. | - |
| Stainless/Aluminum | 996-7623 | 7623 | Unavailable. | - |
| Stainless/Aluminum | 996-7619 | 7619 | Unavailable. | - |
| Stainless/Carbon Fiber | 996-7615 | 7615 | Unavailable. | - |
| Stainless/Aluminum | 996-7614 | 7614 | Unavailable. | - |
| Stainless/Aluminum | 996-7596 | 7596 | Unavailable. | - |
| Stainless/Aluminum | 996-7594 | 7594 | Unavailable. | - |
| Stainless/Aluminum | 996-7590 | 7590 | Unavailable. | - |
| Stainless/Aluminum | 996-7587 | 7587 | Unavailable. | - |
| Stainless/Aluminum | 996-7585 | 7585 | Unavailable. | - |
| Stainless/Aluminum | 996-7584 | 7584 | Unavailable. | - |
| Stainless/Aluminum | 996-7581 | 7581 | Unavailable. | - |
| Stainless/Aluminum | 996-7578 | 7578 | Unavailable. | - |
| Stainless/Carbon Fiber | 996-7557 | 7557 | Unavailable. | - |
| Stainless/Aluminum | 996-7556 | 7556 | Unavailable. | - |
| Stainless/Aluminum | 996-7537 | 7537 | Unavailable. | - |
| Stainless/Aluminum | 996-7535 | 7535 | Unavailable. | - |
| Stainless/Carbon Fiber | 996-7527 | 7527 | Unavailable. | - |
| Stainless/Aluminum | 996-7525 | 7525 | Unavailable. | - |
| Stainless/Aluminum | 996-7521 | 7521 | Unavailable. | - |
| Stainless/Aluminum | 996-7516 | 7516 | Unavailable. | - |
| Stainless/Aluminum | 996-7513 | 7513 | Unavailable. | - |
| Stainless/Aluminum | 996-7512 | 7512 | Unavailable. | - |
| Stainless/Carbon Fiber | 996-7455 | 7455 | Unavailable. | - |
| Stainless/Aluminum | 996-7454 | 7454 | Unavailable. | - |
| Stainless/Carbon Fiber | 996-7434 | 7434 | Unavailable. | - |
| Stainless/Aluminum | 996-7429 | 7429 | Unavailable. | - |
| Stainless/Aluminum | 996-7425 | 7425 | Unavailable. | - |
| Stainless/Carbon Fiber | 996-7422 | 7422 | Unavailable. | - |
| Stainless/Aluminum | 996-7421 | 7421 | Unavailable. | - |
| Stainless/Carbon Fiber | 996-7405 | 7405 | Unavailable. | - |
| Stainless/Aluminum | 996-7404 | 7404 | Unavailable. | - |
| Stainless/Carbon Fiber | 996-7397 | 7397 | Unavailable. | - |
| Stainless/Aluminum | 996-7396 | 7396 | Unavailable. | - |
| Stainless/Carbon Fiber | 996-7389 | 7389 | Unavailable. | - |
| Stainless/Aluminum | 996-7388 | 7388 | Unavailable. | - |
| Stainless/Aluminum | 996-7374 | 7374 | Unavailable. | - |
| Stainless/Aluminum | 996-7358 | 7358 | Unavailable. | - |
| Stainless/Carbon Fiber | 996-7351 | 7351 | Unavailable. | - |
| Stainless/Aluminum | 996-7350 | 7350 | Unavailable. | - |
| Stainless/Carbon Fiber | 996-7343 | 7343 | Unavailable. | - |
| Stainless/Aluminum | 996-7342 | 7342 | Unavailable. | - |
| Stainless/Carbon Fiber | 996-7335 | 7335 | Unavailable. | - |
| Stainless/Aluminum | 996-7334 | 7334 | Unavailable. | - |
| Stainless/Carbon Fiber | 996-7325 | 7325 | Unavailable. | - |
| Stainless/Aluminum | 996-7316 | 7316 | Unavailable. | - |
| Stainless/Carbon Fiber | 996-7310 | 7310 | Unavailable. | - |
| Stainless/Aluminum | 996-7309 | 7309 | Unavailable. | - |
| Stainless/Carbon Fiber | 996-7302 | 7302 | Unavailable. | - |
| Stainless/Aluminum | 996-7301 | 7301 | Unavailable. | - |