Race Ready: FXR Chaparral Honda And Team Owner/Manager Michael Lindsay
Chaparral Motorsports
|
February 27, 2021
|
Last Updated: March 2, 2021
As Supercross heads into Orlando for round eight we will see a host of fresh new riders in the 250 class as the West Coast Series kicks off for its eight week run. Speaking of fresh faces, one of the newest teams to enter the Supercross series, the FXR Chaparral Motorsports Honda team will feature two riders, Coty Schock, and Carson Mumford, competing on the 250 series. In only its second year, the privateer FXR Chaparral Honda team is already turning heads in the pits.
People say they love or have a passion for dirt bikes and racing but it takes a very special person to one day decided they are going to start a pro Supercross/Motocross team from scratch with no personal experience doing so. And then to fully commit and dedicate yourself through time, energy, and money–all to just help build the sport and build the foundation for future long term professional racers, well, you get a person like Michael Lindsay.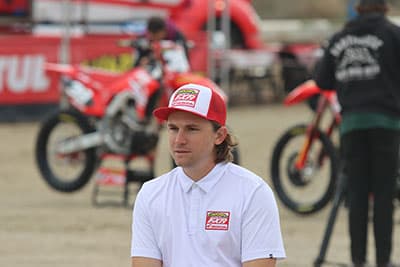 Michael, has been riding since he was four years old and truly has dirt bikes in his blood as a third generation rider. Growing up in and around the industry he's raced at the amateur and local pro level. Once he determined a professional race career wasn't in the cards, he found a way to stay deeply involved by working with various companies by testing, suspension building, tuning etc. Eventually he made his way to the media side and became a highly respected tester, reviewer, do-it-all kinda of journalist for Vital MX.
With a desire to continually learn and a strong need to help others Lindsay decided the next step in his career would be to start up a privateer professional race team as the owner/manager. As wild of an idea as that may be and as much of an ultimate dream scenario it may seem to many moto enthusiasts, it actually makes a lot of sense for a guy like Lindsay.
Michael has a unique perspective when it comes to owning/managing a team. With his diverse background and recent stint as a moto journalist he's had the opportunity to to see, feel, hear, play with, and test a variety of dirt bikes, products, and components. So he knows first hand what works and what doesn't work, as well as where and how to apply that knowledge towards the development of his racing program. Well known, well-liked, and well-respected throughout the industry, Lindsay has a lot of connections. With his experience he can also understand the thoughts and concerns of his riders from their individual perspectives and help them work through problems or offer suggestions/solutions, tuning tips, and encouragement.
While 2020 was the inaugural season for the FXR Chaparral Honda team, Lindsay did not tread lightly into his first foray as an owner/manager. He took on this new challenge a gung-ho shotgun approach fielding a team of four riders slated to race both the 250 and 450 series. Lindsay's rookie season as a team owner/manager was a big leap and huge change from anything he'd done in the past. This new challenge he took on was made all the more stressful with a series of injuries that plagued the team and threw quite a few wrenches into the overall plan. Oh, and then there was Covid. Even with all the injuries and obstacles that cluttered the team's path, Lindsay persevered and navigated the team through its first season.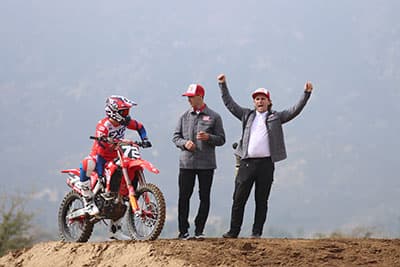 Many would have probably thrown in the towel after such an arduous experience, Lindsay took all the lessons he learned in 2020 and used them to shape the 2021 FXR Chaparral Honda team into a more efficient machine. By trimming down to just two riders, competing in the same series, on the same coast, it means less travel, less expenses, less headaches, and more time for Lindsay to concentrate on each rider to help them achieve success.
Focused and determined, Lindsay and his crew have dialed in the team and the bikes to a level that would have people thinking this is a tenured team and not a race program that is only in its second season. Recently there was a team intro/practice day at Elsinore MX Park where we got to see the team and the bikes first hand. It's definitely a program that's hitting its stride and ready to stir up some dirt. Schock and Mumford both looked extremely confident and comfortable on the bikes. Each rider had their unique skill set and style. Schock was precise and focused while Mumford was charging with energy and had a solid flow. No doubt that as they get into the season and ride with each other more and more those characteristics will rub off on one another.
The Riders
Coty Schock #72, Mechanic: Tony Archer
Coty is the sole returning rider from FXR Chaparral Honda team's inaugural season. While it's still early, Schock has spent much of his professional racing career in the Lucas Oil Outdoors series. He competed in the 250 class in 2016 and 2017 then moved to the 450 in 2018. Originally slated to start for FXR Chaparral Honda team last year at A1, Schock broke both his arms right before the race and was sidelined. He recovered from his injuries and raced four Supercross events in the 250 east coast series for the team. Healthy and optimistic, Schock will be on the hunt for hole shots and podiums.
Carson Mumford #39, Mechanic: Richard Sterling
This may be Mumford's rookie season racing Supercross but he's no rookie when it comes to professional racing. In 2019 and 2020 he competed in the 250 Lucas Oil pro Motocross series. For the 2020 season he finished in 12th place overall overall. Mumford was originally signed to race under the GEICO Honda tent for 2021 but when that team dissolved he was swept up by Lindsay. With Schock having raced under Lindsay's tutelage last year, he can help guide the rookie rider.
The FXR Chaparral Honda CRF250rs
The bikes themselves are worth taking note of. Lindsay mentioned that Honda was extremely impressed with how the CRF250Rs turned out. Honda stepped up and helped out with some of the team wishes, most notably the billet Nissin calipers. The rest of the sponsors is comprised of a top tier list in the SX/MX industry. XPR Motorsports is on board with building and fine tuning the CRF250 mills while Yoshimura and its RS9 exhaust systems give the bikes performance, sound, and style. Motul is doing it's part with the vital fluids for the bikes. The team tapped Enzo Racing for its KYB PSF1 Air Fork and Xtrig Racing for the triple clamps. Pro Taper bars and Arc Levers can be found atop the front end. The Pirelli tires help the bikes stand out amongst the sea Dunlops in the pits. Lindsay says he likes the Pirelli's because he's found them to be lighter than the competition and allow them to run a 120/80-19 to maintain weight advantages over 110s from the competition.
Stunners for sure, the bikes are on par, and in some opinions, look better than some of the Factory bikes in the pits. That alone has to be a great confidence builder for Lindsay and a sign that his scratch-built race program is headed in the right direction.
Q&A With Michael Lindsay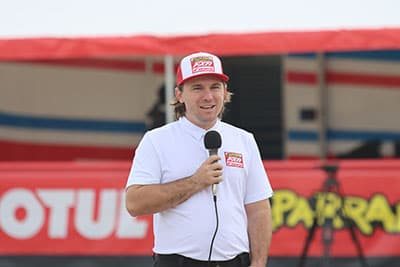 Although extremely busy with preparations to kick off the race season, Lindsay took some time out of his day to answer a few questions:
CM: Heading into your second season as a team owner/manager, what was the biggest takeaway from your first season?
You can't buy luck! Ha, in all seriousness though...just surround yourself with the right people and things will grow and move forward. And organization is key, I'm not the most organized person in the world so it's been a life change as we're responsible for multiple riders and staff, all the partners, content, travel, etc.
CM: What worked that you brought with you into this season; and conversely what didn't work that you left behind?
The partnerships like Honda, Chaparral, Motul and all of our carry over partners were huge positives of course. The same basic principles of the team and why we do what we do. Beyond that however, we did make a lot of changes on the technical side, not too much because what we had wasn't good enough, but we saw the areas we needed to improve in and grow for not only this season but years to come. The key technical partners we changed to for suspension and engine duties were done due to their experience at this level, the service cycles, understanding the week in and week out importance of certain components, testing time, turn around, etc.
CM: How did Covid impact or change the way you did things compared to last season?
Covid in general has made racing tough, from both a funding and parts availability standpoint. We've had to be very careful with our parts burn rate and how long we use certain items due to material and man power shortages for many brands within the industry.
CM: Has Covid has an impact on the way you train?
Luckily for us, Covid hasn't really affected our day to day riding and training programs. Our guys already stick to themselves, we ride at a lot of private Supercross tracks, and things are fairly relaxed regulation wise in our part of Southern California. At the very beginning last year, tracks were hard to come by for a few weeks...then everyone kind of figured out a system and we've been good since. About the only sticking point has been the closure and re-opening of public gyms but both riders have other setups that suit their needs.
CM: With that first year under your belt, what do you find you enjoy more, running a team or being behind the scenes as a journalist?
I enjoy and despise the team more in the same breath. Ha! It's just a whole new world of stress and we're making some fairly aggressive moves, so the stress and pressure piles up a lot. But the reward of going racing with something you've built from the ground up is undefinable. And how many people can say they've started a Supercross team from scratch!?
CM: What are your goals for each of the riders?
First off, both riders making through the season consistently without any major incidents or injuries. You gotta be in the race, not on the sidelines. From there, I'd be satisfied with a top 15 from Schock at round one and a top 10 from Mumford at the opener. Carson Mumford has top five speed but I'd personally like to see him build into over the first couple rounds, it's his rookie season, no need to rush it and be on the ground. Just let him learn his lessons in racing SX and build each week. Similar thoughts for Coty. I think he can be top 12-8 range each week. He's a better racer than practicer, but he needs time behind the gate. So the more races he gets in the better.
As we stated at the beginning, it takes a very special person to decide they are going to start up/mange a pro Supercross/Motocross team. But with arguably one of the most daunting inaugural season's already under his belt, Lindsay has quickly proven he's that person. Not only that, but he's living what many moto guys dream about.