Chaparral Motorsports Becomes Super73 Retailer
Chaparral Motorsports
|
November 23, 2021
|
Last Updated: February 7, 2022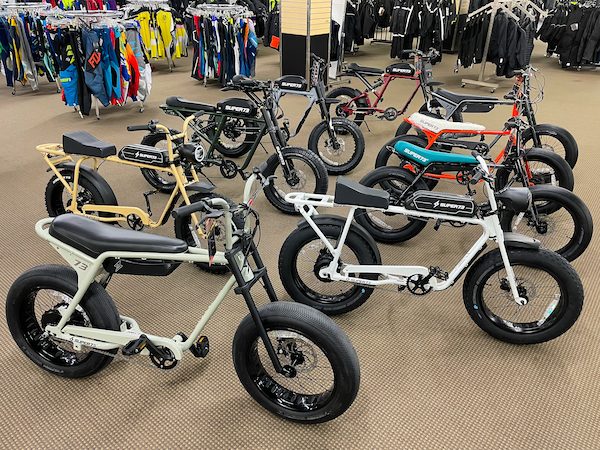 To go along with its massive showroom of popular gasoline-powered dirt bikes, street bikes, ATVs, and Side-by-Sides, Chaparral Motorsports is pleased to announce that it now carries electric bicycles from well-regarded manufacturer, Super73. Sporting a minimalist appearance, the Super73 family oozes an essence of retro styling that reminds many riders of their motorcycling roots, thus striking an itch that just begs to be scratched. However, with their versatile, lightweight, and easy to ride nature, the bikes offer riders the best of both worlds via traditional pedals or the assistance of electric power. Best of all, these urban explorers are street-legal, don't require a license or insurance to be ridden on the street, and can be charged via a 110-volt outlet.
The Original Electric Motorbike
While some may refer to them as eBikes or electric bikes, Super73 refers to them as electric motorbikes. With the addition of fenders, lighting, and suspension, as well as increased power and range across the lineup, it's easy to see how they appeal to both bicycle and motorcycle enthusiasts. To cater to this diverse crowd, Chaparral Motorsports carries all the models in the Super73 Z-Series, SSeries, and R-Series families.
The batteries powering the Super73 line ranges from 418 watt-hour in the entry level Super73 Z1 all the way up to 960 watt-hour in the maxed out Super73 RX. Motors in the differing models run from 500 watt nominal / 900 watt peak, to 1200 watt nominal / 2000 watt peak respectively. With the different battery/motors shoppers can expect speeds ranging from 20 mph to 28 mph, anywhere from a 15-mile to 75-mile range, and 5-7 hours of charge time. All these factors are dependent upon the model.
All models are outfitted with beefy 4" to 5"-wide x 20" tall tires that sport either street inspired tread or more offroad worthy all-terrain rubber. They also all have a bicycle pedal assembly as well as a thumb throttle on the right side of the handlebar that controls the power from an internal DC Hub motor. The geared brushless motor tucked inside the rear hub of the Super73s provides an extremely clean and uncluttered look. Sporting a low seat height of only 27" to 31" and a weight ranging from 64lbs to 80lbs depending on the model, they are very manageable and easy to operate for most teens and adults.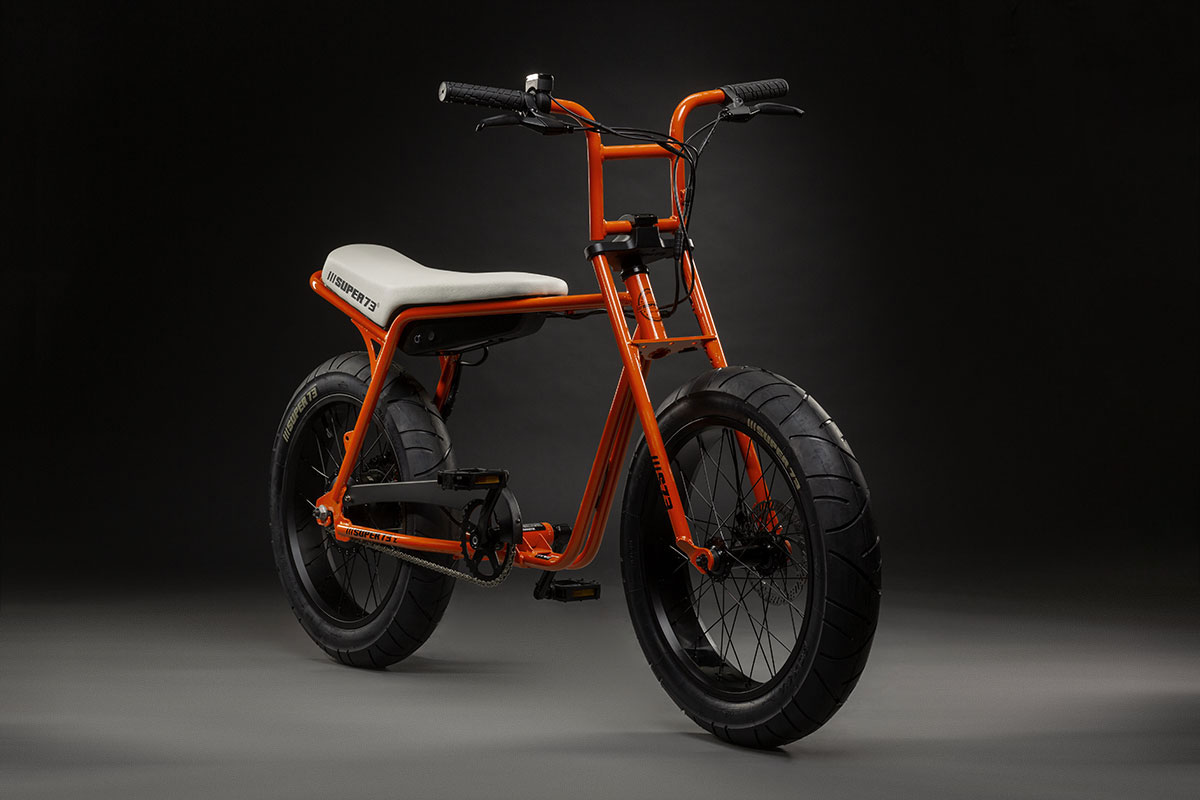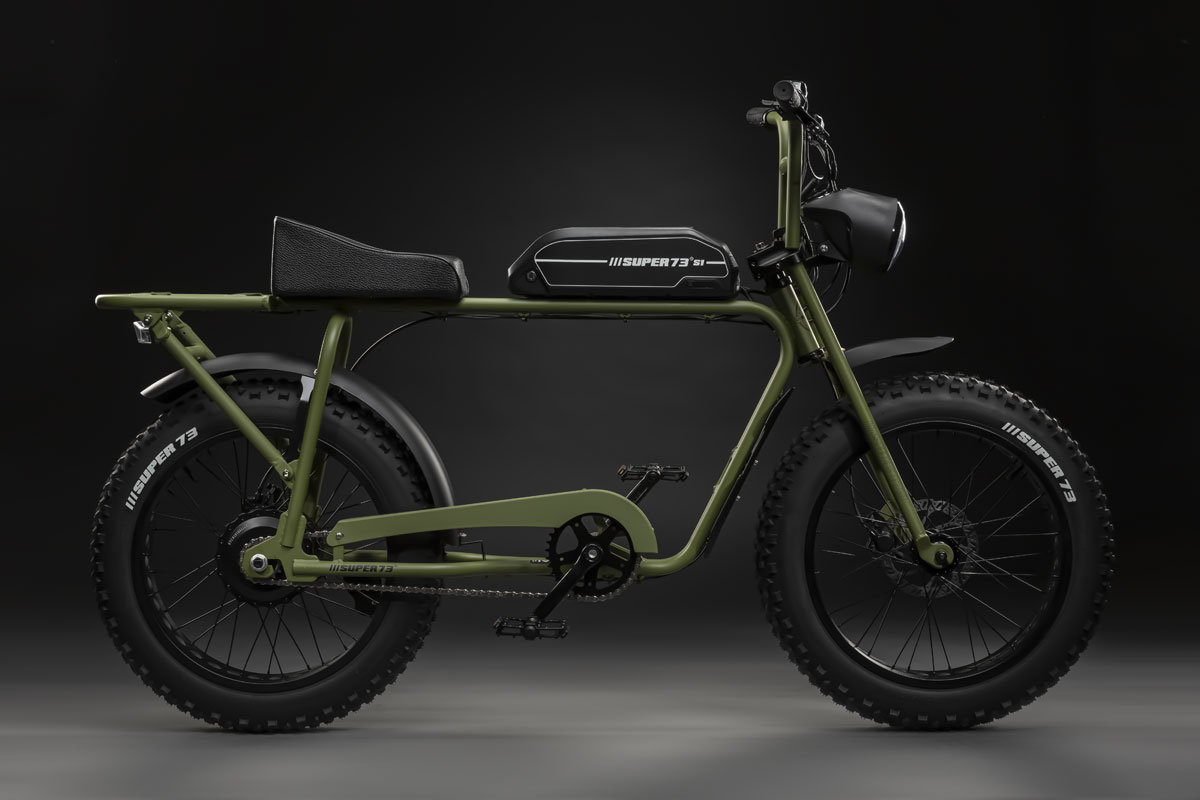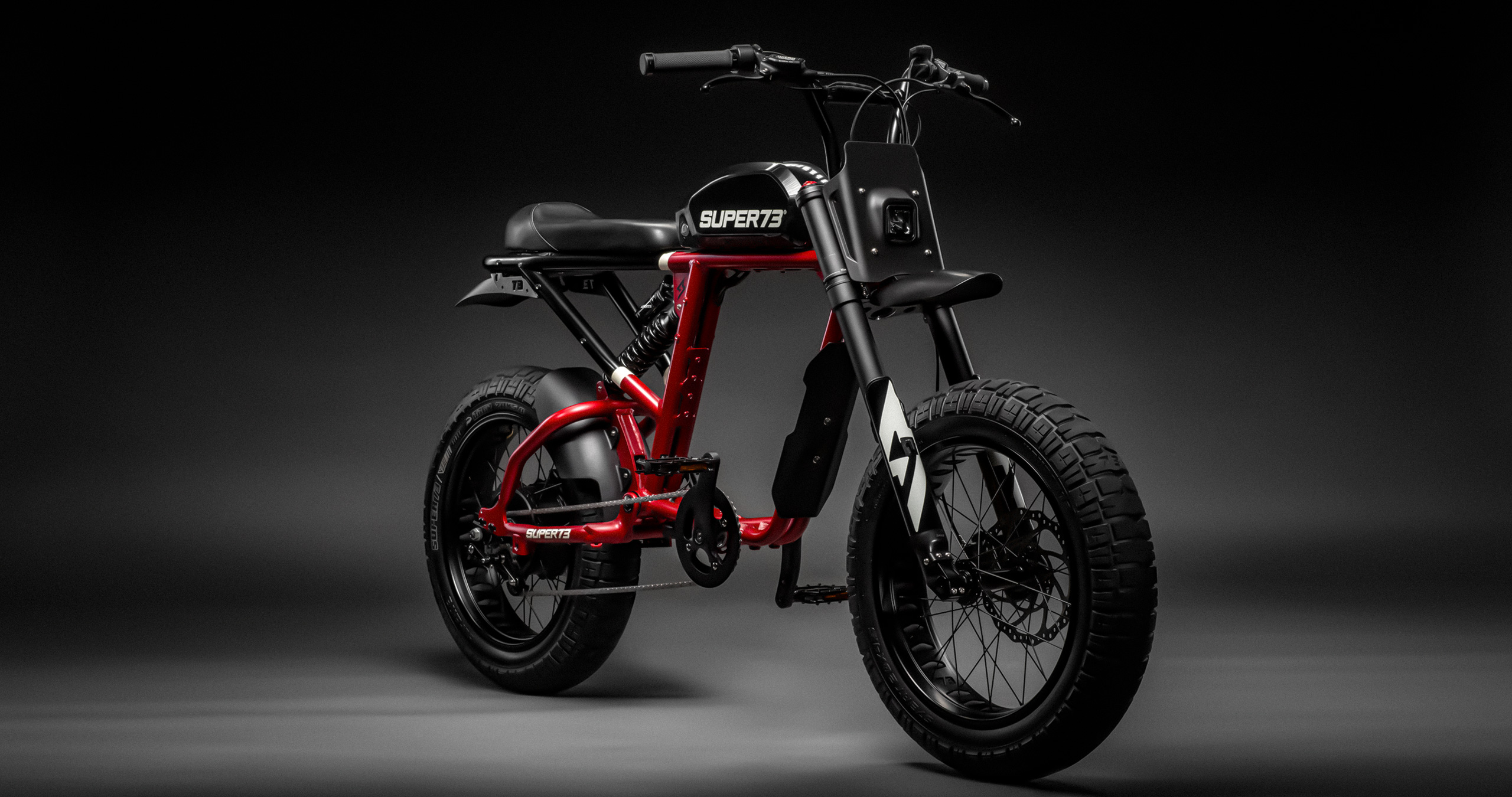 With the entire collection of Super73 motorbikes on hand, Chaparral will be able to appeal to a variety of wants and needs from its customers. Knowing that budget is also a factor, the bare bones entry-level Super73 Z1 is a great option. With no suspension, mechanical brakes, and extremely clean lines, the Z1 will be the most familiar to bicycle riders but with the added benefit of an electric motor to help power them.
For those looking for more upgrades, the Super73 S1 comes with front and rear fenders, an LED headlight, and a 768 watt-hour battery capable of delivering a 25- to 35-mile range on a 6-7 charge. The removable 768 watt-hour battery allows for easy charging or the ability to swap batteries, and the 500 watt nominal / 1,000 watt peak output motor allows the user to operate between Eco, Mid, and High power modes. With it's rear cargo rack the S1 is a perfect middle of the road electric motorbike that offers versatility and short distance commuting.

Sporting Super73's most powerful performance and technology package and coupled with a fully adjustable suspension system the RX model sits at the top of the lineup. With a lightweight aluminum alloy frame, an inverted coil-spring fork with air assist and a rear piggyback coil-over mono-shock, the RX only weighs 80 lbs and can support riders up to 325 lbs. The electronics suit and configuration allows users to select from multiple ride modes such as Eco, Tour, Sport, and Super. The 2,000 watts of peak power from the 960 watt-hour battery delivers an estimated 40-mile range under throttle only operation and extends all the way up to 75 miles when using the Eco pedal assist mode.

From a leisure vacation ride along the boardwalk, to a spirited dust up on an offroad trail around the camp site, it's easy to see how the Super73 lineup will appeal to Chaparral's diverse customer base. To see the full lineup and for more information on the Super73s please visit Chaparral Motorsports. At this time, the bikes are available in store only.

Compare Super 73 eBike Specs
| | | | | | | |
| --- | --- | --- | --- | --- | --- | --- |
| | Super73 Z1 | Super73 ZX | Super73 S1 | Super73 S2 | Super73 R | Super73 RX |
| Battery | 418 watt-hour | 615 watt-hour | 768 watt-hour | 960 watt-hour | 960 watt-hour | 960 watt-hour |
| Motor | 500 watt nominal / 900 watt peak | 750 watt nominal / 1350 watt peak | 500 watt nominal / 1000 watt peak | 1200 watt nominal / 2000 watt peak | 1200 watt nominal / 2000 watt peak | 1200 watt nominal / 2000 watt peak |
| Range | 15-25 miles | 25-35 miles | 25-35 miles | 40-75 miles | 40-75 miles | 40-75 miles |
| Charge time | 5-6 hrs | 6-7 hrs | 6-7 Hrs | 5-6 hrs | 5-6 hrs | 5-6 hrs |
| Suggested Rider Height | 4'6"-5'11" | 5'1"-6'8" | 4'10-6'2" | 5'1"-6'8" | 5'3"-6'8" | 5'3"-6'8" |
| Connectivity | Yes | Bluetooth Smart Display, Super73 App compatible, Optional: GPS/Anti-theft Security Module | N/A | Bluetooth Smart Display, Super73 App compatible, Optional: GPS/Anti-theft Security Module | Bluetooth Smart Display, Super73 App compatible, Optional: GPS/Anti-theft Security Module | Bluetooth Smart Display, Super73 App compatible, Optional: GPS/Anti-theft Security Module |
| Ride Modes | N/A | Class 1/2/3/Unlimited | N/A | Class 1/2/3/Unlimited | Class 1/2/3/Unlimited | Class 1/2/3/Unlimited |
| Throttle | Yes | Yes | Yes | Yes | Yes | Yes |
| Pedal Assist | N/A | 4 modes (1- ECO, 2- TOUR, 3- SPORT, 4- SUPER) | Eco/Mid/High | Eco/Tour/Sport/Super | Eco/Tour/Sport/Super | Eco/Tour/Sport/Super |
| Brakes | Mechanical 160/160mm rotors | Mechanical 160/160mm rotors | 2 piston Hydraulic 160/160mm Rotors | 2 piston Hydraulic 180/180mm Rotors | 2 piston Hydraulic 203/180mm Rotors | 4 piston Hydraulic 203/180mm Rotors |
| Light Kit | N/A | Sold Separately | Yes | Yes | Optional | Yes |
| Frame Material | Steel | Alluminum Alloy | Steel | Aluminum | Aluminum | Aluminum |
| Front Fork | Rigid (Steel) | Sold Seprately | Rigid (Steel) | Suspension fork with adjustable Pre-load, Compression, and Rebound damping, 120mm travel, 32mm Stanchion | Inverted coil spring suspension fork, 120mm travel, 35mm Stanchions | Inverted coil spring suspension fork w/ air assist - adjustable Pre-load and Rebound damping, 120mm travel, 35mm Stanchions |
| Rear Shock | N/A | N/A | N/A | N/A | Coilover mono shock – adjustable preload and rebound damping | Coilover piggyback mono shock - adjustable preload, compression, and rebound damping |
| Tires | 20" x 4.25" Street | 20" x 4.25" LZD Tires | 20" x 4.25" All Terrain | 20" x 4.5" / 20" x 5" BDGR All-Terrain | 20" x 4.5" / 20" x 5" BDGR All-Terrain | 20" x 4.5" / 20" x 5" BDGR All-Terrain |
| Fenders | Optional | Optional | Yes | Yes | Optional | Yes |
| Color | White, Jet Black, Steel Blue, Astro Orange, Millennial Pink | Storm Grey, Moon Rock | Black, White, Army Green, Tan | Apollo White, Hudson Blue, Galaxy Black | Olive Drab | Rhino Gray, Carmine Red |
| Gearing | Single Speed | Single-speed 16T rear cog | Single Speed | Single Speed Optional: 10 Speed Shimano | Single Speed Optional: 10 Speed Shimano | Single Speed Optional: 10 Speed Shimano |
| Passenger Ready | N/A | N/A | N/A | Yes, Optional: Passenger foot pegs | Yes, Optional: 2-Up Seat and Passenger foot pegs | Yes, Optional: 2-Up Seat and Passenger foot pegs |
| Bike Weight | 64lb | 62.6lb | 70lb | 73lb | 76lb | 80lb |
| Rider Weight Limit | 250lb | 325lb | 275lb | 325lb | 325lb | 325lb |