MONSTER ENERGY® KAWASAKI RIDER ELI TOMAC DOMINATES THE COMPETITION IN OAKLAND
Chaparral Motorsports
|
February 3, 2020
Round 5 of Monster Energy AMA Supercross, an FIM World Championship returned to Oakland, California where Team Green found success all day long. Monster Energy® Kawasaki rider Eli Tomac put on an impressive show as he returned to the top step of the 450SX class podium for his second win of the season, while Monster Energy®/Pro Circuit/Kawasaki rider Austin Forkner battled hard, earning second overall in the 250SX class and placing his KX™250 on the podium once again.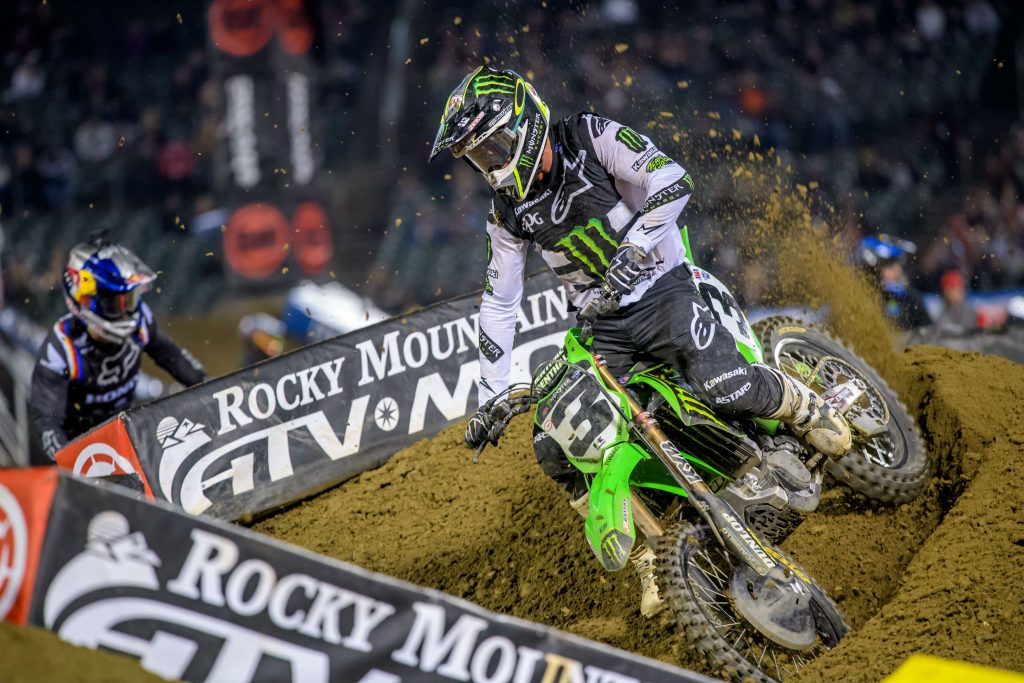 Adam Cianciarulo and Tomac continued to show the way in qualifying/practice with the dynamic duo once again qualifying one-two respectively for the fifth straight week.
Tomac lined up for the first 450SX heat race of the night where he crossed the finish line in second place and was able to find fast lines that would pay dividends later in the Main Event. Teammate Cianciarulo lined up for 450SX heat race number two and found himself buried mid-pack off the start. As Cianciarulo began picking off his competitors one by one he ran into the back wheel of his former Monster Energy/Pro Circuit/Kawasaki teammate Martin Davalos. Cianciarulo got shuffled to the back and had to charge all the way back up to sixth place to qualify into the Main Event.
As the gate dropped on 450SX Main Event, it was Cianciarulo and Tomac getting off the line in great shape. Rounding the first turn side by side amongst the leaders, they ran second and third place respectively. After dicing it out in the first few turns the teammates settled into place. Near the halfway mark the No. 3 Kawasaki machine of Tomac saw an opportunity and began to charge towards the front. After passing his teammate, he was able to make quick work of the leader and began building a lead around two seconds, but a costly mistake at the end of the sand section sent Tomac over the berm. However, there was no denying Tomac on this night. He regrouped and with two minutes left, he was able to reclaim the lead and win the race with authority. Cianciarulo would ultimately end up crossing the finish line in fourth place on the night.
With the win in Oakland, Tomac ties former Monster Energy Kawasaki racers James Stewart and Ryan Villopoto with the most wins in Oakland. After capturing his second win of the season, Tomac now sits just three points behind the series points leader heading into Round 6.
Eli Tomac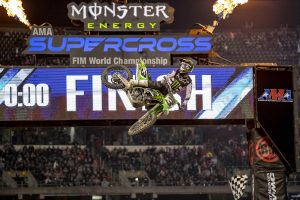 "Wow, what a crazy night. We got a good start tonight and were able to get going right away. Had a good battle with Ken (Roczen) tonight, then got a little excited and missed my rear brake and went over the berm there. Luckily, I was able to recover quickly and charge back to the front. My KX™450 was straight up ripping tonight and we closed the points gap up to three points. I am feeling really good right now, and we are just going to carry this momentum into San Diego next weekend."
Adam Cianciarulo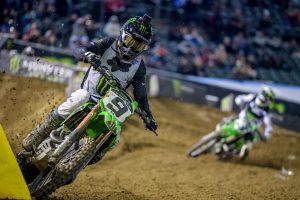 "For me tonight we made great strides and for only riding one time this week to see if my tailbone was good to go, I am pretty pumped with the result. I can't thank the whole Monster Energy Kawasaki team enough for giving me a setup tonight that allowed me to do what I did after being a little banged up. I am looking forward to some more recovery this week and to come out swinging next week in San Diego."
Monster Energy/Pro Circuit/Kawasaki's Forkner kicked off the day qualifying second, while teammate Cameron McAdoo returned to racing in Oakland after two weeks off, and able to qualify in ninth place heading into the night show.
Forkner lined up for the first 250SX heat race of the night and got off to a good start. After picking his way past a couple competitors, he began to run down the leader, and after a few turns of playing cat and mouse, Forkner was able to take control of the lead and never looked back. In the second 250SX heat race of the night, it was a wild ride for the No. 29 machine of McAdoo as the Top-5 running order shifted lap after lap. McAdoo capitalized on the opportunity and he went on to win his first ever 250SX heat race.
As the gate dropped on 250SX Main Event, Forkner shot into second place and by lap two had moved himself into the lead and began putting distance between the competition knowing that every point counts towards the championship points lead. As the race progressed. Forkner would be forced to battle lapped traffic allowing the competition to close the gap. Following a quick battle, Forkner would have to settle for second place overall.
In the 250SX Main Event McAdoo found himself buried in the mid-pack off the start. After dodging mayhem in the early laps, McAdoo settled into seventh place and wanted to get valuable track time after returning from injury and ultimately crossed the finish line in 14th place.
After putting his KX™250 on the podium in Oakland, Forkner's point deficit remains at 10 in the 250SX West Point Standings, however he was able to move up into third place in the championship point standings.
Austin Forkner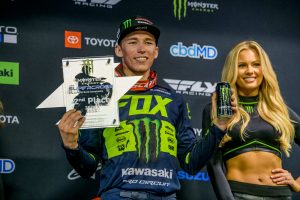 "Tonight was a solid night overall, obviously I would have liked to take the win, but the lapped traffic tonight was no joke. I am happy with where my riding is, so this week we will make some minor tweaks and keep improving. I've had to dig myself out of a hole and while we didn't make up any points on the leader tonight, we did move up to third in the standings. Ten points down isn't too bad and something I can manage. I'll keep grinding, chipping away at those points and continue to dig out of this hole. Overall, it was a great night for the entire Monster Energy/Pro Circuit/Kawasaki team and we're looking to finish next week off strong before the break."
Cameron McAdoo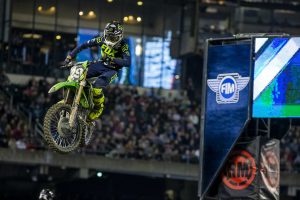 "There were a lot of positives to take away from today. I was just so excited to be back out there racing with my Monster Energy/Pro Circuit/Kawasaki team. It felt like the longest two weeks of my life and then to come here to Oakland today and to get my first ever heat race win, I was just pumped. I obviously would have liked for things to go a little different in the main event, but I can't beat myself up because we made some good progress. Winning that heat race only fired me up even more to know that is where I belong. We will keep the ball rolling and go get after it next week in San Diego."
Source: Kawasaki USA