Suzuki Announces Sponsorship With Outdoor Life/Field & Stream Expo, Presented By Suzuki KingQuad For Second Consecutive Year
Chaparral Motorsports
|
January 10, 2020
Suzuki Motor of America, Inc. (SMAI) is excited to announce its sponsorship with the Outdoor Life/Field & Stream Expo Series Presented by Suzuki KingQuad for its second consecutive year. As the title sponsor for 2019, and now for 2020, Suzuki will magnify exposure of its full 2020 KingQuad ATV lineup, including the all-new KingQuad with Rugged Package, during the Expo's five-stop series to hunting, fishing, and outdoor lifestyle audiences. The Expo's first stop will be at the McCracken County Convention and Expo Center in Paducah, Kentucky on January 17th.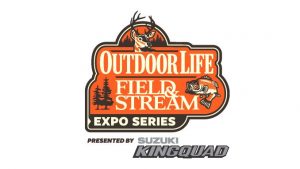 Suzuki's all-new 2020 KingQuad with Rugged Package will join the rest of the KingQuad ATV family for its show debut. The Rugged Package includes a newly designed front and rear bumper, and a front LED light bar that is durable and bright enough to light up any outdoor adventure. The bumpers' aggressive look, and well-tested design helps the KingQuad tackle the toughest tasks thrown its way while the light bar ensures the ride continues long after the sun has gone down.
In addition, select 2020 Suzuki youth ATV models as well as off-road and DualSport motorcycles will be on display at all Outdoor Life/Field & Stream Expo Series stops to increase awareness of Suzuki products and their valued outdoor capabilities.
After the Expo's inaugural event in Kentucky, the five-stop series will continue to; Lansing, Michigan (March 13-15), Columbus, Ohio (March 20-22), Madison, Wisconsin (April 3-5), and Lakeland, Florida (July 24-26).