TOBY PRICE TOPS DAKAR STAGE FIVE
Chaparral Motorsports
|
January 9, 2020
Day five at the 2020 Dakar Rally presented a change in scenery for competitors as they traveled east from Al-'Ula to Ha'il. The 353-kilometre timed special began with fast, stony tracks similar to the previous day's stages, before opening out into expansive dunes during the latter half of the route.
Following his sixth-place finish on Wednesday, Toby Price was keen to make the best use of his start position and make up time on the rally front-runners. Pushing hard right from the off, the Australian had moved into the lead by kilometre 152. From there the reigning Dakar champion maintained a strong pace, making the minimum of mistakes, to bring his KTM 450 RALLY home over one-minute ahead of the second-placed rider.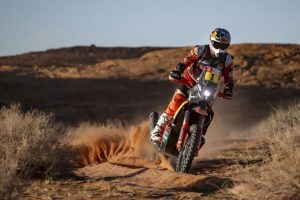 Toby Price:"It was a good day for me today - we've seen a big change in scenery with the last half of the stage in the dunes. I got my head down at the start and made some good progress even though it was a bit tricky out there today. I've made up some more time on the leaders, which is good and hopefully we'll have another strong day in the sand tomorrow. I want to wish Sam all the best after his fall today too - hopefully he's back on the bike again soon."
Matthias Walkner suffered a difficult stage four yesterday, where a small mistake resulted in several minutes lost. Keen to recover that time, the Austrian racer had to first battle through the dust raised by the riders ahead as he made his way through the field during today's special. Ultimately placing fifth at the finish, seven minutes down on Price, Matthias will now enjoy an excellent start position and be able to attack Friday's long 477-kilometre special stage.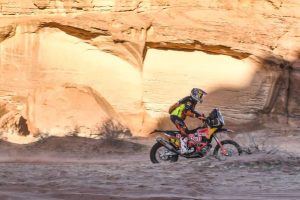 Matthias Walkner:"All-in-all it has been a good day for me today. I suffered a little with the dust at first due to starting 27th and had lost a bit of time by the refuelling. After that on the off-piste sections I think I was a little too careful in my navigation and not just pushing the tracks like it seems some of the other riders were. The good thing is I made it to the finish safely without losing too much time. It's never nice to see your teammate after they have had a crash, it took my focus for a little while, but it seems he is not too bad and that's always good to hear."
Similarly, to teammate Walkner, Luciano Benavides endured a late start position on stage five, setting off as the 20th rider to enter the special. The young Argentinian did an excellent job of navigating his way through the pistes and canyons on the opening kilometres of the stage, reaching the halfway point as fourth fastest. A couple of small errors slowed his progress as the riders entered the dunes close to Ha'il, but Benavides was able to maintain his solid pace to ultimately finish as eighth fastest.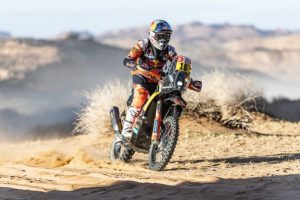 Luciano Benavides:"It was an extremely tough day today - we covered a lot of kilometres off-piste and that is always very tiring. I was riding really well up to the refuelling, I think I was around second-fastest. Later on, I saw Sam after his crash and so I decided to ease off a little to make sure I didn't come off as well. The stage was very fast with a lot of broken dunes and it made it very easy to make a mistake. We still have seven stages left to go, so I thought it was better to finish the stage safely and see how things go tomorrow."
KTM Factory Racing's Mario Patrao, put in a strong ride on stage five to finish in 35th position. The Portuguese rider sits 40th in the overall standings.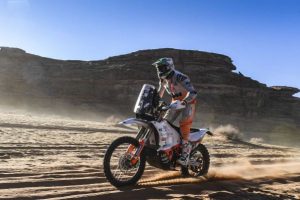 Mario Patrao:"It was a very long stage today with some rocks and a lot of dust up to checkpoint one. After that, we started getting into real Dakar terrain with lots of sand and dunes. Right now we are at 30 percent of the race and there's still a long way to go. I'll continue to do my best and assist with the team as best as I can. I want to also wish Sam a fast recovery after his crash today."
Reigning FIM Cross-Country Rallies World Champion Sam Sunderland was forced to abandon the 2020 Dakar Rally following a crash at kilometre 187 on stage five. The British rider was airlifted from the stage with injuries to his back and shoulder and taken for immediate medical checks. Thankfully, Sam is expected to make a full recovery.
Jordi Viladoms - KTM Rally Team Manager:"It's not been the perfect day for us today, but as we often see at the Dakar we have two sides - Toby has won the stage and is second overall, but unfortunately Sam had a crash and will not continue the race. Thankfully, it seems that Sam's injuries are not too serious, he has broken some vertebrae and his shoulder, but we are hoping he will spend some time in hospital here before flying back to Europe and starting his recovery. In terms of the rally, the change in terrain should suit us more from now on - we will see lots of fast, off-piste sand tracks and difficult to navigate dunes. We are still in the fight for the overall victory and I am confident all my riders will give their best tomorrow and for the second half of the race."
Stage six of the rally marks the final day of racing before the rest day. Riders leave Ha'il and head further east toward the Saudi capital of Riyadh. The second-longest stage of the event, competitors cover a total distance of 830 kilometres, which includes a gruelling 477-kilometre special made up primarily of sandy tracks and dunes.
Provisional Results Stage Five - 2020 Dakar Rally
1. Toby Price (AUS), KTM, 3:57:33
2. Pablo Quintanilla (CHL), Husqvarna, 3:58:45 +1:12
3. Andrew Short (USA), Husqvarna, 4:00:04 +2.31
4. Ricky Brabec (USA), Honda, 4:00:36 +3:03
5. Matthias Walkner (AUT), KTM, 4:04:27 +6:54
Other KTM
7. Ross Branch (BWA), KTM, 4:07:15 +9:42
8. Luciano Benavides (ARG), KTM, 4:08:06 +10:33
35. Mario Patrao (POR), KTM, 4:47:10 +49:37
Provisional Standings (after stage five) - 2020 Dakar Rally
1. Ricky Brabec (USA), Honda, 19:07:19
2. Toby Price (AUS), KTM, 19:16:25 +9:06
3. Kevin Benavides (ARG), Honda, 19:18:51 +11:32
4. Pablo Quintanilla (CHL), Husqvarna, 19:23:20 +16:01
5. Jose Ignacio Cornejo (CHL), Honda, 19:27:44 +20:25
Other KTM
6. Matthias Walkner (AUT), KTM, 19:38:13 +30:54
8. Luciano Benavides (ARG), KTM, 19:41:19 +34:00
9. Skyler Howes (USA), KTM, 19:57:06 +49:47
10. Stefan Svitko (SVK), KTM, 20:04:12 +56:53
40. Mario Patrao (POR), KTM, 24:35:04 +5:27:45