Klim Introduces AI-1 Motorcycle Airbag Vest
Chaparral Motorsports
|
January 2, 2020
With each year more and more pieces of safety equipment and technology from the automotive industry is incorporated into motorcycles and riding gear. From ABS brakes and traction control to adaptive cruise control and blind spot awareness, it's nice to see that companies are finally taking motorcycling and rider safety seriously.
Airbag systems for motorcycling have been around for nearly two decades with companies like Dainese and Alpinestars leading the way. In 2018 MotoGP made it mandatory that all riders wear race suits fitted with an airbag system to help prevent serious injury in the event of a crash.
Some of early iterations of the airbags for motorcycle riders were tethered type systems which meant that a line was attached to a hard part on the motorcycle and the other end was attached to the airbag. The air bag would then be deployed when the rider was ejected or fell off the motorcycle and the cord was pulled. While a useful system, not all motorcycle crashes involve the rider being ejected or leaving the bike. A slow speed hit or tip over could cause injury without the tethered system having been activated due to the rider not leaving the bike.
One of the latest companies to introduce an airbag system for motorcycle riders is Klim with its brand new AI-1 Airbag motorcycle vest. Klim teamed up with In&motion to create a vest that features a tetherless system similar to Dainese's D-Air and Alpinestars Tech-Air. The Klim motorcycle air bag vest operates off of a brain pack that is housed in the back of the vest and is continually monitoring sensors that operate off of algorithms to determine deployment. A subscription service for the "smart" technology enabled brain allows the brain to be updated with data logged from other riders, allowing the crash-detection algorithms to continually learn.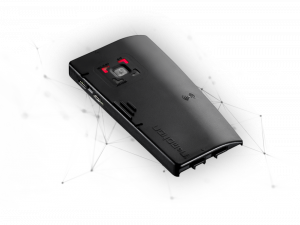 Upon deployment an inert gas canister housed within the brain compartment expands the vest in less than 60 milliseconds to provide protection to the thorax, abdomen, spine and neck. Additionally, to prevent neck injuries the shoulder area of the vest will go up under the helmet to keep the head and neck stable.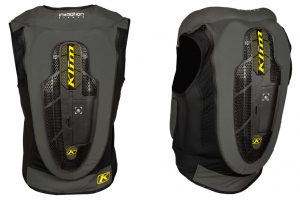 The vest itself weighs less just over 3 pounds and can be worn under pretty much any motorcycle jacket. The really great thing about the Klim AI-1 airbag vest is that it can be deployed up to three times and re-used by the rider without having to be sent in to the manufacture. Additional gas canisters can be purchased and installed by the user. After the third deployment the vest needs to be sent in for inspection.
Watch the vest in action and learn more about this new product from Klim in the video here.