Christmas Gift Guide For The Dirt Bike Rider In Your Life
Chaparral Motorsports
|
December 11, 2019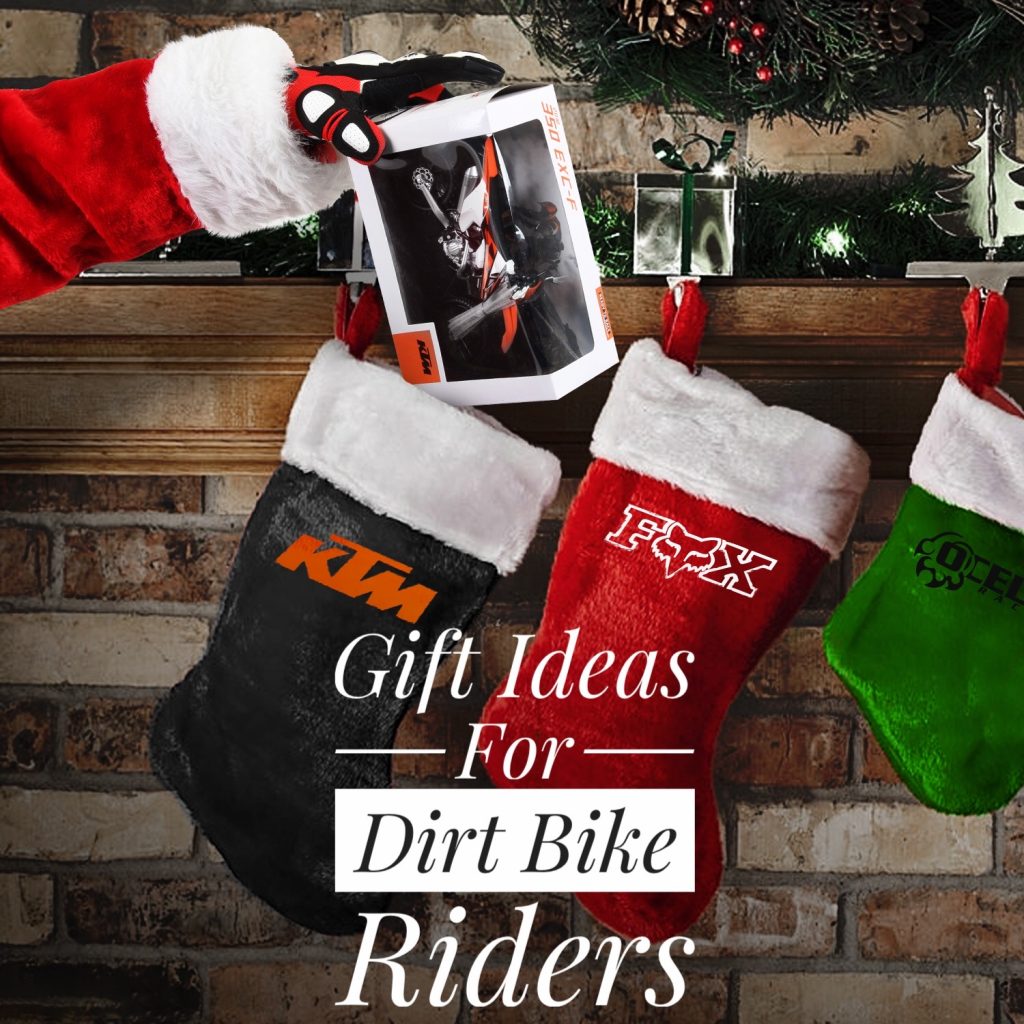 If you aren't into dirt bikes, trying to find the perfect gift for someone that enjoys getting dirty on two wheels can be a bit overwhelming. With this gift guide we are going to try and make this as easy as possible and steer clear of things like specific parts and accessories so that you don't have to try and figure out whether they own a four stroke or two stroke dirt bike, or what year/make/model they own. With these suggestions you'll be able to find something that they'll appreciate and use.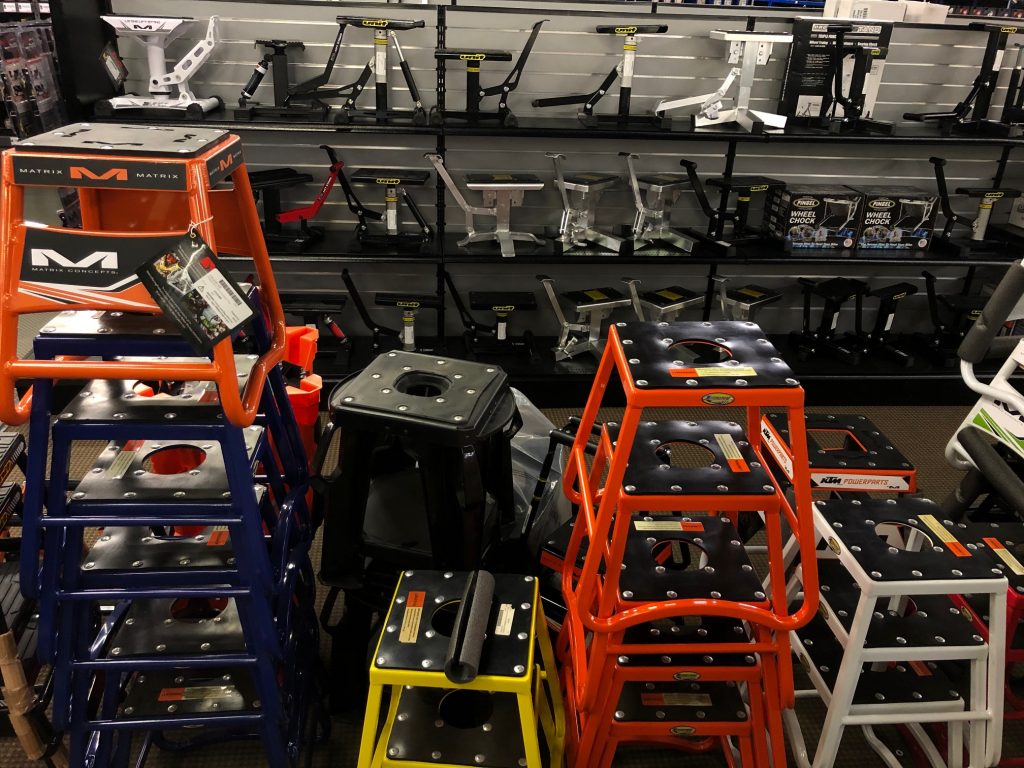 Dirt Bike Stand
Dirt bikes don't typically have kickstands, so that means when not being ridden the owner needs a way to keep the bike upright and that's where a dirt bike stand comes in. Most are made of medal and have a rubber platform for the bike to set on. Even if the person on your list already owns a moto stand (which more than likely they do) a second stand can come in handy as a seat when working on or cleaning their dirt bike, Or they could leave one stand in the garage and one in the bed of the truck so it's there when they get to the track. Prices range anywhere from about $30 to more than $100. One thing to note is that you'll notice the stands are often available in different colors so you can find a color-themed one for a Yamaha owner (blue), KTM owner (orange), Suzuki owner (yellow), Honda owner (red), or Kawasaki owner (green). If you're not sure about the manufacturer you can always just get a black one.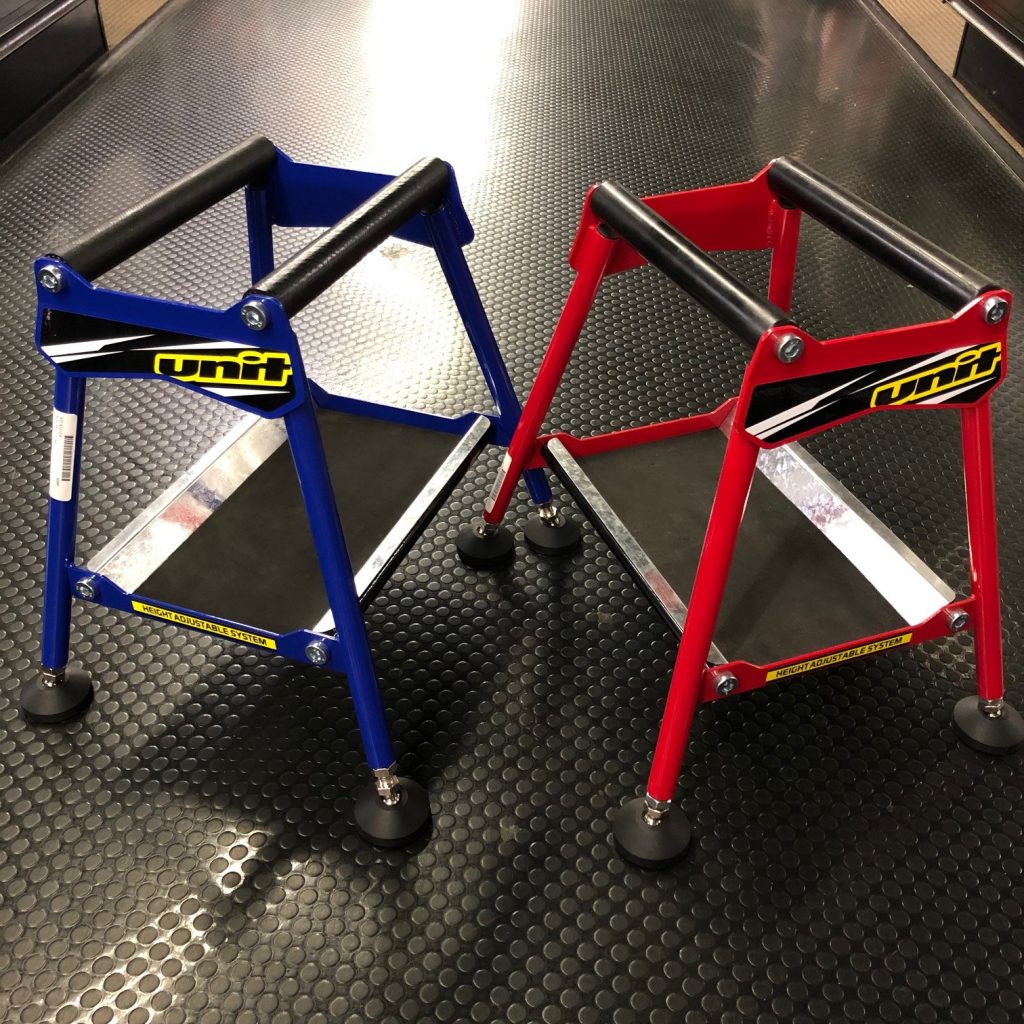 The Unit Motorcycle Products A2210 Stand is pretty cool because it's not too expensive ($52.95) but has some great features. First it has adjustable legs which make it easy to set the stand up for different dirt bikes that may be a little tougher to balance on a stand. There's also a removable tool tray which is very convenient and the open top makes it easy to perform maintenance tasks.
Tie Downs
In order to get to and from the track or wherever they typically like to ride the dirt bike has to go in the back of the truck, van, or whatever vehicle they use to transport the bike. Dirt bike tie downs are used to secure the bike upright so that it doesn't fall over. While they come in pairs, like your favorite socks, tie downs have a tendency to disappear leaving you stuck with just one. They also get pretty grimy and beat up/frayed after years of use. In short, a dirt bike rider can almost never have too many tie downs.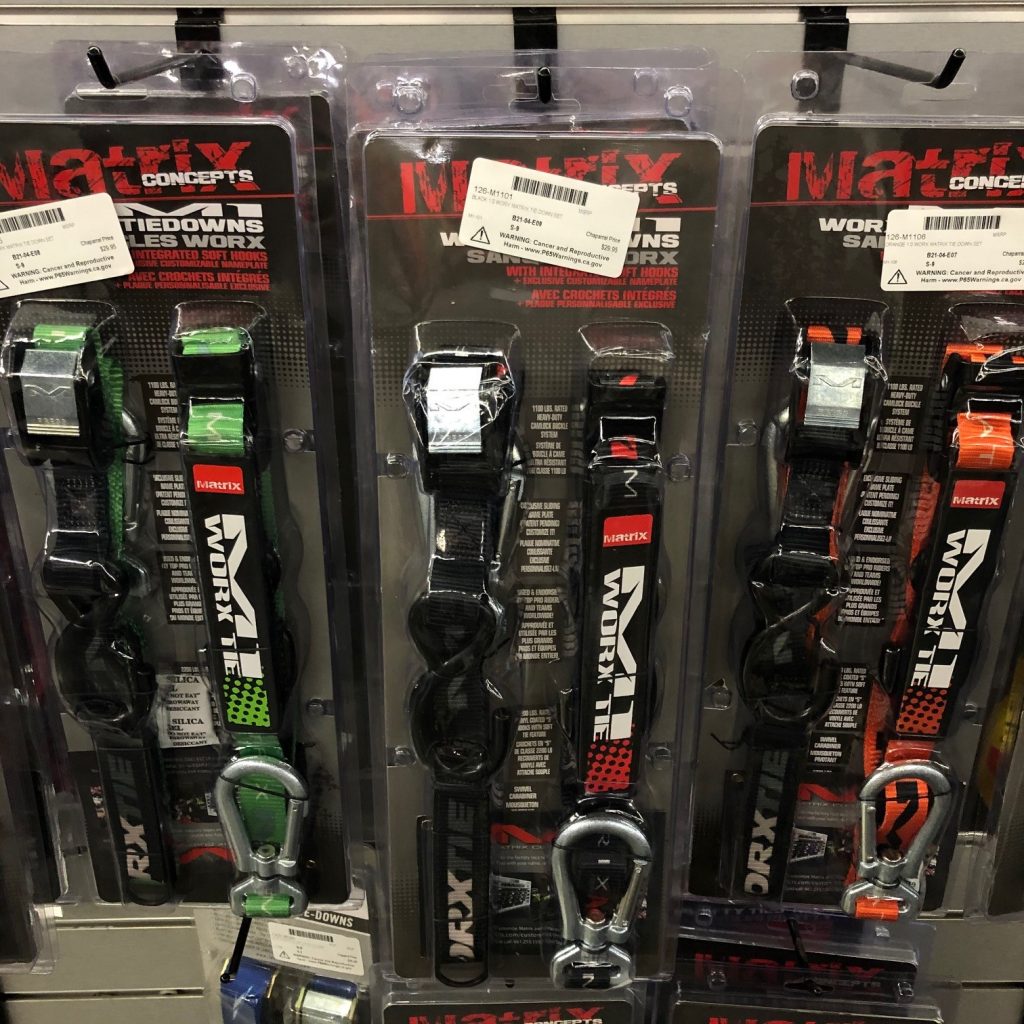 In your search for tie downs you'll probably come across the ratchet type, these are designed for larger motorcycles, ATVs, UTVs, and heavier loads than the standard dirt bike, so you can go ahead a skip right past them. Take a look at the Matrix Concepts M1 1" Worx Tie-Down, these will only run you $29.95 but are well built and are available in all the popular colors. Other nice features are the secure locking and swivel carabiner which helps keep things from getting twisted up. There's also a large rubber coated S hook and soft strap to easily loop over the handlebars or whatever other tie down points they want to use.
Decal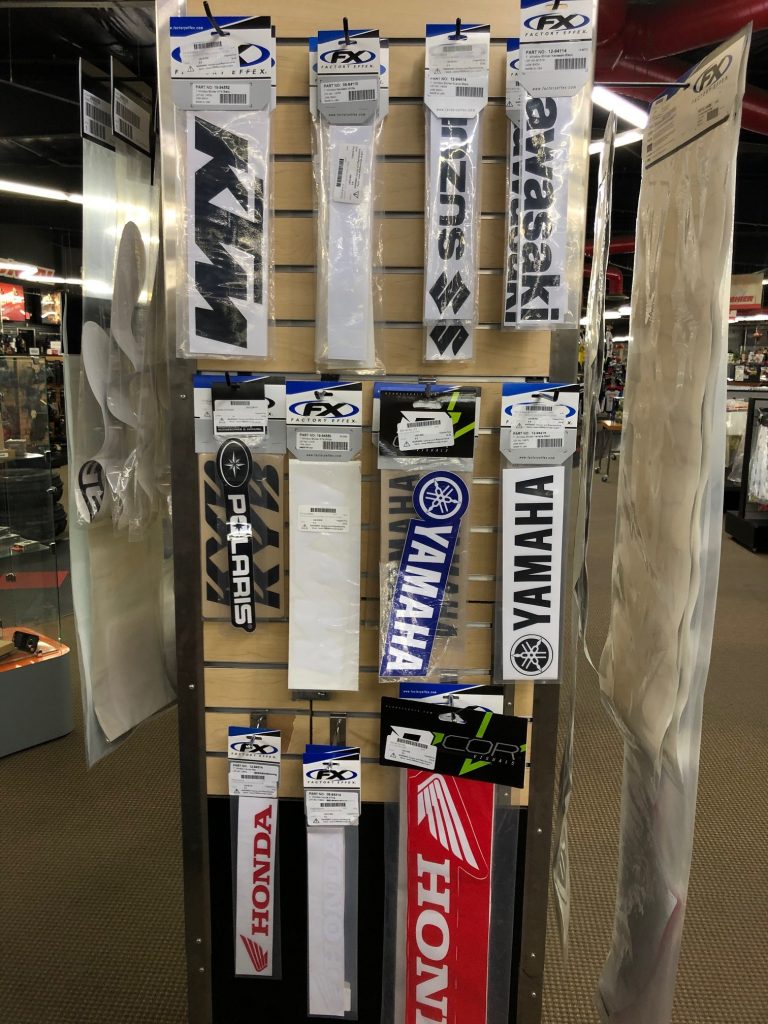 Dirt bike owners love decals. You may be tempted to grab one of those decal kits but be forewarned that some of those kits are bike specific. Also they may have a theme to them that just doesn't fit with the bike owner's style or preferences. You best bet is to consider just picking up a window decal. Dirt bike riders love to show off their brand loyalty on the rear window or bumper of their truck. If you don't know if they are a Yamaha, Honda, KTM, Suzuki, or Honda owner try checking out their social media. More than likely they'll have at least half a dozen pictures of them riding or at the track with their bike. Otherwise just ask them and they'll be happy to tell you all about it.
Factory Effex has window decals for all the major dirt bike manufacturers. The nice things about these window decals is that they're relatively inexpensive. Depending on the size they go for anywhere from $5 to about $20. Sizes vary from 12 inches to 60 inches/5 feet. Just be warned, a 60 inch/5 foot sticker is massive and would take up pretty much the entire rear window on a pickup truck-might be good for a camper or toy hauler though.
Chain tool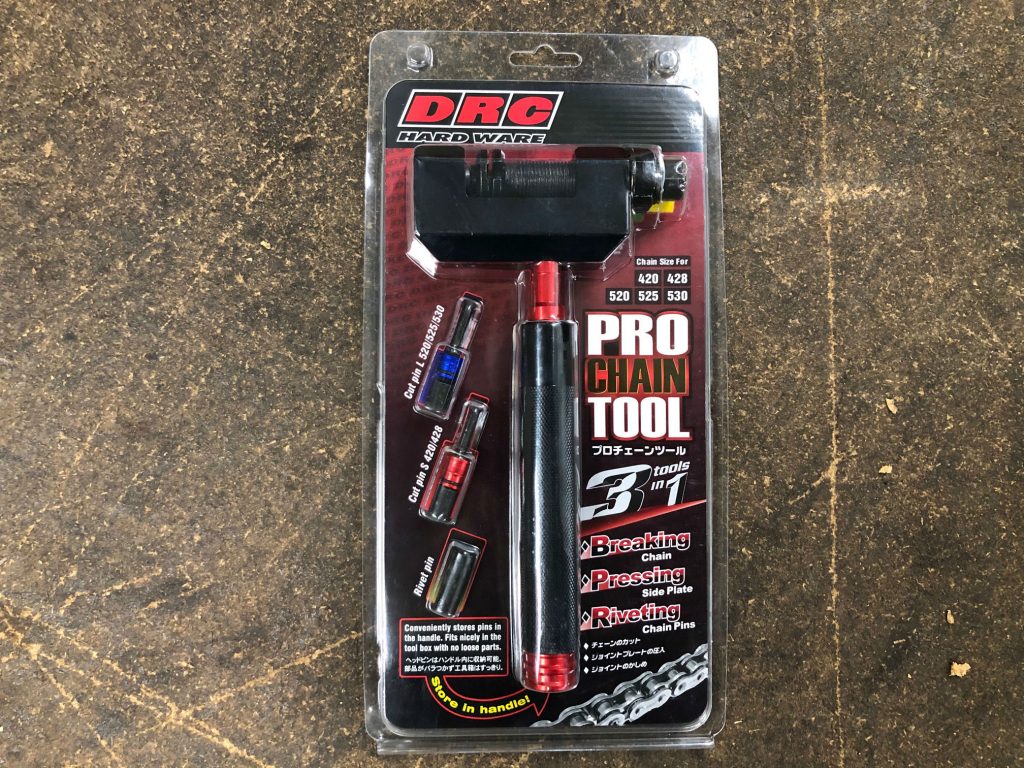 It may look like Thor's hammer but this tool comes in extremely handy for removing and installing dirt bike chains. The DRC Pro Chain Tool is designed to work with different chain sizes and styles and comes with the parts necessary break chains, press on side plates, and rivet the master link in place (if need be). Easy to use and extremely durable, this is a tool that a dirt biker will keep in their toolbox for years.
Hour Meter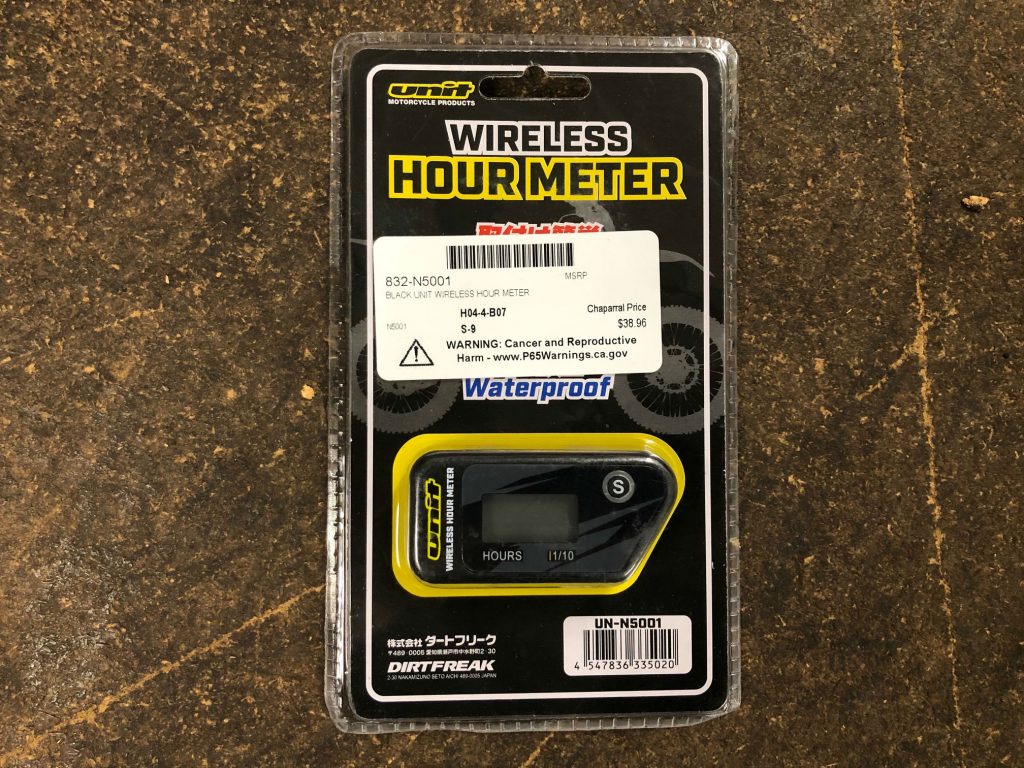 Unlike cars and trucks, dirt bikes don't have odometers to keep track of how far you've gone or to help you manage your oil changes and maintenance cycles. To maintain proper service intervals for their dirt bikes most owners go by how many hours the bike has run. The problem is most dirt bikes don't come with any way to keep track of the run hours so owners will have to keep a rough running tab in their head or install an hour meter. This Wireless Hour Meter is a great present because it installs in seconds and doesn't require any tools or mechanical knowledge for that matter. It runs off an internal battery and uses the vibration of the dirt bike's engine in order to log how long the bike has been running.
T Handles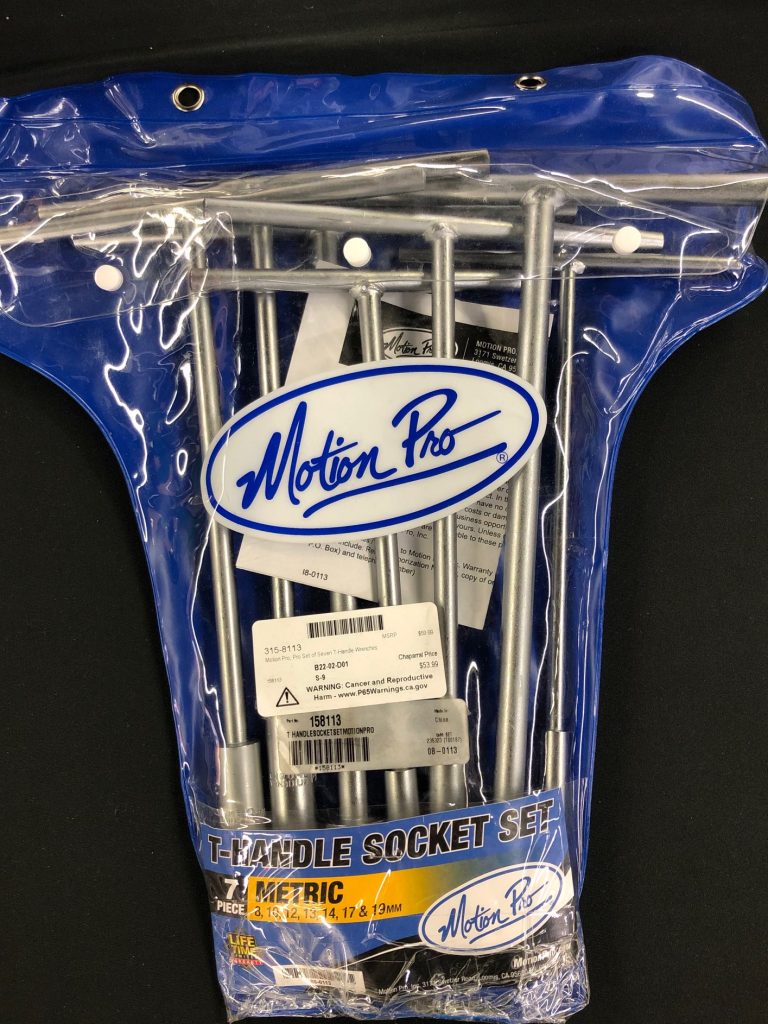 Speaking of maintenance, most of the basic services and safety checks that need to be performed on a dirt bike can be handled with basic hand tools. In fact this pack of T-Handle Sockets from Motion Pro has all the sizes needed to cover most fasteners on a dirt bike-no matter the make, model, or year. Dirt bike riders love T-handles because they make it quick and easy to remove and install various bolts or parts from the bike.
Air Pressure Gauge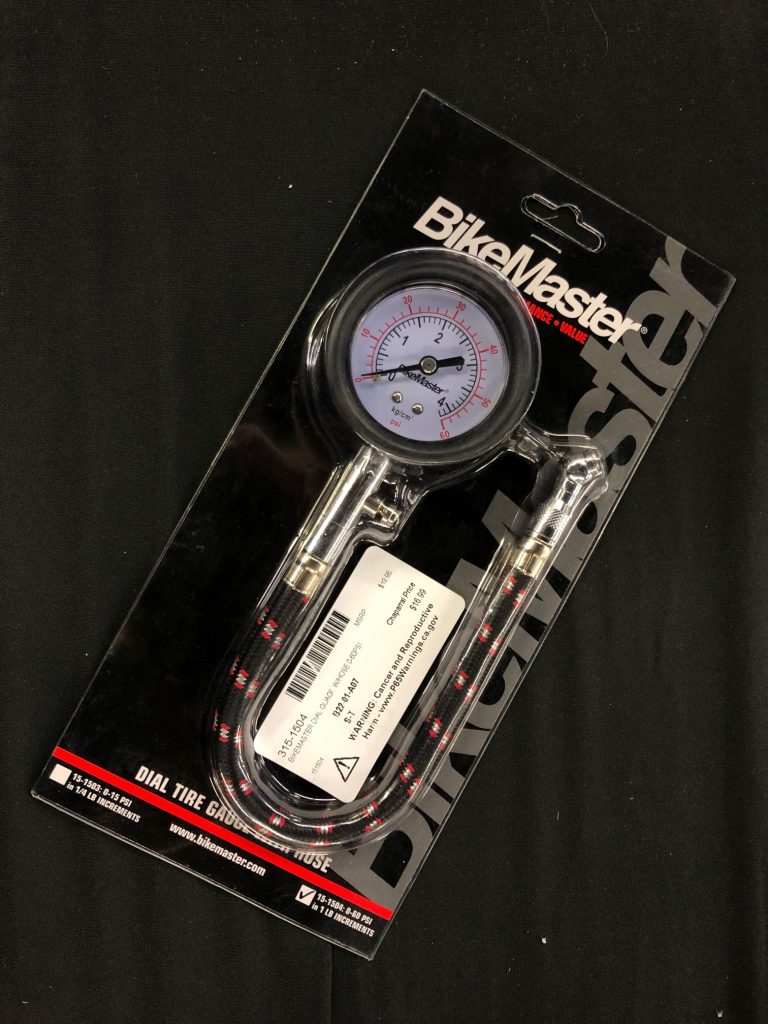 One of the pre-ride check list rituals most riders perform before they hit the track or trail is to make sure their dirt bike tires are set at the right air pressure for the terrain or conditions. Some riders like to be real precise about how much air is in their tires and the best way to monitor that is with a Tire Pressure Gauge like this one from Bike Master. The gauge has a swivel hose so that you aren't constantly fighting with the hose and gauge in order to view the tire pressure. There's a button right below the gauge that makes it easy to release air as needed.
Straw Hat
In between motos (the races or riding sessions) dirt biker riders usually spend their time resting or working on their bike. This means a lot of standing or sitting in the sun. A straw hat is a great way to help keep cool and prevent the sun from zapping precious energy. Hemlock Hat Co has some really nice straw hats and they have tailored some towards the moto community. The Burnout hat is perfect for Honda riders but there's also the more generally themed Melrose which has the underside of the brim decorated in the good old red, white, and blue color scheme.
Dirt bike Socks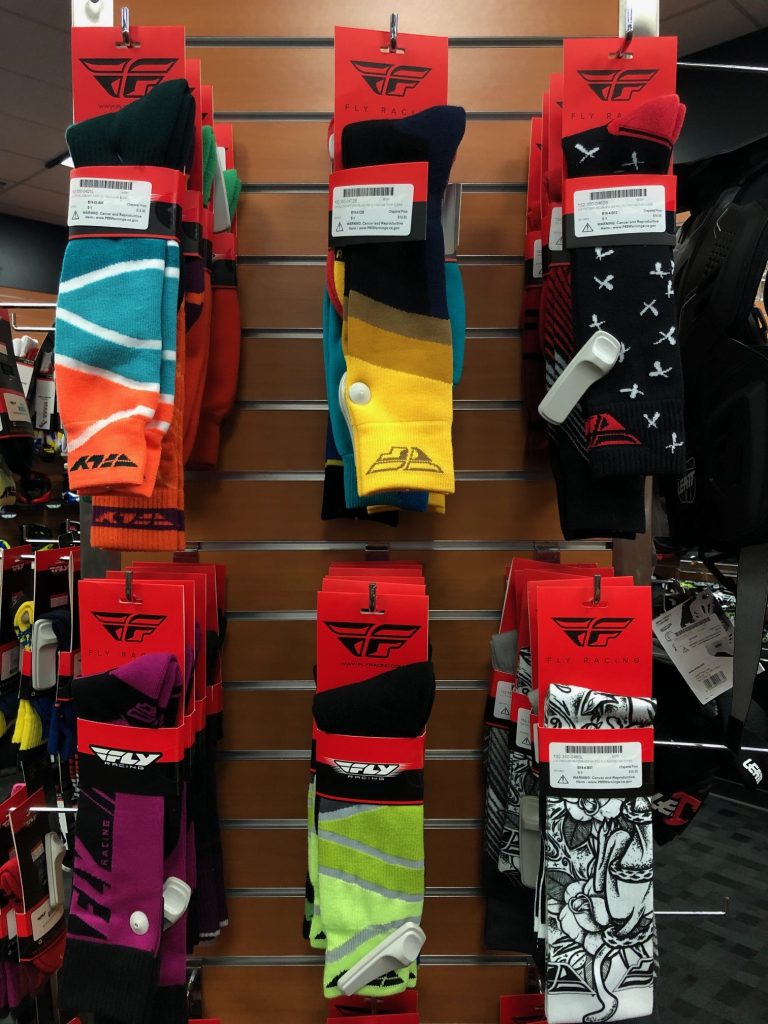 Dirt bike socks are different than traditional tube socks. For one they are much longer because they have to come up to the top of the dirt bike boots. They are also often made from moisture wicking material to help pull sweat away from the foot. Most moto socks are thicker or have extra padding/cushioning for comfort or warmth during the winter. There's also thinner socks for summer time riding. Dirt bike riders can always use a new pair of moto socks, heck some riders will even change out socks in between motos. Fly Racing has a huge assortment of dirt bike socks in a variety of styles and colors.
Hooded Jersey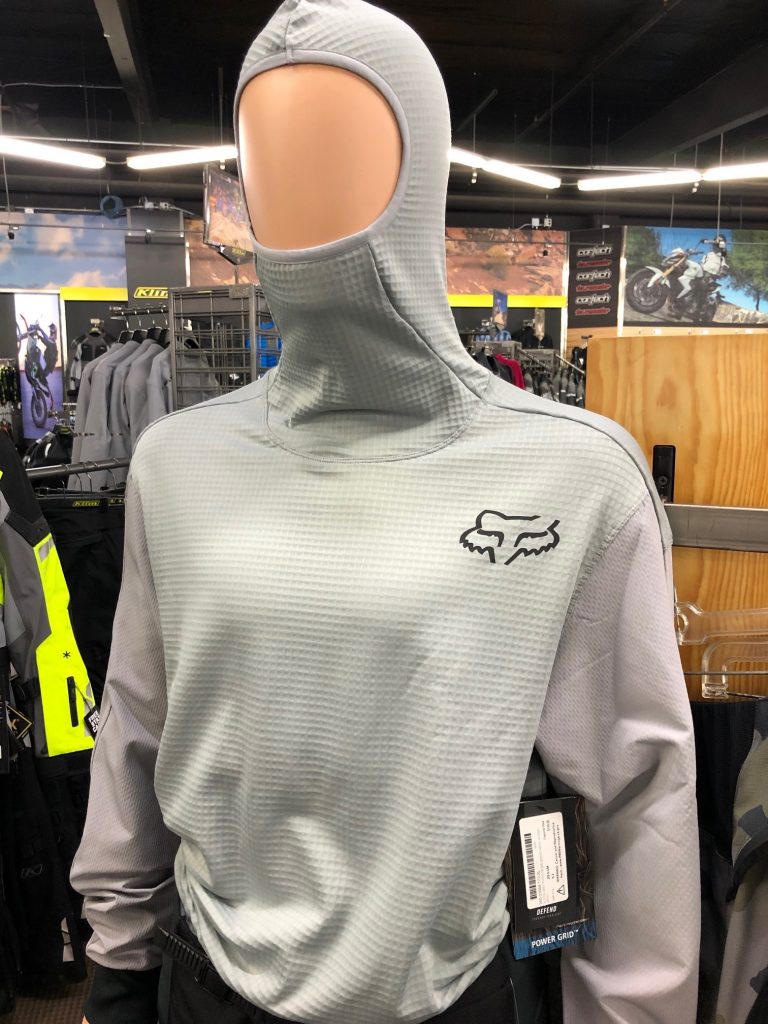 If the rider you're shopping for does a lot of winter or cold weather riding then this Thermo Hooded Jersey from Fox Racing can make a great gift. It might be a little pricey but this works great as a mid-layer to block wind and provide insulation while also pulling moisture away from the body. The jersey is made from abrasion resistant material so it will hold up in the event of a crash. There's a convenient zippered stash pocket down by the hip and the form fitting hoody is a great feature to help keep the head warm both on and off the bike. The jersey is available in either all black or all grey.
Gear Bag
Dirt bike riders haul a ton of gear to and from the track: jersey, pants, mx boots, helmet, roost guard, gloves and goggles. All that stuff is much easier to deal with and keep track of if it's stored in one place. That's where a dirt bike gear bag comes into play. The Ocelot Pro Gear Bag is large enough to handle everything a dirt bike rider can throw in it and then some. What's really nice about this bag is that it has plenty of ventilation to allow sweaty and smelly gear to breathe. There's also a pull out changing mat so that you don't have to stand in the dirt when getting dressed/undressed. The goggle compartment in the top flap is great for keeping the goggles protected as well.
Those are our suggestions, if this list of motocross gift ideas doesn't pique your interest you can always just pick up a Chaparral Motorsports Gift card.