A Test Of Man And Machine: What It Takes To Compete In The Glen Helen 24-Hour Endurance Race
Chaparral Motorsports
|
October 30, 2019
This year marked the 20th running of one of the most grueling and demanding motocross races in the country, the Glen Helen 24-Hour Endurance race or 24-Hours of Glen Helen as some like to call it. As the name implies this single event consists of one full day of non-stop dirt bike racing across, thru, and over varying terrain and obstacles that are continually changing due to wear and weather.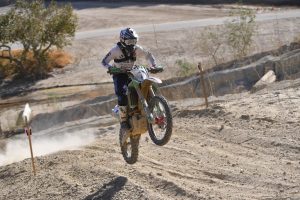 A true torture test of mettle and metal, you can compete as a team or you can really see what you're made of and tackle the race solo in the Ironman class. If you choose the team route (as most people do) amateur teams are allowed up to six riders and two race bikes (one bike has to remain in the impound area at all times). Pro teams on the other hand are only allowed four riders and one bike.
The event took place on October 19th/20th with the gates dropping at 10am on Saturday morning and the checkered flag waving at 10am Sunday morning. This year the course was about 11 miles long winding through the various tracks at Glen Helen as well as the myriad trails surrounding the facility. Unlike last year which started out as a wet and muddy mess, this year the weather was clear and dry which made for dusty and silty conditions.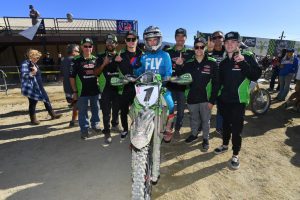 For the third year in a row the Chaparral Motorsports Precision Concepts Kawasaki Team clinched its third straight overall win (read the race report here). Competing in the Pro Class, the team consisted of Zach Bell, Blayne Thompson, Clay Hengeveld, and Ryan Surratt handling riding duties on one of the 2019 KX450s that the Chap/Precision Concepts Kawasaki team has been using throughout the year. Team manager and Precision Concepts Vice President Robby Bell held things down in the pit area. Between fatigue, mechanical issues, weather, dust, and darkness it's quite an accomplishment for a team just to finish the race. However, to win the event three times at the pro level takes extreme preparation, determination, skill, and fortitude.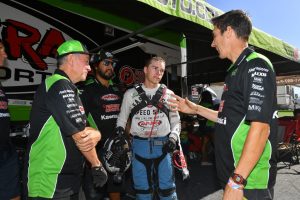 Robby knows the 24-hour race extremely well and has had great success at the event. He's competed as a riding team member four times and won all four times, twice on a Honda and twice on a Kawasaki. As a manager he's helped his team capture the checkered flag three times (2017, 2018, 2019). With this kind of success and experience from both sides of the starting gate we figured there was no one better to get some insight on exactly what it takes to compete in a 24-hour dirt bike race. So we fired off a ton of questions to Robby and he was more than happy to answer in great detail.
Team Manager Questions
As the team manager how long in advance do you start preparing for this race (mentally/physically) and what's involved in that prep?

This year, we had things lined up a little earlier than years past. We always have the goal of being ready by early September. Then, with the regular race schedule, it always turns into last-minute testing a week before the race. Fortunately, we were able to get a few key parts for the bike in our hands by August, so we were testing lights, battery, suspension, etc. fairly early.
Powering the lights is one of the biggest challenges, but by the end of August, we were confident in that. Another key factor is the compromised handling of the bike. With four riders, of varying weight and riding styles, this can sometimes be a big hurdle. Fortunately, we found a suspension setting that each of the riders was comfortable with pretty quickly, and by the middle of September, we had the bike dialed.
Since you can only have one bike in the pro class, what special precautions do you take to ensure the bike will last a 24hr race?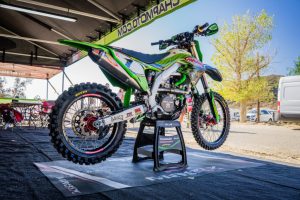 We used the 2019 KX450. It was a no-brainer, as we've learned so much about the bike this year and each rider was familiar with its characteristics. Still, it was a big test of the equipment (which is a contributing reason as to why we like the 24hr so much: to learn about the bike), so we took a few extra measures.
We have such confidence in the CryoHeat treatment process, so we always start there: splitting the motor and sending all of the internal parts to CryoHeat. We also send sprockets and brake pads, where all of the parts are put through CryoHeat's proprietary process to strengthen and polish the parts for increased durability and reduced friction (heat generation).
This year, the Kawasaki SX team supplied us with an external oil cooler, for a little insurance to keep the oil within tolerance in such a demanding event. Maxima also supplied us with an updated version of their ProPlus oil for improved lubrication inside the motor.
We mounted an adapter to the rear fender that connected to the battery so we could test and double check that it was in the sweet spot as far as voltage.
Aside from those measures, we have confidence in the products that our team's supporters supply us that they'll last the distance. Weather can be a big factor in wear items (in muddy conditions, wear items are more likely to deteriorate), but this year was dry, which helped in that area. One of the other key areas of preparation is the air filter. The downside to the dry conditions this year was the likelihood of silty conditions, and we like to get upwards of five hours between each air filter change. So, Phil, our lead mechanic, takes measures to help seal the air box to assist the air filter and allow us confidence we won't pass any dirt.
How deep does the spare parts selection you bring go?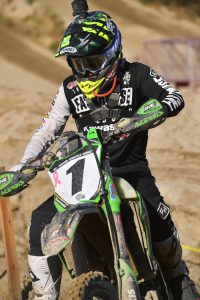 Honestly, we have the standard stock of spare parts that we would for any individual grand prix: clutches, bars, items that may be damaged in a crash, etc. We also have a spare bike in the pit from which we can rob parts in a worst-case scenario. The deepest stock of spare parts is in the wheel sets, air filters and brake pads. These items are the one that we plan to regularly change, so we'll have six sets of wheels built, seven, plus, air filters prepped, and enough brake pads that we could change every few hours if need be.
What was your team strategy and how was that determined? Number of laps per rider? Rider order? Does strategy stay the same or does it change through the race?
The rider strategy is pretty straightforward. We like each rider to go just over an hour in their stint. This allows a little over three hours for each rider to rest in between their stint. It's never enough rest, but it's the best balance between bringing the bike in often enough to get eyes on it, and not asking too much of the riders to go longer and risk burn-out or fatigue.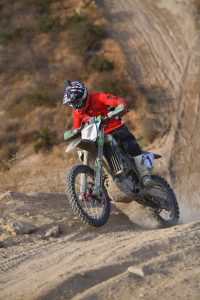 Rider order was quite simple as well. We had Zach start, as he's really quick out of the gate, with the goal of getting the lead early and staying out of the dust. From there, we had Blayne get on to keep the pace high through the second hour. I had Clay on third. It was his first race back after injury, so I wanted to get him on the course before it broke down too much, so he could get comfortable and back into the swing of racing. Then, Ryan was clean-up to finish the rotation strong.
The strategy stayed the same throughout. Some years, we've changed things up. For example, if it's a close race and we need more speed on the bike, or if one of the riders is getting overly fatigued. This year, however, each rider did three laps on each of their stints and we didn't change a thing until the finish when we had Clay and Ryan each do two laps to close it out, so they could both get on the bike.
How does the strategy change when racing the course at night?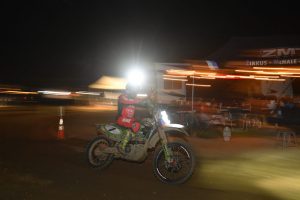 The strategy doesn't change too much at night. The key point is for the riders to stay focused and make the smartest decisions possible. Typically, at night the course has broken down quite a bit and has gotten either dusty or silty (aside from the rare wet years). So, with limited visibility, and other racers on the course who are likely getting tired, staying mentally strong and calm is important. The riders don't want to rush a decision if there's a bottle neck, or fog-bank of dust, and risk crashing, which could injure the rider or damage the bike.
How many laps did guys complete?

58 laps.
What was the average lap time/speed?
Average lap times were between 22 and 25 minutes.
Longest/shortest lap time?
Quickest lap was 21:43. Longest lap was 30:10, which would have been a major maintenance pit (hanging lights, wheel change, check oil, etc.)
When it comes to rider safety, as the team manager how do you determine if a rider isn't alert or rested enough to ride?
Most riders at our level are pretty self-aware, and I suppose through my own experience racing this event, I know you can be at the point of near-delirium, get on the bike and focus enough to get through your stint. We have kept riders off the bike in the past, or skipped them in the rotation, because we needed more speed on the bike and were fortunate to have a rider, or riders, still strong enough to give us that option. We've been fortunate not to have to sit a rider out due to concerns over their safety.
How many mechanics/people did you have in the pit?
Over the course of the race, we probably had upwards of a dozen people helping in the pit. Usually, the most we'd have at a time during a maintenance pit would be six-to-eight people. Too many people and you risk get in each other's way.
What's involved in a standard maintenance stop? How long does a stop typically take? How often do you change out the air filter?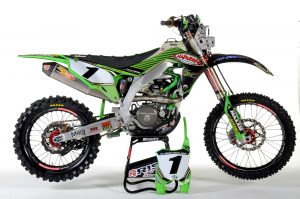 The major maintenance pits are to change wheels, brake pads, air filter and check oil. Then, there's the pit to hang the lights. Wheel-change pits happen every four-to-six hours and are usually under two minutes. They can be quicker if we need, but we'll usually take our time to get eyes on the bike and make sure we're not missing a damaged or worn-out part. Air filter changes usually coincide with a wheel change, and take a little longer because we want to make sure the air box is clean and we're not sucking anything through the intake that could damage the motor and end our race.
The pit to hang the lights will often take a few minutes because we're typically also changing a wheel or an air filter. We like to cluster the maintenance being done, so the bike is on the box as few times as possible, but it's also a balance of having enough mechanics who are solid and experienced enough with their task that we can get the work done efficiently. We also don't want to try to do too much maintenance at once and have so much going on that mechanics are getting in each other's way.
Riding so many different terrains and for 24hrs strait did your tire selection for this race differ from a standard race?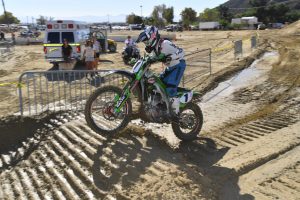 The factors that go into tire selection have to do with finding the balance between performance and longevity. It's great to have performance from the tires, which allows more speed, but the tires need to make it at least four-to-five hours between changes. Fortunately, Maxxis offers tires that have that balance and take much of the guess-work out of their selection. We ran the same rear tire we do at the standard events, and only changed the front tire for a little more durability. We ran the Maxxis SI tires front and rear. Maxxis offer tires with more aggressive performance, but the SI offered the best blend of grip and durability for the hard-packed terrain and longer stints.
So it sounds like you guys went through about four air filters and four sets of tires/wheels? Do you know how many sets of brake pads you went through? Were those the only wear items you needed to change out?
We ran Profilter air filters with an outerwear sewn over the top for additional protection and didn't pass any dirt in the silty conditions. Somewhat surprisingly, we ran one set of front brake pads the entire event. We did change the rear brake pads three times. Other than the external batteries that powered one of the light bars, those were the only items we had to change out. The wear items all lasted better than expected: the TM Designworks chain slider and guide went the whole distance and still look great; the Rekluse clutch lasted all race and still feels positive, very little slipping, if any. It's pretty amazing how well the bike came through. Even the graphics still look good (shameless RAD Custom Graphics plug)!
Do you know how much fuel you used?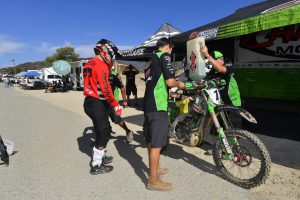 We ended up using about 35 gallons. It was less than we expected to use, but with the dry, hard-packed conditions, the riders were getting really good gas mileage.
What is the lighting setup you ran for the overnight part of the race?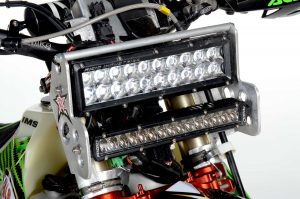 We used a Rigid Industries light combination: two 10-inch bars mounted on top of each other. Antigravity Batteries supplied us with their AG-801 battery to power the charging system. It worked flawlessly and had plenty of power to run one of our light bars all night without a sweat.
After much testing, our setup offers the best balance of reach and spread for the varying speeds and terrain at the Glen Helen 24hr. We don't want a light that has too much reach, or too hot of a spot, because it can blind the rider in the tighter sections when reflecting off canyon walls, etc. But we still need a light that'll reach far enough for the fifth-gear straightaways that Glen Helen offers. The Rigid Ind. Setup we've put together has given us the best compromise we've found.
In your years of participating in this event what was the most challenging mechanical issue you have had to deal with?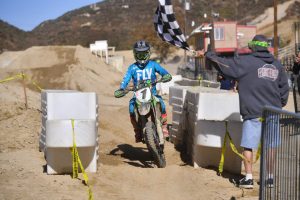 We've had issues with lights being damaged in the past, or little electrical issues that have needed attention. We've had to change a clutch mid-race, or brake systems. But these are just some of the things that can, and will, happen in such a long race.
The most challenging thing we've faced has been in previous year where we had both light bars being powered by externally-mounted batteries. Coming up with the mounting locations, one of which was on the side of the motor, was a challenge. Then, we had to track down enough batteries that would withstand the heat generated from being right next to the motor, also a challenge. From there, we had the challenge of tracking which batteries had been used during the event and needed re-charging; we'd only have the batteries go about an hour before switching them out, and only had a limited quantity that we trusted. After sorting all that, in 2017 we had one of the battery mounts break during the night, which meant rigging the batteries with zip-ties thereafter, and fixing the damaged charging wires in the middle of the event.
Fortunately, this year we had a special stator from Kawasaki, which allowed us to power one of the lights using the motor/bike battery. Only having to worry about one external battery change at each pit during the bight was so much less stress.
What's the toughest part about this event? What's the easiest?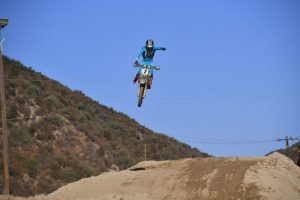 The toughest part of the event is keeping focused between one and four in the morning, especially if the race has unfolded uneventfully. Though we don't like the added stress of something going wrong, it actually makes it easier to stay awake and focused in the middle of the night because of the accompanying rush of adrenaline. It's tough to say if there's an easy part. I suppose the gas-and-go pits are the easiest part of the race when we just swap riders, fill the tank and look over the bike.
What advice would you give to a team that is thinking about competing in this race for the first time?
For a first-time team, I'd say do as much durability testing as possible on your light setup and charging system. That's one of the most common issues teams face, especially if they don't have a lot of experience. Aside from that, you can never have too many spare wear items (chain guides, sliders, rollers, clutches); in a perfect world, these parts won't be needed, but the 24hr rarely ever unfolds perfectly.
Rider's Questions
How long in advance do you train (mentally/physically) and how does your training differ for a 24hr race?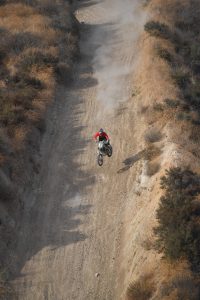 For most riders, we're in the middle of a stretch of racing, so there's not much additional training or preparation. Most of the riders are maintaining their current physical condition, and though the event is demanding, it doesn't take precedence in the race schedule to demand altering any training. One main aspect is knowing your body enough to have your recovery and nutrition as dialed as possible. It can get tough to recover and eat anything during the middle of the night, so you want to know what your body will be able to handle when it's wore down.
Do you sleep at all when off the bike or were you constantly going/assisting with other aspects to help the team.
If at all possible, the riders try to get some sleep. Usually, cat-naps work best. If you fall into too deep of a sleep, it gets quite a bit harder to get up and ready for your next stint on the bike. Our team usually has the mechanical aspects covered, so the rider's main responsibility is to keep themselves as prepped and ready to ride as possible.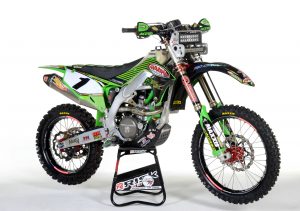 As the race wears on into the early morning hours how to do you energize yourself to keep going?
Riders have taken many measures to get up and ready for their next stint, especially as the race winds down. Coffee is always an option, but the go-to is usually some sort of sugar or energy drink. Riders typically have just one or two more times on the bike, so they're just looking for any quick hit of energy to wire their brain and give them a boost.
What's the most difficult part of the race physically? What is the most difficult part mentally?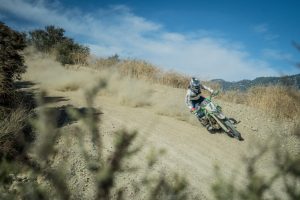 The most difficult part of the race is staying focused and keeping your body as fit as possible. There just isn't getting around the fact that you're going to deteriorate both mentally and physically. Finding ways to stay as focused as possible every time you're on the bike and keeping your body from breaking down to the point of cramping are the toughest parts of this event.
How does your riding style or strategy change when riding at night?
When riding at night, it's almost a little easier to focus because you just have the tunnel vision in front of you from your headlight. There aren't the peripheral distractions, so you're typically more concentrated on where the light is shining. The only strategy change is to hit obstacles in a way that keeps your light shining where you need it, for example, not wheeling as much, or tapping the rear brake quickly to get the light down when you're hitting a jump.
When fatigue sets in, have you ever fallen asleep while riding?
No, there hasn't been a time that I'm aware of that a rider's fallen asleep while riding. We have had riders fall asleep in a chair in the pit just before their turn to get on the bike though!
What types of foods/drinks do you consume during the event?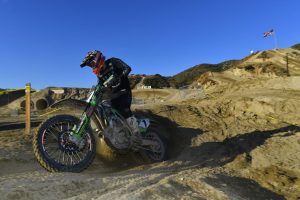 Each rider is different. When I raced, I liked to try to get whole foods down early, when my digestion was still good. Usually, past is on the menu around dinner time, which comes around seven or eight hours into the race. During the night, it's down to simpler foods like fruits or energy bars. Then, through the wee hours of the morning it's whatever will both stay in your stomach, and give you at least a little kick in the you-know-what to keep you going. Candy, muffins and energy drinks usually come in to play here.
What are the most challenging sections of the course? Does that change from day to night? If so, what sections become most difficult when the sun goes down?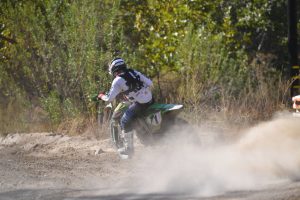 The toughest sections of the course are usually any silty sections that crop up after the course has broken down. These sections typically get trickier at night because of the limited visibility. It also seems tougher to gauge the depth of the silt at night. Lastly, these sections tend to be the site of pile-ups or bottle-necks with other riders, which make getting through them consistently quite challenging.
What advice would you give to someone thinking about racing this event for the first time?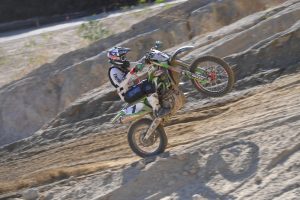 The advice I typically offer is to take the recovery especially serious early in the race. As a rider, you usually feel really good after your first couple stints on the bike, so you're less likely to take the recovery as seriously-you'll hang out longer in the pits before eating something, bench-race about your ride, etc. These first couple opportunities for recovery are incredibly important because if they're missed, your body is going to break down even more so as the event wears on. And once you feel thirsty, fatigued, or ravenous, it's usually too late to get back on top of your recovery, which only makes for an even more brutal experience for 24 hours.