ChapMoto Precision Concepts Kawasaki Race Team 2019 Ridgecrest NGPC Race Report
Chaparral Motorsports
|
October 8, 2019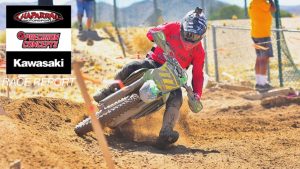 The 2019 AMA National Grand Prix championship picked back up following a lengthy Summer hiatus. As usual, the fast, flat desert surrounding Ridgecrest, CA's Desert Empire fairgrounds would host the sixth round. Riders seem to enjoy the course as it winds through flowing, high-speed corners. This year, the promoters and hosting Viewfinder's club did well to keep the conditions favorable, which always benefits the racing aspect of the grand prix.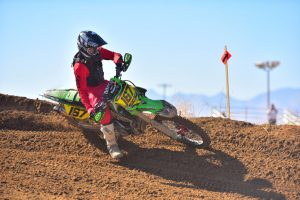 Zach Bell - 1st place pro
As the premier line of racers entered the first corner of the 90-minute pro race, Zach slotted into second position behind Trevor Stewart. Stewart, then, came into the second corner a little hot and blew wide. This opened the door for Zach as a consequence and he didn't need a second invitation to take the point position. From there, Zach laid down a couple sprint laps and opened up a gap of around thirty seconds. He continued to stretch away slowly, extending his margin to over a minute by the finish. The win maintains his perfect record of winning every NGPC he's entered this year. Additionally, the result closed Zach to within 20 points of the championship lead with two rounds remaining.
In His Own Words
"It was a good day. I felt good all weekend and was able to come away with the [Open] AA win [on Saturday]. Today, I got off to another good start in front of Trevor. I made the pass in the second corner and just lead from there. I put in some good sprint laps. That gave me a pretty good lead that I just kind of managed. I felt really good throughout the whole moto. My KX450 was working awesome and I really couldn't ask for anything more. The track was good, the lappers were really good, and it was a great event. [The championship] is obviously in the mind, if I could come away with it, but I'm just taking it race-by-race. We'll see what happens."
Blayne Thompson - 2nd place pro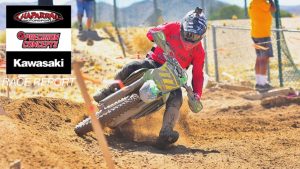 Blayne bogged down off the start slightly and was instantly pinched by the surrounding riders. After rounding the first corner around seventh, he was able to make a few passes on the first lap, settling into third. From there, Thompson slowly closed the gap on series leader Trevor Stewart. Blayne made the initial pass when the team kept him out an extra lap before his pit stop. Stewart, then, immediately countered and passed Blayne back. Not long after, the Kawasaki rider rallied once more and passed back into second. Then, just before the close of the lap, Thompson fell and lost the position as the two riders began their penultimate lap. Blayne wasn't to be denied and made the final overtaking maneuver stick as he solidified second place and held it to the checkered flag. The runner-up finish bumped Thompson up to fourth place in the series standings heading into the final two rounds.
In His Own Words
"It was a little hectic off the start. [In a previous event], I ripped off the line in second gear, but it just lagged out a little bit [in the pro race]. So, a bunch of guys got the jump on me coming out of the first turn. I got up to about fifth and picked a few people off, one-by-one. That got me right up behind Trevor with just a few laps to go. Then, it was just an all-out sprint from there to the finish. I got around him, then ended up crashing coming into the grandstand section and he got me back there. Then, that next lap I got the pit board that said, 'just push it' and I told myself, 'alright, let's do this.' I gave it all I had and got back around him and was able to pull away from there. It feels awesome to get back on the podium. It's been a long time coming. I felt really excited coming into this race, so we're just going to look to keep that going and see what we can do at the next one."
Robby Bell, Team Manager
"This felt like a throwback to 29 Palms NGPC earlier this year with both riders sweeping Saturday's AA race and Sunday's Pro main event. Zach was on rails right from the beginning and looked to be in full control of his bike and the race. He's been a dominant force this year at the rounds we've been able to attend and it'll be interesting to see how the last two play out. He has a legitimate shot at the title if a few things go his way.
"Blayne looked to be back to his best. It was great to see the fight from him today as Trevor was pushing him hard for the runner-up position. Blayne was able to keep the intensity the last few laps and that's what solidified it for him. All-in-all, a weekend of racing couldn't really go much better for our team."
Source: Precision Concepts