Chaparral Motorsports Tours PRP Seats
Chaparral Motorsports
|
September 13, 2019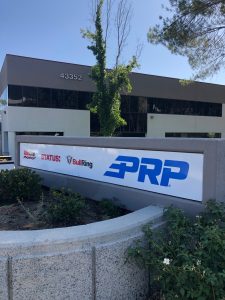 What started out 20 years ago as one of the first companies to make aftermarket seats for the seats for the side-by-side industry, PRP Seats has flourished into a multi-line business selling storage bags, harnesses, and more? When PRP started building seats they were pretty much the only company that offered SXS and UTV owners something other than the standard seat that came in their brand new machine. These days PRP's American made seats are the first choice many owners look to when they want more comfort or to add some styling to their side-by-side. Actually PRP was the first aftermarket seat company to have their seats come as standard equipment for Polaris' RZR line. While seats might have put PRP on the map, it's their storage bags and more notably safety harnesses that have become really popular.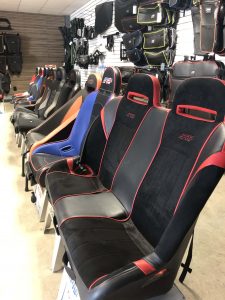 You may be wondering why a person who just bought a $20k-plus side-by-side would want or need to spend even more money on equipment the vehicle already has such as a seat? The answer is simple, not every butt is the same. The factory seats in say a Can-Am Maverick X3 or a Polaris RZR are designed to accommodate the "average" driver or passenger. And if you know anything about the human anatomy there's no such thing as average. So while most side-by-sides offer the ability to adjust the stock seats forward or backward, there can still be fitment and comfort issues. You may want a seat that raises you a bit higher, sits you a litter lower, is wider so it's easier to get in and out, or provides more bolster area for a tucked in feel. Or maybe you just want to customize the look of your vehicle by matching the colorways of your seats with your custom wrap.
This is exactly where PRP comes in. They offer a wide assortment of seats to fit every butt, back, and style preference. Taller, wider, custom stitching or color-matched piping, just about whatever you want PRP can make it happen-all done within their southern California manufacturing facility. If you want to make it easier for your harnesses to fit with your seats PRP offers different cutouts to accommodate shoulder and lap belt harnesses.
Two features that really make PRP Seats worth the upgrade is the vinyl-coated nylon suspension liner and dual density foam they use. Both of these help make for a smoother and more comfortable ride by reducing force of impact transferred to the body when riding across rough terrain.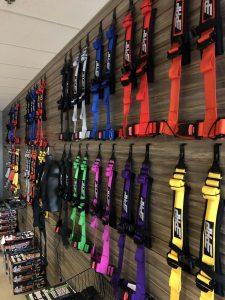 Speaking of harnesses, this is where PRP's business has really excelled. Again, all the side-by-sides come standard with seat belts; however, the majority of models come with traditional automotive style seat belts that cross your body in a triangular fashion (some of the premium models come with harnesses). Theses seat belts are good but opting for something like a four or five point harness is much safer and smarter. The harnesses that PRP offers are fully adjustable so that you can fine tune them to fit your body type for a more secure and comfortable fit. PRP makes a variety of UTV harnesses but their most popular are the 4.2, 4.3, 5.2 and 5.3 harnesses.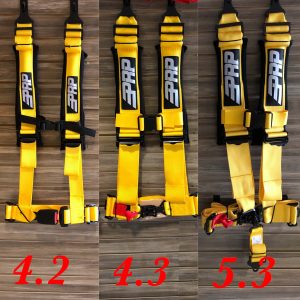 What do all these numbers mean? It's pretty simple, the first number corresponds to the mount of attachment points and the second number refers to the width of the harness straps. So for example, a 4.2 harness has four attachment points (one over each shoulder and one on each side of the waist) and the harness belts are two inches wide. A 5.3 harness has five attachment points (one over each shoulder, on at each side of the waist, and one at the bottom center under the seat that would come up between the legs) and the harness straps are all three inches wide. Choosing a 4.2 over a 4.3 or a 5.2 is all mostly personal preference-unless you are going to be competing in organized racing then the organizers will have specifications as to the type of harnesses you need.
The majority of PRP's harnesses feature an extremely secure latch style system but you can get a traditional automotive buckle system with their 4.2 harness. PRP harnesses come with removable sternum straps and feature quick adjusters on the shoulders which make it extremely easy to quickly get in and out of the vehicle without. And just like their seats, you have a ton of color options to further customize the look of your side-by-side.
If you own a side-by-side or have ridden in one the first thing you're probably noticed is that there's limited storage. PRP solved this problem-actually two problems with its line of SXS/UTV storage bags. Their door bags not only provide a secure zippered pocket to hold things like your cell phone or wallet, there's also a thick padded section which provides great protection for your knee when jostling around over dunes and whoops. That pad has saved many knees from banging into the inside of the doors. There's also overhead storage, and bed storage options all of which are very easy to install. Of course just like their seats and harnesses you can choose from different colored piping to match your vehicle.
PRP is right down the freeway from Chaparral Motorsports so we grabbed our video camera and took a little field trip to get a behind the scenes look at how they make all their magic.