So Many Options: Shinko 777 Motorcycle Tires
Chaparral Motorsports
|
September 5, 2019
Everyone likes to have options no matter what the situation is. From choosing between a pair of Nikes or Reeboks to deciding whether you want chocolate, vanilla, or peanut butter crunch ice cream, having a choice means you can get what you want rather than settling for what's available. When choosing motorcycle tires your options are plentiful. With so many different tire manufacturers on the market and each company offering a variety of styles in the same sizes you can easily have at least a dozen or so tires to choose from for your specific application.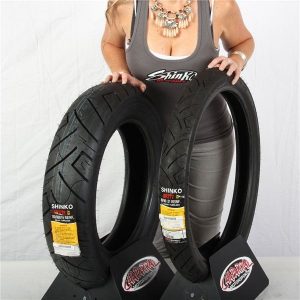 There are a lot of motorcycle owners that will find a tire they like and stick with it. Whether they like that tire because it delivers great mileage or they just love how well it handles, it can be hard to pull them away from their go to tire. When it comes to tires for metric cruisers, V-twins or Harley-Davidsons what you don't often find is a choice amongst one manufacturer's specific model. This can be somewhat of a small problem for the rider that's dedicated to one specific tire but yet wishes he could get the exact same tire but in a slightly different look or with an added safety element.
This is where Shinko comes in with its SR 777 line of motorcycle tires. Besides having an extensive size range in both front and rear for just about any metric cruiser, or American V-Twin the Shinko triple 7s are available in a standard blackwall, old school whitewall, a reflector version that reflects light at night, and a heavy duty line for those heavy baggers and extensive two-up/loaded riding.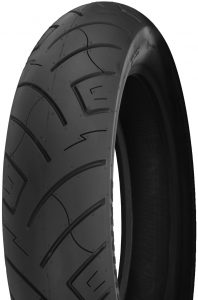 While Shinko may not have the same brand name recognition as some of the other tire manufactures, riders that have tried Shinko have found that they are exceptional tires. Check the reviews on the 777 specifically and you'll regularly see people commenting on their great grip and handling, smooth and predictable ride, and longevity. But what you'll mostly read is that people are really pleased with the price as these are a budget friendly tire that's often $30-$50 less than the big name brands.
Owned by the Shin (Shin-company, Shin-ko) family out of Osaka, Japan, Shinko is able offer its tires at such an affordable price by utilizing Western Powersports (WPS) as their authorized US wholesale distributor. Shinko has no employees based in the US and handles all the engineering, manufacturing, and distribution overseas; enabling WPS' broad team to promote and market Shinko tires to WPS' massive network of US dealers. This method means move savings for you the consumer.
If you're the type of rider that prefers to stick with one tire brand and more specifically one tire model then the Shinko 777 is definitely a tire you want to consider. Looks-wise you basically have three tires you can choose from: a standard blackwall, a whitewall, or a reflective wall. The blackwall is your typical black tire and looks good on any type of cruiser no matter if it's bone stock or a heavily customized bagger. The whitewall offers an old school look and suits bikes like the Harley-Davidson Deluxe perfectly. Whether you're building a retro bobber or just like the classy tuxedo look a whitewall adds, the broad swath of bright white sweeping across the sidewall is a real attention getter.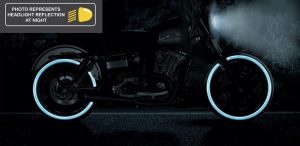 If safety is top priority or you do a lot of nighttime riding the high visibility nature of Shinko's 777 Reflector sidewall is a must. At first glance in the daytime the Reflector looks like a standard blackwall tire. However, upon closer inspection you'll notice that there is a little something going in the sidewall. That little something turns into a big and bright something when light hits it at night, effectively turning the entire side of the tire into a glowing/shimmering sideways halo. This unique safety characteristic of the Reflector 777 tire is made possible by 3M material that is baked into the sidewall during the curing process. The reflective sidewall is especially beneficial when in lowlight situations and having to deal with cross traffic; as the oncoming headlights light up the tire it reflects back and helps the drivers notice a motorcycle that may otherwise be overlooked.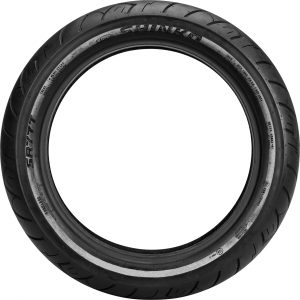 Beyond sidewall styling, the Shinko 777s are also available in either a standard or a Heavy Duty version. The standard tire is suitable for the average cruiser or V-twin. However, when you get into the bigger and heavier touring bikes like the Harley-Davidson Road Glide, or if you do a lot of two-up riding, or make a lot of trips with your bike loaded down with gear you'll need a tire that can accommodate those heavier loads, and that's where Shinko's 777 Heavy Duty options come into play. Available in standard blackwall, whitewall, or reflective wall, the heavy duty tires feature shoulders and sidewalls that have been reinforced and built up to support heavier loads. These robust tires offer riders of these heavy machines better stability and longevity.
Next time you're searching for new tires for your cruiser or Harley and want a motorcycle tire that delivers good traction, mileage, and predictable all -weather handling; but you also want some options when it comes to style and safety then take a look at the Shinko 777s. You won't be disappointed-more importantly you won't have to spend on arm and a leg for new rubber.