All-New 2020 WR250F Headlines Yamaha's September Introduction
Chaparral Motorsports
|
September 4, 2019
CYamaha Motor Corporation, USA, today introduced the remainder of the company's 2020 Dirt Motorcycle models, headlined by an all-new WR250F Enduro machine. Along with the return of the larger-displacement WR450F, this introduction completes the 2020 Yamaha Dirt Motorcycle lineup.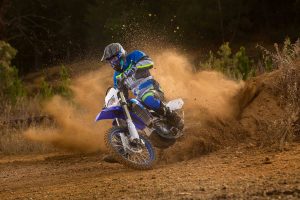 Welcome to the victorYZone
Yamaha Off-Road competition bikes offer the very latest technology and performance features designed to make enthusiasts the best riders possible, win races and help them become one with their machine.
All-New 2020 WR250F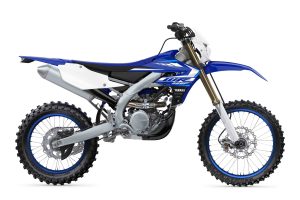 The 2020 Yamaha WR250F is closer than ever to the latest-generation, championship-winning YZ250F and arrives completely revised for precise performance in enduro competition. A combination of linear and tractable power throughout its rev range, pinpoint handling, and clockwork reliability has ingrained the WR250F as a favorite among fast trail riders and racers alike.
High Performance YZ250F-Based Engine
The new WR250F engine is based on the class-leading, fuel-injected YZ250F design, and features a rearward-inclined cylinder and reverse cylinder head. Its airbox is situated in front of the rider with the fuel tank located at the center of the bike - a unique configuration that contributes to the bike's mass centralization and plays a pivotal role in achieving light and agile handling.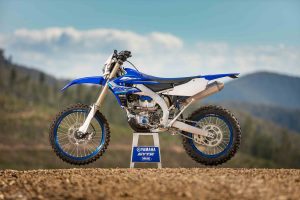 The 2020 WR250F features a new high compression forged aluminum piston, revised valve angle and exhaust cam timing with revised balance factor - all based on the current YZ250F, but with enduro-specific settings to provide enhanced off-road trail performance. That performance is further bolstered by the fitment of a dual electrode spark plug and revised exhaust for 2020.
Compared to the previous WR250F engine, the 2020 design is more powerful at higher rpm, and delivers stronger power through the rev range, making it a serious contender for top honors.
Free-Flowing Air Filter Contributes to Linear Engine Response
A new air filter element features improved airflow with increased reliability and, combined with a revised length of the intake funnel, contributes to an excellent feeling of traction and linear engine power characteristics during acceleration and deceleration. Rubber seals on the center positioning pin increase dust-filtering capability, and a model-specific sound-damping resonator design is also adopted.
Tougher Clutch with Lighter Pull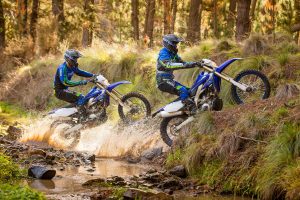 The 2020 WR250F is equipped with a 6-speed transmission that is designed to handle a wide variety of terrain, from technical rock climbs to full throttle blasting along forest trails. A new lighter and tougher clutch is now mated to the gearbox to match the extreme demands of enduro riding. Featuring new heat resistant friction plates, this durable clutch has a super light lever pull and is built to perform consistently and effectively for long periods in the toughest terrain.
Mass Centralized Starter System
A lightweight starter motor has been repositioned from the front of the engine to just behind the cylinder, contributing to mass centralization. The new system and redesigned one-way clutch reduce drag and horsepower loss - a 60% reduction in load compared to the outgoing model. The kick starter has also been eliminated to save weight.
Sharp Handling YZ250F Bilateral Beam Frame and Optimized Ergonomics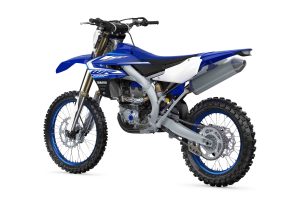 The 2020 WR250F now uses the same bilateral beam frame as the sharp-handling YZ250F. To achieve a rigidity balance with the amount of flex needed for enduro riding, the front engine mount brackets have been altered. Like the changes made to the 2020 YZ250FX, the upper-side engine mounts are the same used on the YZ250F, while two plate-type mounts are used for the front-side of the engine. The result contributes to the machine's excellent feeling of contact with the ground and offers feedback about the riding surface while still providing a light feel.
Surrounding this fully redesigned chassis, the 2020 WR250F features a new lighter, compact body from front to back, including a larger, 2.2-gallon, mass-centralized fuel tank. The radiator shrouds incorporate a new air duct with a concave shape that not only improves styling but is also narrower for better knee grip and overall rider movement. To further aid rider movement and comfort, the seat height has been reduced and the aluminum tapered handlebars are four-way adjustable.
Industry Leading KYB® Coil Spring Suspension with new Settings
The all-new WR250F runs the same industry-leading, fully adjustable KYB®, SSS coil spring-type forks with speed sensitive damping as the YZ250F, but with model-specific enduro settings to provide optimal comfort and compliance. This suspension is acknowledged to be the best available on a production dirt bike, and responds particularly well during the transition between the compression and rebound strokes.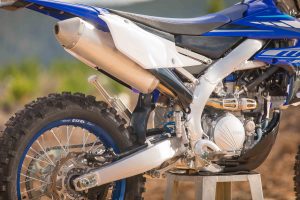 The outer tubes are the same as the YZ250F and contribute to a secure feeling of ground contact. The diameter of the cartridge cylinder and piston have been increased compared to the outgoing model (24 mm to 25 mm) as has the flow rate of the fork oil. The mid-speed valve (MSV) that provides damping in the mid-speed range has been changed from a coil spring type to a leaf spring type. This mechanism responds to even the slightest amounts of oil flow and delivers excellent damping feel at low speeds.
The rear shock absorber is also based on the YZ250F and features enduro model-specific settings. It features a coil spring with a higher fatigue strength than the current model's and with an 11.5mm wire diameter achieves a weight reduction of approximately 350 grams. The capacity of the shock reservoir has been increased by 30cc to run cooler and achieve a more stable damping force.
More Protective Skid Plate
The 2020 WR250F features a more protective plastic resin engine guard to help prevent damage to the frame, engine, water pump and hoses when running through ruts or from impacts by kicked up rocks. Also, reducing the size of the open space at the front limits the amount of mud and rocks entering thus reducing additional running weight.
Larger Capacity Fuel Tank
A newly-designed 2.2-gallon plastic resin fuel tank is featured to reduce the frequency of refueling during long-distance rides. The current YZ250F's tank was used as the developmental base, and the lower portion has been extended downward, toward the center of the bike to improve mass centralization, and to increase the tank's capacity by 0.5 gallons. A compact fuel pump is another new feature. These changes have made it possible to achieve a slim, compact body design that is identical to the YZ250F without any additional bulk or interference with the riding position.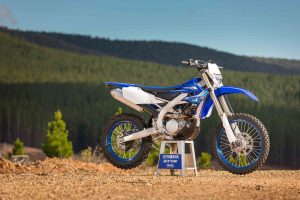 Flatter, Lower Seat
A redesigned seat with stiffer seat foam is fitted to aid rider maneuverability and to make getting on and off the bike easier. A slimmer design through the shroud/knee contact area helps further improve rider ergonomics.
New Forged Aluminum Side-Stand
A lighter and less obtrusive forged aluminum side-stand is positioned to ensure plenty of ground clearance when riding through ruts. The new stand sits higher and the amount it protrudes from the chassis is reduced which helps prevent snagging. The weight of the stand has also been reduced by about 100g. This is the same as the 2020 model YZ250FX stand design.
Sleek New Headlight Cowl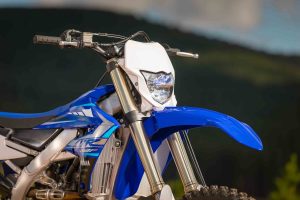 The WR250F's new headlight cowl sits lower and closer to the rider. It contributes to centralization of machine mass, reducing steering effort and helps to create a light, agile impression for the machine.
Lightweight Speed Sensor with High-Precision Display
A new lightweight front wheel speed sensor connects to a highly precise, fully featured enduro meter display and, without a speedo drive, makes front wheel changes easier. The system features a pulse wheel and sensor system known for excellent reliability and provides detailed speed information essential for enduro riding and racing.
18-Inch Rear Wheel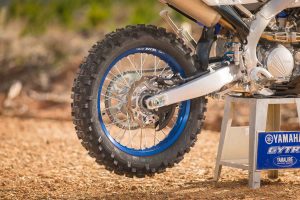 The WR250F uses an 18-inch rear wheel for improved comfort and better pinch-flat resistance in rocky and root-filled conditions. Dunlop MX3X tires provide excellent performance and durability, making this new bike ready to race right off the showroom floor.
Main Features Carried Over from Existing WR250F
• Rearward-slanted cylinder design featuring optimized weight distribution
• Wet sump lubrication
• 18-inch rear wheel
• Sealed O-Ring chain
• Lightweight switch free starting system
• Radiator cooling fan
• Lead battery resistant to effects of changes in ambient air temperature
• Headlight, LED tail light
• Speedometer, fuel level warning lamp, engine warning lamp
The 2020 WR250F will be available from Yamaha dealers in October in Team Yamaha Blue for $8,599 MSRP.
bLU cRU Off-Road Racing Contingency
All 2020 WR, YZ, YZ-X and YZ-FX models are once again eligible for Yamaha's bLU cRU Off-Road Racing Contingency Program, with nearly $5 million for Yamaha bLU cRU riders competing in off-road motorcycle racing. Yamaha riders can earn contingency payouts via a bLU cRU debit card, receive a 10% rebate on GYTR parts and accessory purchases of up to $1,000, and receive an instant $45 credit on bLUcRUswag.com.
SPECIFICATIONS:
Engine Type 250cc liquid-cooled DOHC 4-stroke; 4 valves
Bore x Stroke 77.0mm × 53.6mm
Compression Ratio 13.8:1
Fuel Delivery Mikuni® fuel injection, 44mm
Transmission Wide-ratio 6-speed; wet multiplate clutch
Final Drive O-ring chain
Suspension / Front KYB® Speed-Sensitive System inverted fork;
fully adjustable, 12.2-in travel
Suspension / Rear KYB® single shock; fully adjustable, 12.5-in
travel
Brakes / Front Hydraulic single disc brake, 270mm
Brakes / Rear Hydraulic single disc brake, 245mm
Tires / Front 80/100-21
Tires / Rear 110/100-18
L x W x H 85.6 in x 32.5 in x 50.0 in
Seat Height 37.6 in
Wheelbase 58.3 in
Rake (Caster Angle) 27.2°
Trail 4.6 in
Maximum Ground
Clearance
12.6 in
Fuel Capacity 2.2 gal
Wet Weight 254 lb
Warranty 30 Day (Limited Factory Warranty)
Color Team Yamaha Blue
Source: Yamaha press release