KTM INTRODUCES MY2020 SIX DAYS AND ERZBERGRODEO MODELS IN THE U.S.
Chaparral Motorsports
|
August 5, 2019
MURRIETA, Calif. - KTM North America, Inc. is proud to introduce its prestigious lineup of 2020 special edition Enduro models with the announcement of the all-new KTM 300 XC-W TPI SIX DAYS and KTM 500 EXC-F SIX DAYS models, as well as the exclusive KTM 300 XC-W TPI ERZBERGRODEO machine.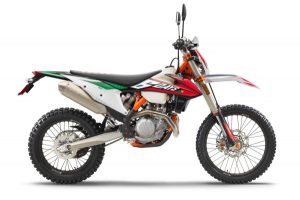 Developed on the toughest climbs, gnarliest terrain and in the deepest mud with KTM's factory racing stars, the benchmark-setting KTM offroad and dual-sport machines have just raised the bar again for the 2020 lineup. This range of KTM EXC-F and XC-W TPI models boasts the very latest in innovation with new and more efficient high-performing engines, a re-developed chassis with improved WP XPLOR suspension, improved handling, new bodywork, new air filter box, new cooling system and new exhaust systems.
These features are combined with the high-quality premium parts package offered on the flagship KTM SIX DAYS and the exclusive KTM 300 XC-W TPI ERZBERGRODEO models, making these the best competition machines on the market. With the International Six Days Enduro (ISDE) at the core of the design of the SIX DAYS models, they celebrate the sport of enduro and have a wide range of well-thought out KTM PowerParts fitted over the standard KTM EXC-F and XC-W TPI models.


SIX DAYS MODELS
When it comes to offroad motorcycle racing, no other brand comes close to the success or even just the presence of KTM. And year after year, one of the events where this becomes especially plain is the biggest competition on the calendar, the International Six Days Enduro. From the humble beginnings of a few daring riders in the Scottish border region testing the mettle of what was then emerging technology, the ISDE has turned into the team world championship of the Enduro scene, with more than 500 riders from over 30 nations expected on the grid. This Enduro marathon demands as much from the bikes as it does from the riders, and year after year, more than half of them show up in Orange.
The 2019 International Six Days Enduro will be held in Portugal. The rocky terrain and the dusty and worn tracks are bound to once again place extreme demands on all brave riders and machines that take on the battle. No chain is stronger than its weakest link. Thus, compromise of any kind has no place in their equipment if they strive to even cross the finish line, much less emerge victorious from the ordeal with their compatriots and teammates.
KTM also once again rises to the challenge with the latest, limited SIX DAYS edition of extra-tough machines. Easily identified as premium models by their special SIX DAYS design, these bikes are also upgraded and equipped with an extended list of top-of-the-line components, specially designed and refined by KTM's own research and development department for the exceptional event, making them the ultimate Enduro bikes.
SIX DAYS FEATURES LIST

Silencers with new SIX DAYS logo
New rims with new SIX DAYS logo
Engine guard
Front axle puller
Stealth rear sprocket (XC-W TPI)
Handlebar with new SIX DAYS logo
Solid rear brake disc
Floating front brake disc
Orange frame
Orange CNC triple clamps
Orange chain guide
SIX DAYS seat
Brake pedal safety wire
Map select switch (XC-W TPI)
WP XPLOR forks with preload adjusters
Exclusive SIX DAYS graphics
KTM 300 XC-W TPI ERZBERGRODEO - SPECIAL EDITION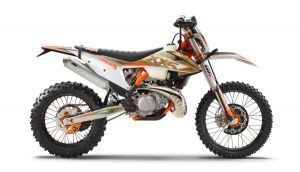 Erzberg Rodeo is known to be one of the toughest Extreme Enduro races on the planet. In 2019, there will be the 25th anniversary and as a tribute to this event KTM will release a limited ERZBERGRODEO model (500 units) featuring a long list of special parts, which will make this model READY TO RACE out of the box for any Extreme Enduro race.
ERZBERGRODEO FEATURE LIST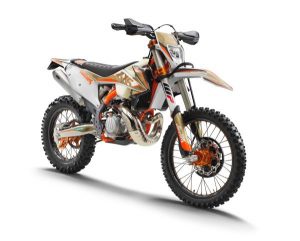 Factory wheels with anodized hubs
Wrap-around hand guards
Radiator fan and expansion canister
Radiator protectors
CNC-machined triple clamps
Skid plate
Selle Dalla Valla seat
Front brake disc guard
Rear solid disc
Rear disc guard
Chain guide bracket protection
Map select switch
Supersprox stealth rear sprocket
Pull straps
Oil plug
Clutch slave cylinder protection
Rear brake safety wire
Erzberg graphics
To get the very best out of the new KTM EXC-F or XC-W TPI model lineup, KTM has continued to develop its high-quality selection of KTM PowerParts, which enables riders to customize their machines to take it to new heights. KTM Enduro fans can also find a wide range of riding gear, protection and casual wear in the KTM PowerWear collection, ensuring they can be READY TO RACE both on and off the bike.
The SIX DAYS models will be arriving in U.S. dealers in September 2019, while the ERZBERGRODEO model will be available in November.