Orville Redneckenbacher Cooks Popcorn With A Motorcycle
Chaparral Motorsports
|
May 1, 2019
There are plenty of things you can do with a motorcycle such as commuting, jumping, racing, camping, or just enjoying a relaxing ride. One thing you shouldn't do is use it to cook popcorn. But that's exactly what one YouTube user did when he poured a bucket of popcorn kernels down the muffler of a Yamaha R1.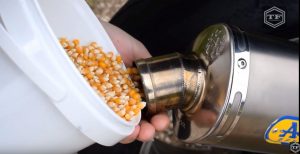 The channel, True or False Experiments, is a Bosnian YouTube channel run by Jovan Mitrovic, with a host of off the wall videos that are entertaining and interesting but mostly things you probably shouldn't do.

There's really no commentary to the video. So all you hear through the nearly eight minute clip is the sound of popcorn kernels plinking down the backside of the exhaust, which to any motorcycle enthusiast should be the equivalent to fingernails across a chalkboard. Once all the kernels have "settled" in, he fires up the bike and after letting the bike and pipe warm at idle, Jovan begins revving the throttle and then we see the first white puff of popped corn shoot out of the exhaust. Excited at the success of his experiment, Jovan continues to rev the throttle turning his motorcycle exhaust into hot air popcorn popper. While it may sound like you can actually hear the popcorn popping in the pipe, I think it's actually the clicking from zooming in with the video camera they are using.



After blowing out the rest of the popcorn and remaining kernels with some enthusiastic revving Jovan shuts the bike down and then shows how hot the exhaust is by pouring more kernels inside. There's a cut in the video and then we see Jovan fire the bike to life with a plume of popcorn spewing out the muffler.

While it might be a funny party trick this is not something you should do. Never mind the fact that pouring anything into a motorcycle pipe should make you cringe. Chances are one of your buddies will be tempted to eat the fluffy exhaust snacks and that's can't be good-unless you add a healthy splash of octane booster and a sprinkle of brake pad dust. SERIOUSLY, DON'T DO ANY OF THIS!