Grab The Popcorn, A New Dirt Bike Movie Is On Its Way
Chaparral Motorsports
|
May 1, 2019
|
Last Updated: November 9, 2020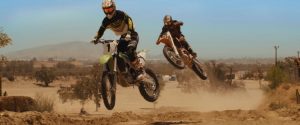 If you're into motorcycle movies, specifically dirt bike oriented movies, you're in luck. There's a new motocross movie that will be hitting the big screens, the only problem is you will have to wait until the end of summer to see it. Bennett's War (yeah it doesn't really sound like a motocross movie but the title will make more sense in a minute) is due to be released on August 30.
The movie stars Michael Roark who plays Marshall Bennett, a member of the Army Ranger Motorcycle Unit. According to the synopsis under the preview on the Forrest Films YouTube channel, during combat Bennett is injured in an IED explosion which nearly costs him one of his legs but results in a medical discharge and leaves him with remaining injuries that could threaten his ability to walk. Upon returning home Bennett is confronted with a family crisis as his father, played by American country singer Trace Adkins, informs him he's behind on the mortgage and about to lose the farm.
Being a former racer who had the potential to go pro before entering into the Army, despite his lingering injury, Bennett decides to jump back onto his KTM and race again in the hopes of winning money to help save the family farm.
All the racing clips in the preview seem to only show the infamous Glen Helen Raceway during a Lucas Oil Pro Motocross Championship event so it's hard to tell if we get to watch Bennett make a run through the series or how much racing there will be. The good news is the movie is executive produced by Forrest Films which is owned by the Lucas family, Forrest and Charlotte Lucas-as in the Lucas Oil Pro Motocross Championship. So yeah, while many dirt bike enthusiasts will be itching to critique every scene for authenticity, it's safe to say everyone involved with the movie will do their best to make sure things are accurate. And even if things are 100% spot on, who cares, its's not supposed to be a documentary, it's a feel good movie that will bring outside interest to our sport and shine a spotlight on our veterans.
If you do go to see this movie don't accept any popcorn from Orville Redneckenbacher.