Summer Glovin': Summer Motorcycle Gloves
Chaparral Motorsports
|
April 29, 2019
We are getting to that point of the year where it's time to start thinking about changing up your motorcycle riding gear. Just like you might rotate your long sleeves and pants with tee shirts and shorts for the changing seasons, you riding gear should suit the general temperatures and climates you'll be riding in.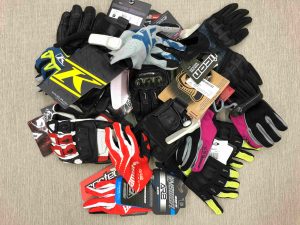 Some of you might have just rolled your bike out of the garage for the first ride of the season. Since it was probably still pretty chilly, you most likely bundled up with your warmest motorcycle jacket, a full face helmet, insulated riding pants, and gauntlet style motorcycle gloves. Now, as the hot summer months are fast approaching those cold-weather gauntlet style gloves might be a bit too much to keep your hands and fingers protected and comfortable. Thankfully there's a ton of options when it comes to summer motorcycle gloves.

Motorcycle gloves that are geared for summertime riding come in a variety of styles and are made from different materials such as leather or textile, as well as a mixture of both. Best of all, no matter what type of riding you do, street or offroad, there's a summer time riding glove to suit your needs.

Sport Bike Gloves
Cortech Impulse ST Leather Gloves: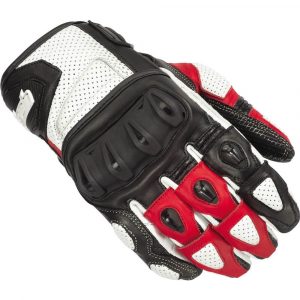 Loaded with protection these fully leather motorcycle gloves are great for hot days on the track or sport bike riders that like to ride aggressively and want great coverage on their hands. Don't let the full cow-hide chassis full you, there's plenty of built in air conditioning in these gloves with perforated paneling throughout the back of the hand and over the fingers. Over the knuckles and fingers there's TPU molded protectors, impact absorbing foam on the palm and fingers, and a TPU slider on the outside of the palm. If these glove don't offer enough coverage for you there's the Impulse RR gloves, which are nearly identical except they are a gauntlet type glove (there's perforated panels in the gauntlet).

Alpinestars SMX-2 Air Carbon v2 Vented Leather Gloves: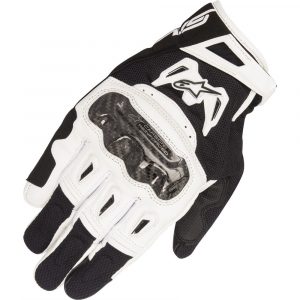 If you don't want the heavy feel of a full leather glove, then these textile sport bike glove from Alpinestars may appeal to you. A combination of full grain leather and 3D mesh these gloves offer a lighter overall feel and great ventilation. Over the knuckles there is a carbon fiber guard for impact and abrasion protection. Besides cooling and protection, the SMX-2 Air gloves provide a comfortable fit thanks in part to the pre-curved fingers and stretch sidewalls. Another very useful feature with these gloves is that they have touchscreen compatible tips on the thumb and index fingers.

Motonation Rapita Hi-Viz Vented Textile Gloves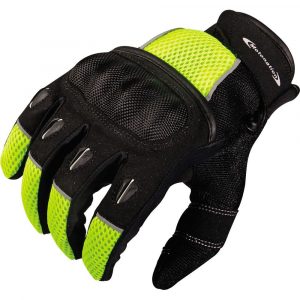 For those hot August nights there are the Rapita Hi-Viz Vented Gloves from Motonation. These gloves are really light and have large perforations making them extremely comfortable when the temps really soar. Impact protection is covered with plastic mesh armor over the knuckles, TPU over the fingers, and memory foam padding in the palm. Their bright colorway makes them the perfect choice for those that do a lot of nighttime riding or those who like the safety appeal of hi-viz motorcycle gear. If hi-viz isn't your thing the Rapita gloves are available in a variety of colors such as blue, red, grey, and yes all black-making them great for sport bike riders and cruiser riders alike.

Cruiser Gloves
Speed and Strength Straight Savage Vented Leather Gloves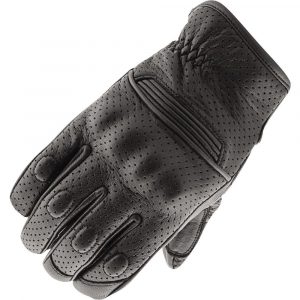 We know cruiser riders love their leather motorcycle gear. While leather is great at providing abrasion protection in a slide, it can be heavy and not all that breathable. There is a solution though and that's vented leather gear like these gloves from Speed and Strength. Nearly the entire top section of the Straight Savage Vented glove allows air to hit the hand thanks to tons of tiny holes. There's even perforation over the knuckle protector. These gloves are lightweight and made from soft leather that quickly conforms to your fingers and hands for an automatic worn-in feel.

Highway 21 Half Jab Vented Leather Gloves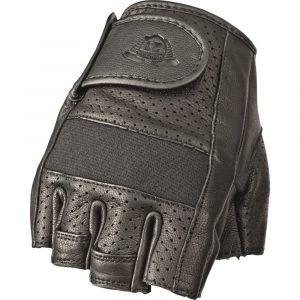 You might not get a whole lot of finger protection from these Half Jab gloves but your digits will be swinging in the breeze. Sure they look like cutoff jeans, but fingerless gloves are extremely popular amongst cruiser riders during the hot summer months. The Half Jabs are made from goat skin leather and feature a Kevlar knuckle panel and padding in the palm. The fingerless design of these gloves allow you to easily manipulate touch screens or perform precise tasks without having to remove the gloves, but they also leave pretty funky tan lines.

Offroad
Answer Racing AR2 Gloves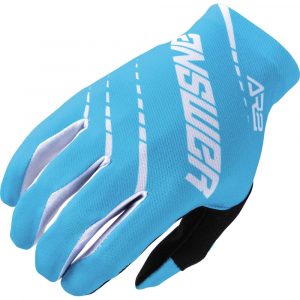 Racing motocross or even just riding offroad trails with your buddies can get your body heated pretty quickly. Add in blazing summertime temperatures and air conditioned riding gear becomes a must. There's plenty of vented motocross gear to choose from, and when it comes to covering your hands we like the AR2 Gloves from Answer Racing. Light and simple succinctly describe these dirt bike gloves. While the top panel isn't perforated, the material easily allows wind to pass through to help keep the tops of the hands cool. The suede palm and fingers on the underside not only helps aid with grip on the controls but it's also perforated to allow for cooling and to keep your hands dry. A strapless closure system (you simply slip the gloves on) keeps the gloves light and comfortable.

Klim Mojave Gloves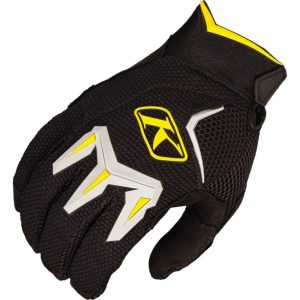 If impact protection as well as ventilation is an absolute must then the Mojave Gloves from Klim are a great option. With a name like Mojave you'd expect these gloves to be great in extreme heat and they definitely are. Featuring an extremely breathable stretchy 3D mesh on the backside of the hand, perforated material between the fingers, and a ventilated suede palm and undersides of the fingers these gloves really move air. Protection comes by way of TPU over the knuckles, padding over the pinky, as well as wrapped finger tips and a reinforced thumb overlay for durability. Other key features include silicon over the palm, middle, and ring fingers for extra grip. The thumb and index finger tips have e-touch material enabling you to use smart phones and touch screens without having to remove the gloves.

Women's Gloves
Roland Sands Design Loma Women's Leather Gloves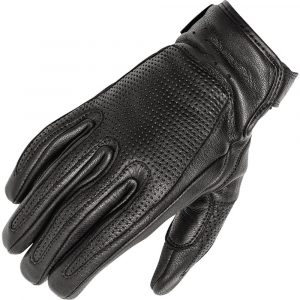 While some motorcycle riding gear can be a universal fit for men and women, gloves are one piece of equipment that benefit not only in fit and comfort but also styling when tailored specifically for women. These leather women's motorcycle gloves feature classic driving glove styling with a slim and elegant profile. The top panel is fully perforated allowing maximum air to hit the hand and fingers. Made from top grain cowhide exterior and a 100% Tricot lining the Loma gloves offer an extremely soft and comfortable fit. Extra care was made to ensure longevity and safety with reinforced stitching in high wear areas and key impact zones.

Speed and Strength Comin In Hot Women's Vented Textile Gloves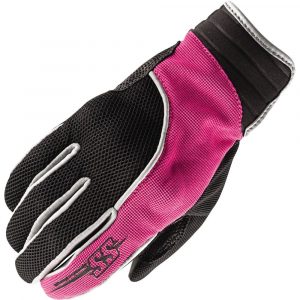 Whether you're riding offroad, a street bike, or even a cruiser, these women's textile and leather gloves are a great all around warm weather option. The top half is a mix between closed cell textile and diamond mesh to keep the tops of the hands cool while riding. The leather palm and finger chassis offer perforation in the fingertips to keep the underside of the hands cool. A molded impact protector over the knuckles and padded lower palm keep the hands safe in the event of a crash. If pink isn't your thing, the gloves are available in all black as well.

As you can see there are a ton of choices when it comes to summer time or warm weather motorcycle gloves, so there's no excuse to not keep your hands cool and protected.