Fox Racing Motocross Gear: Something For The Entire Moto Family
Chaparral Motorsports
|
April 25, 2019
What started as a small family business owned by Geoff Fox distributing motocross parts and accessories sourced from Europe as well as selling their own engine and suspension components, Fox Racing has become one of the largest and most respected brands in the action sports industry. Within a few short years of establishing its highly successful non-factory backed motocross team: Moto-X Fox, fans began clamoring for the red, yellow, and orange gear the team riders were wearing.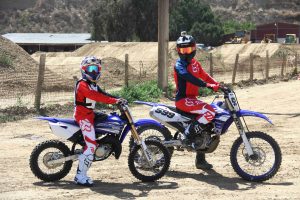 Geoff's brother Bob continued on the path with the suspension components, while Geoff took his company towards the apparel side. It's from those meager beginnings that Fox Racing has become a global apparel brand easily recognized by its simple yet distinct fox head logo. And some 45 years later, Fox continues with the family theme offering motocross gear and casual apparel for the entire family. You can literally outfit everyone from the veteran rider to a wee beginner in head to toe Fox gear.

Fox Is For the Children
For those young'uns that are ready to ditch the bottle and grab a throttle Fox's MX kids gear lineup consists of the Comp 5K Pee Wee boots as well as the 180 Czar Pee Wee jersey and matching pants. The Pee Wee boots offer good impact protection as well as seals out most mud and water. The simple two buckle closure system makes the boots easy to slip on and off. What many parents will really like about these mx boots is the removable insole that adds extra room and allows for extended use for growing feet.

The Czar Pee Wee mx jersey and pants are made from extremely durable material to withstand the spills and abuse kids put their gear through. Comfort is enhanced with moisture wicking features and plenty of ventilation. When it comes to head protection there are an assortment of V1 motocross helmets with sizing options that will fit many of the smaller riders as well as pre-teens. The recently revised V1 has been optimized with the MVRS (Magnetic Visor Retention System) which enables the visor to pop off the helmet in the event of a crash. This new visor system helps reduce the chances of getting caught up in the dirt and causing rotational injuries to the head or neck.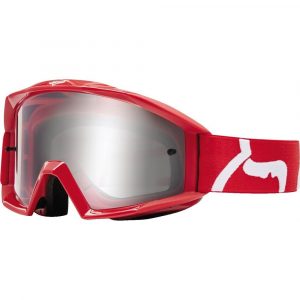 When it comes to eye protection for young riders the options vary between the more budget friendly Fox Racing Main Youth Goggles and the slightly more expensive Air Space Goggles. Both goggles are available in a variety of colors. With the Air Space goggles you get a large viewing area, better ventilation, a removable rock guard, as well as an 8-pin lens retention system. As for hand protection for the littlest riders there's the Dirt Paw Pee Wee Gloves which are only available in black and white or black and pink so they can go with just about any gear set.

For those pre-teen riders Fox's gear selection and options are much more varied. Boots are offered in either the entry-level/price friendly Comp 3 Youth or the slightly more technical Comp 5 Youth. The big difference between the two boots is that the Comp 5 has one more buckle (four total) for extra refinement and comfort. They also offer a bit more protection with reinforced shin plates and medial guards. As for jerseys and moto pants Fox offers a much broader selection of colors and designs in its Youth 180 line than it does in the Pee Wee line. They also offer the 360 Murc jersey and pants which are for the serious racer who wants a more precise and athletic fit.

Entry Level to Pro
Moving up to adult sizing the options for both male and female riders is quite extensive when it comes to boots, pants, jerseys, helmets, goggles and gloves. Fox offers three levels in its boots lineup that range from about $150 for the basic boots to more than $400 for their most advanced motocross boots. The Fox Racing Comp boots are the least expensive and are categorized as sport level. These are great for entry level or causal riders who want good comfort and protection but don't want spend a lot of money. For those that like to race on the weekends or are more serious about their protective gear there's the Comp R boots. Coming in at about $100 more than the Comp boots, the Comp R boots have an ActiveLock closure and a floating cuff system for improved comfort and flexibility. There an additional ActiveLock silicone strap at the heel that helps with mobility while also locking out to prevent hyperextension.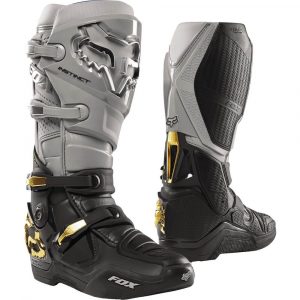 For those that desire top of the line protection on their feet there's the Instinct Boot. These are the same motocross boots the Fox sponsored pros wear when they lineup at the gate. The Instinct is a premium boot with all the latest bells and whistles from Fox. These boots feature a slim and streamlined profile that aids in weight savings and easy maneuverability when on the bike. There's also a hinged lockout to prevent hyperextension. On the bottom is Fox's exclusive Duratac rubber compound that aids in durability and provides exception grip on the pegs.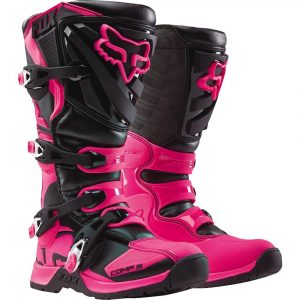 Fox understands that adult female riders need boots that are designed and tailored to fit them and therefore they offer the Women's Comp 5 boots. These boots feature a shorter overall profile and less calf volume making them slightly lighter but still able to provide plenty of comfort and protection.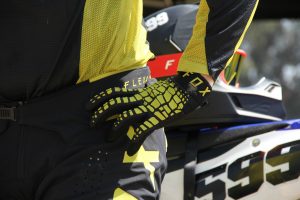 The jersey and pants offering from Fox for adult riders covers the gamut from extra ventilation to close to the skin athletic fit and entry level all day comfort. Just like the boots, the jerseys and pants are broken in to Sport level: 180 gear, Race Level: 360 gear, and Pro Level: FlexAir. For those extreme days when it's really hot there's the AirLine gear which offers moisture wicking materials, an athletic fit, and lots of perforation for great breathability. You can get a full run down of each of the gear lines by reading our First Look: 2019 Fox Racing MX Gear post.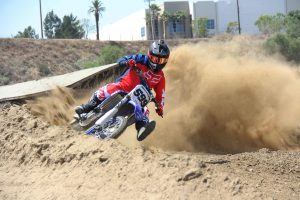 Fox has been making big strides with its motocross helmets to provide riders with a great selection of head protection that delivers comfort, safety, and performance. Helmets are broken down in to three different families, V1, V2, and V3. Each helmet line is comprised of different materials and safety features and offered at varying price points.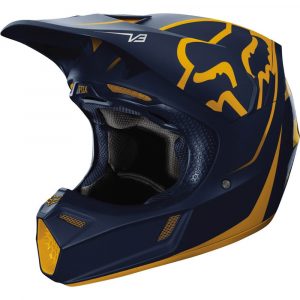 For those that just want a good offroad helmet that has ventilation, good protection, and a comfortable fit there's the V1. Comprised of an Injection molded polycarbonate & ABS shell construction the V1 features Fox's latest helmet technology, the MVRS. Moving up the line the V2 helmet has a fiberglass shell construction which helps keep the overall feel light while still delivering great durability and impact protection. The V2 has a ton of ventilation with 10 intake and four exhaust ports to help keep your head cool. As the premium helmet in the Fox lineup, the V3 offers the utmost in head protection with MIPS (Multi-Directional Impact Protection System®). The helmet has 14 intake vents and four exhaust vents. It is extremely lightweight thanks to the multi-composite shell construction. Of course this helmet also has the MVRS.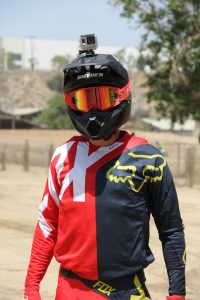 You'll find the largest selection of colors, styles, and options amongst the Fox motocross gear lineup when searching for gloves and goggles. As with the rest of their gear, you can choose between more price friendly options such as the Main goggles or Dirtpaw gloves or you can venture into the high-end pro level offerings like the Vue goggles or Pawtector gloves. The Fox Airspace goggles are extremely popular. They are considered race-level goggles and come in numerous colorways and lens options. If it's a lightweight and minimal glove you seek then the FlexAir slip-on glove is ideal.

Girls Ride Too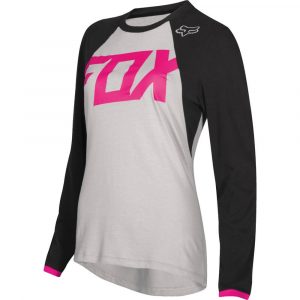 While Fox doesn't have quite the diversified collection of riding gear for women as they do men, they do have gear sets that are tailored specifically for the needs and curves of female riders. The Women's 180 Mata Gear is comprised of durable and lightweight materials. The jerseys provide moisture wicking and the pants feature heat and abrasion resistant panels in the knees. The moto jerseys and pants have been designed with a women's specific fit to deliver unrestricted range of motion and maximum comfort.

As you can see, Fox really can outfit your entire moto family in top quality dirt bike gear that performs as good as it looks.