Shinko 705 Motorcycle Tires: Dual Sport And ADV Tires On A Budget
Chaparral Motorsports
|
April 17, 2019
Dual sport and adventure riders are a wild bunch. They're the type of people who will ride down the highway, see a dirt path off the side of the road and instantly decide to jump on the trial just to see where it goes. They are also the type who will find as many different routes (on or offraod) to their destination(s) and ride them all. It's because of these unique character traits that they need to outfit their motorcycle with tires that will take them nearly anywhere they want to go.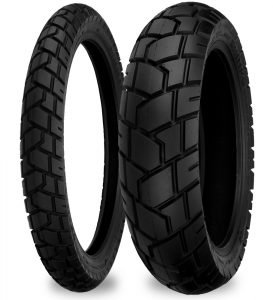 The problems adventure/dual sport riders constantly run into is with the amount of miles they typically ride and the varying type of terrain they traverse. Their motorcycle tires can wear pretty quickly and routinely replacing motorcycle tires due to high mileage or damage can be costly. Shinko recognized this dilemma and brought a solution to the market with their 705 Series Trail Master tires.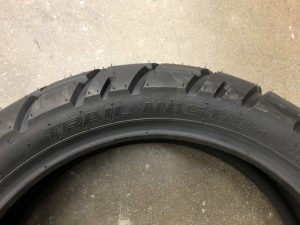 Housed under both the Adventure Trail and Adventure Touring categories on the Shinko website, the 705s feature characteristics that make dual sport and adventure riders quite happy. These motorcycle tires offer superb performance in various terrain and deliver great mileage, but most importantly they are a great value.

Shinko's 705 Trail Masters tires are a DOT rated tire that are designed for 80 percent on road 20 percent off road. The tires are comprised of a 4-ply construction and feature a durable rubber compound to withstand the abuse of offroading yet provides good grip in wet conditions when riding on paved surfaces. With a mildly aggressive tread pattern these tires can handle rugged fire roads, dirt trails, and light sand/loamy dirt and then hit paved surfaces with high speeds and cornering confidence.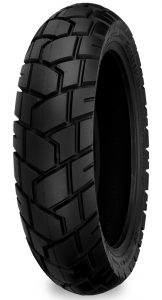 Since these tires are intended for heavy on-road use, you'll notice that the large tread blocks feature a round profile which aids in a smooth and comfortable ride while also being quiet at speed. The rounded profile also makes for quick and easy transitions from shoulder to shoulder when weaving through twistys. In emergency situations the large tread blocks make for a broad contact patch to help deliver predictable and consistent braking.

The geometric blocks are thick and sturdy with deep valleys. This tread design enables the tires to bite on rocks, roots, and ruts while light mud and soft soils can easily be dispersed thanks to the well-spaced lugs. The rugged blocks on the Trail Masters are also extremely resilient and can withstand the assaults associated with offroad excursions without excessive damage or tearing.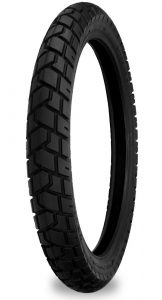 Obviously these aren't gnarly knobby tires that will eat up extreme conditions. However, more advanced riders and those who apply a lot of technique and skill to their offroad riding will find that they can maneuver the 705s up, over, and through more treacherous terrain than they were intended for. Another characteristic that many users have come to appreciate is that the tires can take a lot of abuse but aren't overly stiff. This means that when a flat or puncture does occur the tires are pliable enough that they can be removed from the rim without too much fuss.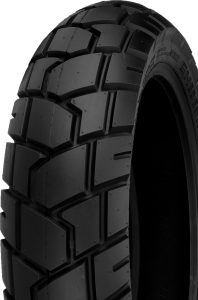 As we all know, it can be difficult to make a change. Many riders will automatically re-shoe their wheels with whatever rubber came stock. Available in a wide array of sizes, the 705s have become popular choices for everyone from mid-weight KLR650 owners to the big BMW 1200 GS owners. This is especially true for those riders who tend to put down a lot of miles and are looking for a budget-friendly alternative to something like an Anakee Adventure. A pair of Shinko 705 tires can often be upwards of $100 less than a pair of Anakees or other comparable tires.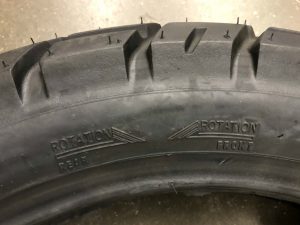 After the initial enjoyment of saving money has passed, riders who outfit their dual sport and ADV bikes with the 705s find themselves enjoying the performance and longevity. Many riders have gotten more than 8,000 miles out of the rear and anywhere from 12,000-15,000miles (and even well beyond) on the front. Shinko offers the 705 Series tires in individual front and rear sizes as well as universal front/rear sizes. The front/rear 705s features rotation indicators to ensure you orient the tire the proper way when mounting on either you front or back rim.

The 705s are available in the following sizes:

Front

Size Special Description Speed Rating Load Index Max psi Tube Type

120/70R19 H 60 42 psi Tubeless

110/80-19 Q 59 33 psi Tubeless

90/90-21 H 54 41 psi Tubeless

120/70R17 H 58 42 psi Tubeless

110/80R19 H 59 42 psi Tubeless

Rear

Size Special Description Speed Rating Load Index Max psi Tube Type

170/60R17 H 72 42 psi Tubeless

150/70R17 H 69 42 psi Tubeless

150/70R18 Jointless Steel Belted V 70 42 psi Tubeless

Front/Rear

Size Special Description Speed Rating Load Index Max psi Tube Type

120/90-17 H 64 41 psi Tube

130/80-17 H 65 41 psi Tubeless

130/90-17 H 68 41 psi Tube

140/80-17 H 69 41 psi Tube

4.10-18 P 59 33 psi Tube

120/80-18 H 62 41 psi Tube

Whether it's a set of Shinko 705 Series tires for your adventure bike or shopping for your first dual sport motorcycle, Chaparral Motorsports has a huge selection of parts and accessories as well as new and used motorcycles.