Honda Talon 1000R First Drive And Tech Talk
Chaparral Motorsports
|
April 4, 2019
After years of waiting, Honda fans and side-by-side enthusiasts were itching at the palms for Big Red to put a steering wheel attached to a sport-oriented UTV into their grips. Well, Honda delivered big time by introducing not just one hot new model but two aggressive side-by-sides with the Talon 1000R and Talon 1000X.



Backed by Honda's reputation for durability and dependability these two new models are already heating up the SXS market with their unique automatic DCT transmissions, powerful and torquey engines, and rugged suspension systems. While both vehicles look nearly identical, share many of the same parts, and can proficiently handle a variety of terrain and conditions, Honda created the Talon R and Talon X with slightly different chassis dimensions and suspension components.

Honda Talon 1000R
[caption id="attachment_71439" align="aligncenter" width="300"]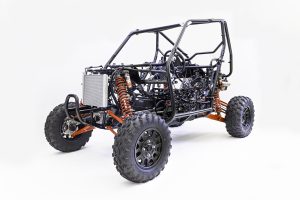 2019 Talon 1000R[/caption]

The Honda Talon 1000R is the larger of the two machines with a width of 68.4" and was designed for those that like to power through wide open desert scapes, ripping across sand dunes, and the added stability when climbing precarious rocks. The 1000R also has the most suspension travel of the two with 17.7" up front and 20.1" in the rear. This allows the SXS to skim across whoops at high speed with minimal disruption and allows the suspension to "work" and have plenty of room for extra deep ruts and inconsistencies.

Honda Talon 1000X
[caption id="attachment_71420" align="aligncenter" width="300"]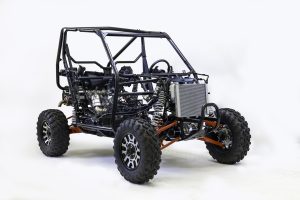 2019 Talon 1000X[/caption]

Sitting just tad a narrower, the Honda Talon 1000X is just as powerful and capable however is 4" narrower for those that like tighter trail ways and want quick and responsive handling when weaving in and out of trees. The slightly shorter wheelbase also helps the vehicle track like a slot car, allowing it to rail turns with precision and easy maneuverability.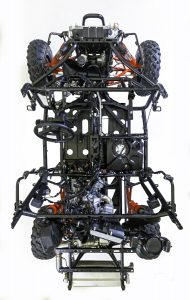 Both are powered by a 999cc liquid-cooled, Unicam® OHC longitudinally mounted parallel-twin four-stroke engine that is similar to that found in the Honda Africa Twin. Technology also brought over from the Africa Twin (and other Honda vehicles) is the six-speed automatic Dual-Clutch Transmission (DCT) with high/low subtransmission. The DCT setup makes it easy for new drivers to operate the vehicle and gives experienced drivers the ability to paddle shift at will so that they can fully control the action and drive as seriously or competitively as desired.

We recently had the opportunity to take a trip out to Sand Hollow, Utah, where Honda was hosting a weekend driving experience with their new vehicles. The two day trip allowed us the opportunity to test drive the Honda 1000R on one day and then the next day we got to test drive the Honda 1000X. This back to back experience allowed us to get first hand driving time as well as an opportunity to meet with some of the Honda team to delve into the specifics of the vehicle. We were also able to compare the Honda 1000R versus the Honda 1000X and come away with a thorough understanding as to how each vehicle handles and what kind of terrain they're perfect for.



During our trip we setup multiple cameras on each SXS and got a ton of footage from different angles so you can see how the suspension components work and how the cars handle in rocks, soft red sand, and rolling whoops. In this first video we talk over some of the technical details of the Honda 1000R with Michael Lindsey and Wayne Lambert.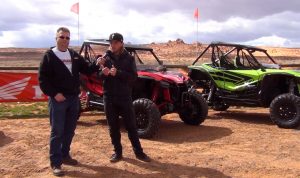 While Michael Lindsay can typically be found slaying tracks on dirt bikes, he has spent plenty of time with Honda products and the DCT Africa Twin so he is very good at explaining the driving experience, power delivery, and how the vehicle handles. A key piece of info that Michael drops in the video that many people will be interested in is the difference people will feel and notice when driving with the DCT and paddle shifters compared to traditional CVT style side-by-side.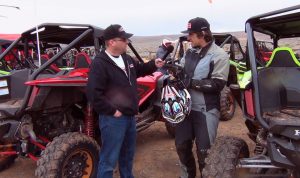 Wayne on the other hand is the Project Leader for Sales and Marketing of the Talon Project, so he has the nitty-gritty details on exactly why things are the way they are with each vehicle. Wayne explains why the 1000R has more travel, why they went with a 4 plus link suspension on the 1000R, and how it all affects the handling. He also talks about the wheel setup and why they chose to go with a 15" wheel and 28 tires.

[caption id="attachment_71448" align="aligncenter" width="300"]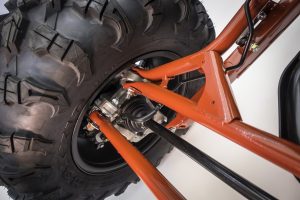 2019 Talon 1000R[/caption]

So check out the first drive and Tech Talk video below on the Honda 1000R and then be sure to come back to our blog soon because we will have a first drive video up on the Honda 1000X.