2019 Chaparral Motorsports|Precision Concepts| Kawasaki Race Team Peoria WORCS Report
Chaparral Motorsports
|
March 25, 2019
Text: Robby Bell
Photos: Dirt Nation Magazine

The fourth round of the 2019 WORCS series had the feel of an old-school, brutal WORCS race to it. Conditions were dryer and warmer than recent rounds. Added to that was a very treacherous racecourse, rocky and rough, with some dust and silt thrown into the mix. Chaparral Motorsports, Precision Concepts, Kawasaki Team Green faced some challenges over the weekend, especially in the pro class, which put their riders further down the results table.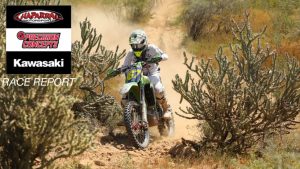 Zach Bell - 14th place Pro, 7th in points
Zach had a bright start to the two-hour pro race. He was fourth-place early on and able to make the pass for third on Ricky Dietrich by the thirty-minute mark. From there, Bell was dropping his lap time and inching closer to second-place Dante Oliveira. Unfortunately, just before the pit Zach began feeling an issue crop up in the front end of his bike. Bell did his best to deal with the problem, but suffered a crash right after the pit stop, which only aggravated the issue.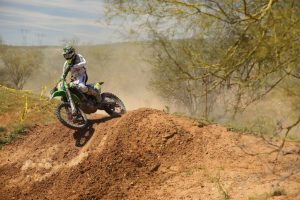 With just under an hour still to go, and the problem worsening, Bell came in for a lengthy pit as the team worked to fix it. Zach rejoined the race, but had lost massive time and was shuffled down the order. He crossed the checkers in fourteenth.

Blayne Thompson - DNF, 9th in points
Unfortunately for Blayne, his race was over before it really got going. Thompson was able to get off to a decent start, just on the heels of the top-five. However, on the first lap Blayne began feeling the bike lose power. He made it to the pits on the first lap, but after going over the bike, the team made the call that the bike wasn't raceable and Blayne was forced to retire.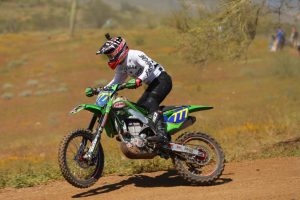 Clay Hengeveld - 2nd place Pro 2, 2nd in points | 1st place 450A, 1st in points
Clay's racing began in Saturday's 450A qualifier. Despite a fall, Clay was able to work from seventh place up to third by the time the checkers flew. After the race, a few riders were penalized when the results became official, two of which were the first- and second-place finishers. As a result, Clay was bumped to first place, which extended his points lead in the class championship.



Sunday's two-hour Pro 2 main event was solid, if uneventful, for Clay. He started around fourth and quickly worked up to second on the first lap. From there, Hengeveld wasn't quite able to match the pace of the leader, but he also wasn't getting a challenge from behind. Clay rode a steady, solid race, securing second place and staying close in the championship chase.

Robby Bell, Team Manager
"That was a rough one today, especially for our pro riders. I really feel for Blayne, who never got the chance to show what he had this weekend. We didn't have any warning of an issue on Saturday, so to be forced to retire after just a lap is a tough one to accept.

"Zach was having a good run. His body had improved since Havasu and he looked like he was getting back to his best, fighting for the podium. Then, to have that issue crop up in the front-end, it's gut-wrenching.

"All we can do is fully diagnose both issues so we can determine the cause and a prevention strategy moving forward. As a team, we take mechanical issues incredibly personal. Our goal is to give the riders the best equipment so they can achieve their potential, so it feels like a failure on our end. But I suppose if it came easy, it wouldn't be so gratifying when there's success.

"On the brighter side of things, Clay had another solid weekend. He was just a little off the winning pace, but at this course it was better not to force the speed if it wasn't there. As a team, we'll keep pushing for improvement and get the results back to what we believe we're capable of."