Chaparral Motorsports Precision Concepts Kawasaki Offroad Team 2019 Havasu WORCS Report
Chaparral Motorsports
|
March 5, 2019
Text: Robby Bell
Photos: Dirt Nation Magazine
Lake Havasu is well-known for providing a rough racecourse. The tighter confines of the location make for shorter lap times, which means more laps for all of the classes and more tore-up terrain. This year's WORCS course exemplified that with the quickest lap times the track has seen in recent history. The WORCS crew had changed up the track to help the "flow" of the course. Many riders agreed that the flow was definitely better than recent years, but with the trade-off of more laps around an already quick and demanding course.
Blayne Thompson - 11th place Pro, 5th in points
Blayne didn't get off to the best of starts in the two-hour pro race. A slight false start on the line seemed to throw him off his starting rhythm. But he was able to sneak around the inside of the first corner and come out inside the top-ten. Thompson quickly moved forward, passing into sixth and getting a tow just behind the top-five.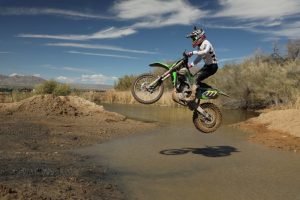 Blayne had found a good pace when his race took an unfortunate turn. An issue with the bike saw Blayne begin to slow his pace, eventually forcing an unplanned pit stop. The team worked quickly in the pits to get Thompson back out on course, but he had lost a lap to the leaders. Blayne never quit, pushing all the way to the finish and even making a couple passes. He was able to salvage an eleventh-place finish on the day, which keeps him in the top-five in points as the series heads to the fourth round.

Zach Bell - 13th place Pro, 7th in points
Zach showed great speed in Saturday's qualifying practice, setting the fastest lap. That earned him the first staging spot for Sunday's pro race as a result. In the pro race, he got off to a perfect start, grabbing the holeshot. From there, Bell lead the first few laps as he and second-place Taylor Robert pulled a gap on the field. Robert was able to get by, but Zach kept close on his tail over the next couple circuits. Unfortunately, Zach was carrying a bit of a sore back into the weekend and the roughness that the Havasu WORCS course is known for began to take its toll. Bell was forced to slow his pace, dropping back through the field, but he toughed it out to get a finish in order to salvage what he could for the championship.

In His Own Words

"Today was a bummer. I came in with a bit of a bum back and did what I could. It's unfortunate because I love this track and I felt really good on the bike. But we'll rest up, regroup and come back strong."

Clay Hengeveld - 2nd place Pro 2, 2nd in points | 8th place 450A, 1st in points
Hengeveld had a trying time qualifying for the Pro 2 main event out of the 450A race. A minor electrical issue forced him into the pit on the second lap. After the team fixed the issue, Clay rejoined the race in thirty-third position. From there, he charged the entire length of the sixty-minute qualifier and was able to make it up to eighth place at the finish.

In Sunday's Pro 2 race, Clay got off to a great start, just about nabbing the holeshot. He led the first third of the race, battling back and forth with Austin Walton. An unfortunate crash on the seventh lap relegated Clay to second. After the fall, Hengeveld did his best to regroup, but would later take a second dirt sample. This allowed Jake Alvarez to reel him in from third. The two would battle back and forth before Clay finally cemented the second spot with a few laps to go. The second-place finish jumped Clay up to second place in points after round three of eleven.

In His Own Words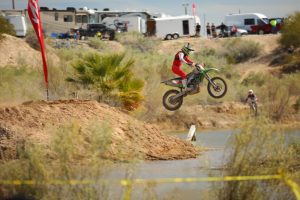 "I thought the track was pretty good today. It had a better flow to it than recent layouts here. Of course, it was still skatey with all the loose rocks. My start was good [in the Pro 2 race], I got the holeshot and had the lead for a little bit. Then, unfortunately I stuffed the front wheel in a corner and got passed. After that fall, I tried to remind myself to just breathe and not pump up. Then, Jake caught me and we had a little back-and-forth. He passed me, then I passed him back and I told myself to just pull away. Overall, I feel good about the second-place finish today. Definitely better than the finish yesterday [in 450A]. It's not where I want to be. I want to be up on top of the box. But I definitely learned a lot today about my body, the bike and even some mental things. So, I'm going to work on a few things and come out swinging at Peoria."

Robby Bell, Team Manager
"Well, today was a bit of a tough one for our pro riders. Havasu's always brutal, and it has a knack of exposing any weaknesses or flaws in rider or bike. I'm bummed for Zach. He wasn't one hundred percent, but still showed he had the speed in qualifying and at the beginning of the pro race. I know he'll focus forward from here.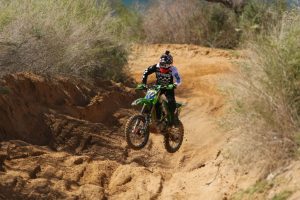 "We'd made a change to Blayne's bike for this weekend that had been working in testing, but it didn't hold up in the race. Credit to our crew for getting his bike sorted as quick as we were able to, so he only lost a lap in the pits. Then, I was happy to see the response from Blayne when he realized he could still make up a position or two. But it was a bummer for sure. I think he had top-five speed and could have battled for the podium if he would have been able to stay up with those guys.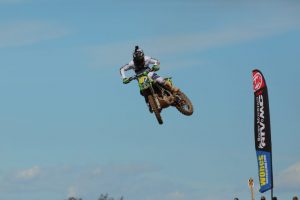 "Clay had a good ride today. There were a couple mistakes that he can iron out, but I'm very happy to see him getting out front early and leading more and more laps. It was also good to see his reaction in Saturday's qualifier after dropping back to thrity-something'th. Thinking about it, all three of our riders either overcame set-backs or gritted it out in some way. If the results aren't there at times, the effort and mind-set is, and that is something that's incredibly important to me. The results tend to follow mind-set, so we'll regroup, improve where we can and look forward to Peoria [round four of WORCS]."