Five Takeaways From Supercross Round 7 At Arlington
Chaparral Motorsports
|
February 22, 2019
In years past we've recapped each Supercross race with a series of questions posed to several of our Chaparral Motorsports employees and industry insiders. This year we've decided to change things up a bit and will be posing questions to you guys via our Facebook and Instagram (@chaparralMoto) pages, so be sure to head over and give us your thoughts on our questions. For our blog we are going to give our insight on the Top Five Takeaways from each race. A mix of highlights, lowlights, or just random observations; you'll get to read what we saw, or what we thought we saw.

Editor's note: I have never raced dirt bikes, so I have no personal experience as to the grit and grind these guys sacrifice their bodies to week in and week out. But I love watching the races and respect the hell out of each and every one of them for putting their lives and livelihood on the line each and every time they roll up to the starting line.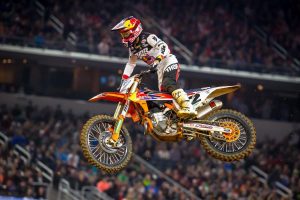 Welcome Back Osborne



After a long hiatus and missing the first six races of the season due to injury sustained in the Outdoors series back in May, Zach Osborne had a tough night but he proved he's a tough dude. Osborne's heat race started out with him going down early in the first lap and getting Plessinger's tread pattern tattooed across his legs. The spill dropped him down to 16th place but he made an incredible comeback with two laps to go and made a pass on Kyle Chisolm to escape having to go to the LCQ. His main event didn't end with quite as good results. He ended up getting kicked sideways at the end of a whoops section which caused him to get spit over the berm. He was in about 7th before that but ended the night with 22nd.

Bowers Boots Barcia



The second 450 heat race started off with the crowd screaming and cheering as Chad Reed jumped out with the holeshot with his Suzuki RM-Z450. Then the energy shifted from cheers to jeers as Tyler Bower's sped straight into the center of a turn and T-boned Justin Barcia. Barcia was mid turn and Bower's didn't even make an attempt to play it off, he had Barcia locked in his sights and it was on. The force of the hit shot Barcia's Yamaha YZ450 over the turn but somehow Barcia was able to hop off and land on the tuff block and walk away pretty much unscathed. Barcia was done for the race and was headed for the LCQ. We later learned that Bower's was done too. He got DQ'd for the incident. There has been speculation that Bower's move was payback for Barcia slamming into him last year in Las Vegas-that move ended with Bowers suffering a broken leg.




View this post on Instagram
Whatever the deal was, whether it was retaliation or not, as expected Bower's wasn't pleased that he was DQ'd and posted about what he felt was inconsistencies by race officials. He does make some good points. It's been stated many times that there is no consistency in regards to penalties, fines, or DQ's. Something needs to be changed and it sounds like Bower's is working on that with his weekly rider/promoter emails and meetings.

Pennington Puts in A Big Effort

There was some great racing in the 250 LCQ again, granted it wasn't nearly the spill fest last week's event was, but watching Jayce Pennington give it his all to make it into the main event was exciting. He charged from 11th and gradually made his way to one position out from making the main. With one lap to go and one spot to get there Pennington had TJ Albright in his sights and lined him up for pass. Pennington tried to pinch Albright high up in a turn and slide by but instead he ended up going down and his shot at the big show slipped by. Big effort. Big heart. Hopefully next week works out better.

LCQ Part Two

A similar scenario that occurred in the 250 LCQ played out in the 450 LCQ with Scott Champion coming extremely close to making the main, only to watch it wash away on the last lap. Champion was just shy of a transfer sport by one position the entire race as he rode behind Ronnie Stewart. Then on the last lap he made his move on Stewart to take over the 4 spot and secure a gate for the main. Champion managed to put some distance between him and Stewart and then it was gone in an instant after he got crossed up in the option lane and went down. We'll see if he can redeem himself this Saturday.

Webb Snatches Roczen's Win Yet Again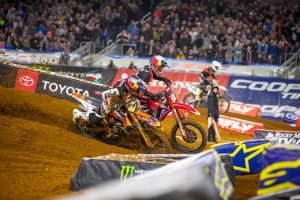 Cooper Webb secured his fourth win of the season on Saturday night and took back the red plate from Roczen. There is so much to unpack here. Not only did Webb power his Factory Edition KTM 450SX-F to snatch the win away from Roczen, he did it in dramatic fashion making his way up to second around his teammate Marvin Musquin with 3:47 left and a gap of 1.44 seconds between him and Roczen. Then with zeros on the timeclock and two laps left he closed the gap and powered through the final turn to beat out Roczen and his Honda for a photo finish win by 0.028 of a second. That's a new record for the closest race in SX history!


Webb now has the most wins of any 450 rider this season, three more than all of the other winners to be exact. Even though Roczen has ZERO wins this season he is only down by two points. After seven races, this is the closest the point spread between first and second place has been in about a decade. Back in 2010 Ryan Villopoto and Ryan Dungey were tied after seven rounds with 145 points each. A year prior James Stewart and Chad Reed were tied with 152 points after the seventh race of the season in San Diego. The next closest point differential after seven races was in 2011 when Villopoto had a three point lead over James Stewart. On the flip side, the largest point gap in the past ten years at this point in the series was last year when Jason Anderson had a 36 point lead over Cole Seely.

Interestingly enough, since 2014, his rookie season racing in the premiere SX class, after seven races Roczen has been in this exact position (2nd in points) three other times. In 2014 he was 12 points behind Ryan Villopto, 12 points behind Ryan Dungey in 2015, and 23 points behind Dungey in 2016. Just some weird stats for you.

Now back to Webb. What I find even more significant than his four wins, or current point lead is that twice now Webb has snatched a win away from Roczen this season. These two have had their issues in the past with a social media spat, and of course there was the time that Roczen's arm (the other arm) got chewed up in Webb's rear wheel.

Webb seems to have Roczen's number. After Roczen led the majority of the race on Saturday night, Webb turned up the heat and pretty much nailed every lap to put himself elbow to elbow with Roczen at the end of the race. Webb kept his composure and set himself up to keep Roczen high in the final turn which caused a minor bobble from Roczen, and Webb drove through to edge out the win. It was spectacular!!!

After two years of sitting idle, the Webb train is finally rolling and it's gathering up steam and passengers really quick.