2019 Chaparral Motorsports Precision Concepts Kawasaki Race Team Peoria Sprint Hero Report
Chaparral Motorsports
|
February 19, 2019
Text: Robby Bell
Photos: Dirt Nation Magazine
Canyon MX Park in Peoria, AZ was host to the second Sprint Hero Sprint Enduro of 2019. The racecourse definitely had an elevated technical aspect, as much of the surrounding terrain was quite rocky. Also, and in a prominent trend this winter, the track was hit with heavy rainfall on Thursday prior. As a result, the dirt was nearly ideal, though a little slick and wet in spots on day one. Just like at round one, on each of the two days there would be three motocross-oriented ("moto") tests and three "enduro" tests, which featured more off-road terrain. Then, the final results would total the elapsed time of each rider over the twelve tests, with lowest total time winning.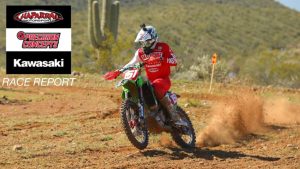 Zach Bell - 2nd place Pro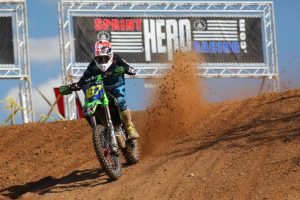 Zach continues to improve in the more technical aspects of the off-road discipline. He and KTM's Taylor Robert fought hard on Saturday. They traded fast times in both the moto and enduro tests, with Bell taking two of the moto tests and the final enduro. As a result of his performance, Zach headed into the second day just ten seconds out of the lead.

Bell had a minor setback in the first moto test on day two, when a slide-out cost him some time. However, he regrouped and was able to get the fastest time in the final moto test. Through the final three enduro tests of the weekend, Zach continued to post fast times, but was just off Robert's pace. In the end, Bell's overall time had him securely in second place on the weekend.

In His Own Words

"The first day, I felt good all day. I won three out of the six tests. It was a good day, especially being able to beat Taylor in one of the enduro tests. So, I came into day two ready. It was all or nothing. We were going so fast, it was almost getting a little out of hand. I kept up with the pace a little bit. But this is [Taylor's] home track, so to be that close to him, especially in the rocks, that felt really good.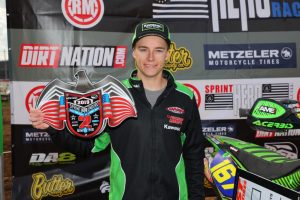 "It was a good weekend. The bike was working great, so not much more we could ask for. This format, and the terrain, is all still a little new to me. So, to sprint in that terrain is tough. But to show the speed and keep up with Taylor, I feel like we're really building and I just want to keep going up from here."

Blayne Thompson - 11th place Pro
2019 peoria Sprint Hero Blayne Thompson precision concepts Kawasaki
Like his Team Green stablemate, Blayne is continuing to learn and develop in the sprint enduro format. Unfortunately for Blayne, his efforts were hampered when he aggravated an old foot injury in the first enduro test on Saturday. Thompson did what he could in the remaining tests on day one in order to get a finish.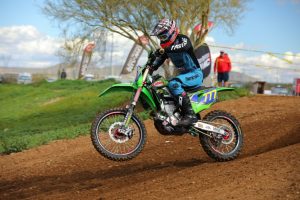 After assessing his injury between days, the decision was made that it would be painful, but not get any worse. So, Thompson suited up to get some more experience in the rocky terrain. Blayne posted solid times in Sunday's moto tests, but when it came to the enduro loop, it was tougher to keep pace with the injury. Still, Blayne continued to grit it out to finish the weekend in eleventh place.

In His Own Words

"With the rain here this week, just like it's been in California, the conditions were pretty epic. We couldn't ask for a better time to ride with how wet the desert was. Day one was going decent, I guess. Honestly, I was struggling a little bit in the moto [test] and in the mud. Then, in the enduro test I hit my foot a couple times, aggravating an old injury.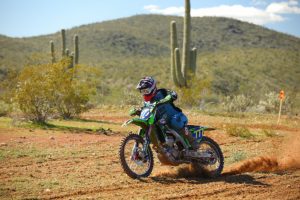 "So, we just came out Sunday and played it a little safe and came out with a finish. I'm definitely looking forward to healing up over the next couple weeks and coming into Havasu WORCS swinging. I love Havasu and actually won it [the last time the pro race] was two-hours. It's that last half hour that separates, so I'm really looking forward to it."

Clay Hengeveld - 3rd place Open A
Being from Flagstaff, AZ, Clay's familiar with the Canyon MX area, but mentioned he'd never seen the conditions this good before. Though he's familiar with the terrain, Clay admittedly struggled a bit to find a flow in Saturday's tests. Still, Lil' Henge stayed within thirty seconds of the lead in the Open A class at day's end.

On day two, Hengeveld picked up the pace, posting the fastest time in two of the three moto tests. The top three Open A riders were all within a couple seconds of each other's times in the three moto tests, so the three enduro's would be the separator. Unfortunately for Clay, a crash in the first enduro test dashed any hopes for climbing up the results. Though he was able to rebound to post fast times in the final two tests, Clay would have to settle for third on the weekend.

In His Own Words

"Honestly, I thought the track layout was awesome. I think this was the best Canyon [MX Park's] ever been. It's kind of a home-town race for me, though I don't come down here that often. But if the conditions were like this, I'd definitely be down here a lot more! Day one wasn't the greatest for me. I think I struggled all day long with finding a flow and getting comfortable.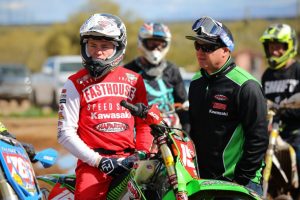 "Day two, I think I rode a lot better. I was able to win a couple moto tests. Then, I did have a couple issues in the enduro test. I fell in the sand whoops after getting kicked and riding side-saddle on the bike [laughs]. But overall, I had fun. I'm definitely still learning this whole sprint enduro format. I know what I need to improve and just want to come out on top at Mesquite."

Robby Bell, Team Manager

"I like the sprint enduro format. It's still a bit of a learning curve, though. And for the riders, it's definitely a slightly different skillset. You can tell the riders who are more accustomed to the format, or for whom the style just comes more naturally. I thought the course was great. Obviously, the conditions were helped by the weather. Even so, all the riders seemed to like the layout.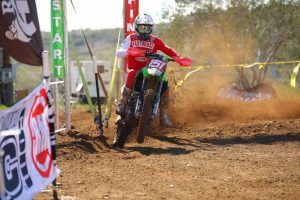 "Zach's showing that he has a sharp learning curve. We knew the sprint-style would come somewhat natural because of his speed, but he's learning the technical terrain quicker than expected. Saturday's effort was fantastic and the pace elevated even more on Sunday because of it. Definitely a lot of positives to take away.

"Blayne's weekend was for sure struck down when he caught his foot wrong. He toughed it out for the experience, which was good, but now he just needs to heal up. Blayne's had a solid start to the WORCS season and a really positive start to the year in general. We head to Havasu next and that spot has typically been a good one for him, so I'm looking for Blayne to rebound.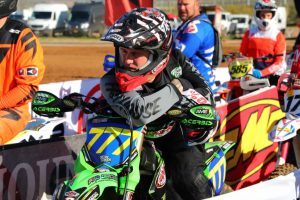 "Clay had a good weekend, though not stellar by his standards. I know he struggled to find a comfortable flow on Saturday, but I could see him fighting through it, which was a positive. He rebounded on Sunday and, but for that crash in the first enduro test, could have won the day. Clay's still figuring out the sprint format, but he's a quick learner and a fighter and I know he won't be satisfied until he's on the top step."



2019 Peoria Sprint Hero Results