Five Takeaways From Supercross Round 6 At Minneapolis
Chaparral Motorsports
|
February 15, 2019
In years past we've recapped each Supercross race with a series of questions posed to several of our Chaparral Motorsports employees and industry insiders. This year we've decided to change things up a bit and will be posing questions to you guys via our Facebook and Instagram (@chaparralMoto) pages, so be sure to head over and give us your thoughts on our questions. For our blog we are going to give our insight on the Top Five Takeaways from each race. A mix of highlights, lowlights, or just random observations; you'll get to read what we saw, or what we thought we saw.

Editor's note: I have never raced dirt bikes, so I have no personal experience as to the grit and grind these guys sacrifice their bodies to week in and week out. But I love watching the races and respect the hell out of each and every one of them for putting their lives and livelihood on the line each and every time they roll up to the starting line.

#LimeGate
Rash and thrash hit riders and bikes after the San Diego race in what has now been dubbed #LimeGate across social media. In addition to the response that Feld had in regards to the situations, it was good to see Monster Energy Supercross Senior Director of Operations, Dave Prater, get in front of the camera with Ralph Sheheen to discuss the controversy. Sure it was a stilted and scripted interview but at least he went on camera to acknowledge that they screwed up and are trying to rectify the situation by taking care of the riders and not using any more lime. I wonder though, is the $5K they offered the riders enough to repair their bikes or make up for the injuries they suffered? What about long term effects? I wonder how the riders feel about the amount? Prater also stated that they won't be using lime again and are reaching out for information on other solutions that can be used to help create a safe track environment, which is great to hear. Hopefully they find something soon.

Musquin Makes Multiple Mistakes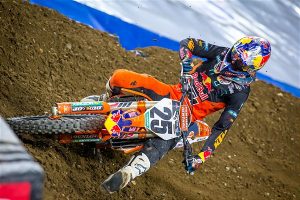 Musquin had a good main even ride with a third place finish, but I bet he wishes he could have had that heat race back. He was doing great for the majority of the race trying to chase down the race leader Justin Brayton and then around lap 8 everything went sideways and Musquin hit the dirt three times in one lap to drop from second to barely keeping himself out of the LCQ with an 8th place finish. Musquin is having a pretty good season. He's tied for 3rd overall with Tomac and only sits two points behind point leader Roczen. However, we about 1/3 of the way through the season and he has yet to make the top step of the podium.

Mayhem Hit The 250 LCQ

No matter whether it's the 250 or 450 class, the LCQ races are always some of the best events of the night program. The riders put it all on the line for their one shot at the four available slots in the main events. I don't know if it was because there was no lime used in the track prep (do they use to use lime for the indoor venues, I have no idea) but the track seemed pretty beat up, dry, and really rocky in certain parts by the time the 250 LCQ started. So you take a worn down track and 22 riders ringing it out trying to get into the main and things are going to get interesting. And they absolutely did!!



By the start of the second lap, Samuel Redmond was looking good with a transfer spot lined up. He made brief contact with Lane Shaw in the first turn which caused Redmond to temporarily lose balance. He quickly regained composure but then completely lost it later in the lap in one of the rhythm sections. Redmond ejected over the bars and slammed into the dirt. He crawled off to the side tuff block holding his head and thigh but apparently made it out of the night with only some scrapes and bruises.

About ten seconds after Redmond went down Joey Crown and Shaw were coming out of a rhythm section together and Crown jumped off the braking bump leading into a turn and slightly got bucked off the pegs. By the time he came back down he was pointed nearly perpendicular to the turn and off the back/side of the seat which caused him to whiskey throttle. He ended up blowing through the tuff blocks at the top, launched over the lip of the berm, and disappeared on the other side. It was pretty wild.

Then barely another ten seconds later with 3:20 remaining, Shaw and Alves got together in the last turn and both went down. There was a pack of riders immediately behind them and before he could crawl to the sideline for safety Shaw got ran over by three different riders. The first rider barely caught his leg, but the other two plowed over him with both wheels. It looked pretty painful.

This all occurred on the same lap within about 30 seconds. It was like watching a game of Twisted Metal!

Webb Stalked Savatgy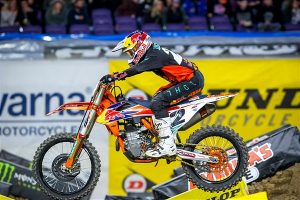 Cooper Webb had another great night in which he displayed his patience as he stalked Joey Savatgy for 14 laps waiting to make his move. Webb got a good jump and grabbed the holeshot but Savatgy quickly took the lead and Webb settled into second. It was pretty tough to pass on that track so Webb just steadily tracked Savatgy and kept him within striking distance. Then after 14 laps Savatgy made a slight mistake and Webb took advantage and rode onto his third victory of the season. Webb has the most wins so far this season but sits one point behind point leader Roczen.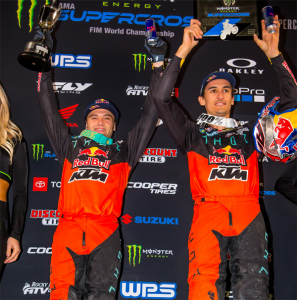 You have to give it up to Savatgy because he really knows how to make a difficult track to pass on even more difficult for those behind him. Not only did Webb sit behind him for the majority of the race, but once Web was gone Roczen pulled up behind Savatgy and struggled to get around. It took Roczen nearly five minutes to finally pull ahead of Savatgy and by the time he did he had the Baggett and Musquin there as well and they both eventually put moves on Savatgy as well.

When Will Roczen Win? Does Roczen Need a Win?



It's now been more than two years since Roczen has won a Supercross race. The last race he won was in San Diego right before he had that massive crash that nearly cost him his left arm. While Roczen has the red plate and only a one point lead over Webb, he's been all over the podium except for at the top. Roczen has been on the podium more times than not this season but still can't seem to get the W. His closest shot at a win this season came in round three at Anaheim when he lost the first triple crown race to his rival Webb at the very end of the race-it wouldn't have given him the overall win for the evening but at least it would have been a win.

A one point lead isn't much, but at least it's worth the red plate. The question is, can he go through an entire season without a race win and still clench his first ever Supercross championship? It would be an amazing feat. I did some quick research in the AMA Supercross archives that go back to 2003, and in 16 years there hasn't been a racer who has won the title without winning a race during the season.

The one rider that has come closest in the past 15 years to doing this was Ryan Dungey during his final year of professional racing. During the 2017 SX season Dungey only had three wins and squeaked out the title with a four point lead over Tomac. It helps that Dungey was only off the podium four times that season with all four of those being 4th place finishes.

Roczen's worst finish this season has been 5th; whereas Webb's worst has been a 10th. But as Dungey has proven, domination doesn't win championships, consistency does.