2019 Chaparral Motorsports Precision Concepts Kawasaki Team Taft NGPC Race Report
Chaparral Motorsports
|
February 11, 2019
By Precision Concepts
All three Chaparral Motorsports, Precision Concepts, Kawasaki Team Green riders made it out to Taft for the second round of the AMA National Grand Prix Championship. On-and-off rain made for nearly ideal track conditions. Although, an early downpour played havoc on the rider's vision during Sunday's ninety-minute Pro race at times. Taft is known for being fast, flown and choppy with some painful roost. So, getting out front is always a top priority.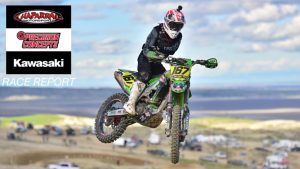 Zach Bell - 1st place Pro, 1st place Open AA
Zach Bell didn't waste any time getting out to the lead in Sunday's Pro main event. He was forced a little wide in the fist corner, but maintained his momentum around the outside of current series champion Trevor Stewart. Exiting the first corner, Zach was able to take over the lead and he never looked back. Bell had a smooth run, pulling time every lap, and leading wire-to-wire to take the win by nearly two minutes.

In His Own Words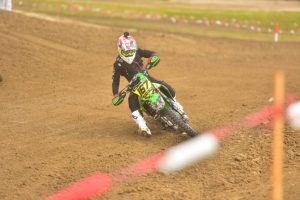 "The conditions all weekend were perfect. Saturday, it was a little dry, then Sunday we got some light showers so the dirt was perfect. The first two laps [in the pro race] we got hammered with rain, so we didn't have any dust and it formed a lot of ruts. I got off to a good jump [off the start], but Trevor [Stewart] was inside and ran it up in there. That forced me to go outside, but then I banked off the wall, shot back down and got by him on the first tabletop. It was pretty smooth from there, the whole way. The only issue we had was a little but of vision [with the rain]. But we just ripped the tear offs completely off and had perfect vision. No close calls with lappers, it was pretty smooth sailing from start to finish."



Blayne Thompson - 3rd place Pro, 3rd place Open AA
Blayne Thompson had a great ride after getting off to a third-place start. Thompson lost a little time to Bell and Stewart early on, but began closing the gap on second-place just before the pits. Blayne had closed to within ten seconds of Stewart following their respective pits, but an unfortunate crash set the Kawasaki rider back. After remounting, Blayne kept a solid pace and brought it home for a third place finish.



In His Own Words

"The weather made [the course] come out perfect. It was a little bit tacky for most of the track. Overall, I felt like I rode pretty good. I got off to a third-place start. Trevor and Zach pulled from me a little bit. Then, about the halfway mark, I started reeling back in on Trevor. When we came into the pits I caught him some more, then had a little crash on that same lap. I just came into a corner a little too fast. Then, coming out it got a little slick from the rain and just washed out. [Trevor] got a little bit of a gap, so I just got back up, rode my ride and came out with a third."

Clay Hengeveld - 2nd place Pro 2, 1st place 250 AA
Clay had an eventful time of it in the Pro 2 main. The early downpour wreaked havoc on his vision, forcing two early pit stops for goggles. The Team Green rider rallied from nearly a minute behind the leader just before the halfway point. Clay pushed up inside the top-three and was closing the gap on the two leaders. A last-lap pass, just two corners before the finish line, moved Hengeveld into second and he crossed just eleven second off the lead.

In His Own Words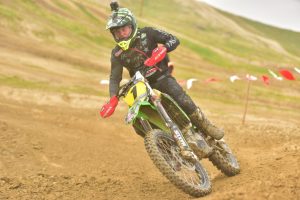 "The track was a little bit different than previous years. It was a little bit tighter. So, I felt like that kept all of us closer to each other. I got off to a pretty good jump and got to the first corner third. I got into second and went to pull a tear off, but accidentally pulled all of them. By the end of the first lap I had no goggles and had to run into the pit to get some freshies. I had a second pit for more goggles as well. The rain wasn't helping and I really struggled with goggle prep this weekend. So I'm definitely going to focus a little more on that in these [wet] races.

"The rest of the race went pretty well. Once I was able to get clear vision, I was able to charge my way back up to the top two guys. I made the pass [for second] two corners before the finish and I believe if I'd had another lap I would have got the lead. Other than that, I had a pretty good race and I'm glad to leave Taft with a second."

Robby Bell, Team Manager
"This was a great weekend for all three guys to rebound after the muddy Glen Helen WORCS race. Overall, it couldn't have gone too much better. Zach took a couple wins on the weekend and lead from start to finish in the pro race, showing some real speed. Likewise, Blayne had a great weekend with a couple thirds. The crash in the pro race was untimely, as he was building momentum to make a charge for second. Clay had a rough start to his Pro 2 race, but showed grit to keep charging and recover to make the pass for second with just a couple corners to go. That showed some real fight. Now it's off to the second round of Sprint Hero sprint enduro in Peoria."