Chaparral Motorsports To Take Part In KTM Street Demo
Chaparral Motorsports
|
February 5, 2019
From its championship winning 450 SX-F dirt bikes to high performance street bikes outfitted with performance driven technology such as the new 790 Duke, KTM has a bevy of incredible motorcycles to whet the appetite of just about any two-wheeled enthusiast. If you've been dreaming of owning a KTM or already own a garage full of orange machines but are interested in adding another steed to your stable, you're in luck. Chaparral Motorsports will be joining KTM at its North American headquarters, in Murrieta, California, on Saturday February, 16th for the KTM National Street Demo Tour.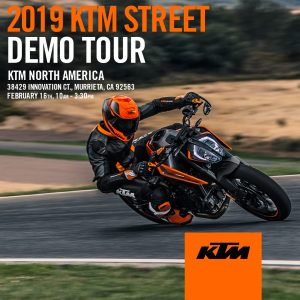 This one day event runs from 10:00AM - 3:30PM and will give participants the opportunity to test ride the latest and greatest street models (sorry the dirt bikes won't be part of the demo) KTM has to offer. Each demo ride will wind through beautiful scenery and across exhilarating roads so that enthusiasts can really get a feel for how the motorcycles perform. And if you find yourself infatuated with a particular bike you'll be happy to know you will receive a $500 Ride Orange VIP voucher that you can then use at Chaparral Motorsports to go towards the purchase of any full-size KTM (125cc or larger) motorcycle, or the voucher can be used for KTM PowerParts, PowerWear, or SpareParts.

If the motorcycles don't quell your hunger, there will be free coffee and snacks available to keep you energized throughout the event, and when not riding you can jump on one of the tours and get a peek at the inner workings of KTM's Media and Motorsports facilities. In order to be eligiable to demo a motorcycle you must have a valid motorcycle license (endorsement) and to ride any of KTM's 690cc and above street motorcycles you must be 25 years or older, and to ride the 390cc motorcycles you need to be at least 21 years of age. Participants 21 to 24-years-old can only ride 390cc motorcycles. While this is a free demo ride event, it is unfortunately open to experienced riders only (no beginners). You must bring a DOT approved helmet and eye protection, and make sure you dress for the ride with long sleeves, gloves, pants, and closed toe shoes.