Chaparral Motorsport Precision Concepts Kawasaki Offroad Team 2019 Glen Helen WORCS Report
Chaparral Motorsports
|
February 4, 2019
Text: Robby Bell
Non-stop rains and treacherous conditions greeted Chaparral Motorsports, Precision Concepts, Kawasaki Team Green and all of the racers at the second round of the 2019 WORCS series. Glen Helen is usually a demanding event because of the variety of rough terrain and the pace the racers are able to push. However, a steady downpour of rain through the weekend made Sunday's pro race incredibly difficult in a much different way. Many sections had flowing water, and the deep mud made the race as much about survival as speed. With that in consideration, the WORCS staff decided to cut the race to ninety minutes, plus one lap, in order to keep a better handle on the course conditions.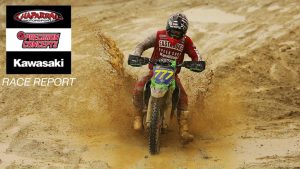 2019 glen helen worcs blayne thompson kawasaki team green precision concepts

Blayne Thompson - 7th place Pro
Just like at the season opener in Primm, Blayne was right behind his teammate heading into the first turn. A small mistake exiting the corner dropped Thompson a couple spots and he settled just inside the top-five early-on. Blayne played it as consistent as possible, maintaining a solid pace with minimal mistakes through the majority of the race. Heading into the final lap, Blayne held down seventh place and kept it smooth and safe to get out of Glen Helen with as many points as possible.

In His Own Words

"Overall, I don't feel like I rode my best, but I didn't ride my worst either. I was second heading to the first corner right behind Zach. But right in the corner I kind of cross-rutted and slid a little bit. A couple guys got around me. I tried to ride my own race from there. I had a couple little issues, falling a couple times out in the back. It definitely started to get sketchy there when it started raining harder and the fog rolled in, so I just tried to keep it on two wheels. Then, on the last lap in a single-track [section], it was at least three or four foot deep [mud] and there were like four or five bikes stuck. I wasn't about to get stuck so I climbed the hill a little bit and tip-toed by. I'm pretty happy just to get out of there safe and salvage some points."

2019 glen helen worcs zach bell kawasaki team green precision concepts

Zach Bell - 9th place Pro
Zach made it two hole shots in two as he crossed the stripe first at the start of the pro race. Bell began to pull out a little gap on the first lap, but unfortunately got stuck in a mud bog. Andrew Short got stuck with him and neither rider could get their bike out on his own. Fortunately, and in a huge show of sportsmanship, another pro racer [believed to be Callum Norton] actually stopped to help them out of the bog. After getting going outside the top fifteen, Zach went to work catching up to the riders ahead.

By the midway point in the race, Bell had worked up to eighth place, with a few spots in sight, but an unfortunate brake issue cropped up, forcing a lengthy pit stop. In the end, Zach was able to salvage a ninth place finish.

In His Own Words

"[The weekend] started off good. We had a good practice. Then, the storm rolled in for Sunday. My race started off good: I got the hole shot. I was leading a little over [half the first lap], then just came to a section and chopped the bike. It looked like [the section] was flat, but it was full of mud and I got stuck. There was nothing I could really do, there was no way I was getting the bike out by myself. Thankfully [Andrew] Short stuck beside me and another rider stopped to help both of us out.

"After that, we tried to catch up as much as we could, but we lost so much time. Then, we had to come into the pit late. But we all have bad races, it's part of racing and it'll make me stronger for the next one. [The result's] unfortunate, but I'm glad I'm safe and healthy and ready to take on the next one."

2019 glen helen worcs clay hengeveld kawasaki team green precision concepts

Clay Hengeveld - 12th place Pro 2, 4th place 450A
Both of Clay's races-Saturday's 450A qualifier and Sunday's Pro 2 main-mirrored each other with Hengeveld showing good speed, but suffering some unfortunate issues. In Saturday's 450A race, Clay got run into off the start, causing him to fall. He was able to get going and impressively charge from just inside the top twenty to fourth in the muddy conditions.

On Sunday, Lil' Henge got off to a much better start, slotting into second early. He got into the lead on the first lap, but dove into the pit for a quick pair of goggles. It was fortunate he did, as lead mechanic Phil Valdez spotted wiring looped around his rear wheel and bent up in the rear sprocket and disc. After getting the wire out, Clay rejoined around seventh or eighth. He was quick to push back up to the podium positions over the next couple laps. From there, a couple mistakes saw Clay drop back to fifth, and then catastrophe struck as a drive issue forced Hengeveld out of the race. Fortunately, Clay had completed enough laps to be credited with a twelfth-place finish.

In His Own Words

"I was kind of looking forward to the rain, actually. I was ready to see what I could do and hopefully get on the podium. Unfortunately, we fell short in the 450A race, and in Pro 2 we had to pull out. Off the start [in Pro 2], it was going pretty well. I started second, so, way better start than 450A. Then, on the first lap I got into the lead. I had to come in to get some fresh goggles and took off a few positions back. After that I was riding super stiff and wasn't too comfortable. Unfortunately, with a few laps left, I was done. So, that definitely was not what I had planned, but there were highs and lows this weekend. I'm just ready to regroup, regain my focus and come out strong for the next one."

Robby Bell, Team Manager

"Mudders are always nerve-wracking. Between questioning if you've taken the right precautions on the bikes, from the mechanical standpoint, to the unpredictability of the race itself, these can be stressful. Unfortunately, on the results side, we weren't able to back up the accomplishments in Primm. But we learned some more, the riders are healthy and we'll come back determined to improve at the next one.

"Blayne had a good race overall. At times he showed top-five speed, but a few mistakes kept him just out of reach. Zach got off to a promising start, but he lost like three minutes on the first lap getting stuck in that mud pit, so that was a bummer. Really cool to hear that another pro stopped to help Zach and Shorty out of the mud, though. That was true sportsmanship. The biggest bummer was Clay's race, as he wasn't able to finish. Fortunately, the Pro 2's get one drop in the championship, and there are plenty of rounds left, so it's not devastating. All our guys enjoy Havasu, so we'll be looking forward to rebounding there!"