Five Takeaways From Supercross Round 4 At Oakland
Chaparral Motorsports
|
January 30, 2019
In years past we've recapped each Supercross race with a series of questions posed to several of our Chaparral Motorsports employees and industry insiders. This year we've decided to change things up a bit and will be posing questions to you guys via our Facebook and Instagram (@chaparralMoto) pages, so be sure to head over and give us your thoughts on our questions. For our blog we are going to give our insight on the Top Five Takeaways from each race. A mix of highlights, lowlights, or just random observations; you'll get to read what we saw, or what we thought we saw.

Editor's note: I have never raced dirt bikes, so I have no personal experience as to the grit and grind these guys sacrifice their bodies to week in and week out. But I love watching the races and respect the hell out of each and every one of them for putting their lives and livelihood on the line each and every time they roll up to the starting line.

Webb Resets Mediocre First Two Seasons in Just Two Weeks
With back-to-back wins Cooper Webb now has a 2 point lead over second place Ken Roczen. More importantly, this also means Webb snatched the red plate from his rival! In just four races (or 1 hour and 44 minutes of racing) Webb has managed to nuke the memories of his lukewarm first two seasons of 450 SX racing. He is extremely hot right now and putting down the performance many thought he was going to deliver two years ago.



Webb earned his second career win on Saturday night in dominant fashion, getting the holeshot and then eventually gapping the second place rider by 7 seconds. Sure his teammate, Marvin Musquin made a great push and nearly caught him on the last lap, but Cooper held his own and kept the mistakes to a minimum to lead all 23 laps. In fact, he's now led 38 laps (AMA stats say 23 laps-I guess they don't count Triple Crown laps?) this season and has doubled the number of podium finishes from his first two years in the 450 class. If Cooper and Roczen can stay healthy this championship race will be one hell of a series.

Austrian Awesomeness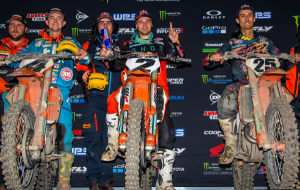 The old saying goes "win on Sunday sell on Monday." In this case it's "win on Saturday," but no matter, after sweeping the 450 podium in Oakland and based on its past couple of seasons, KTM should have no problem selling motocross bikes any day of the week. Actually, between its orange bikes and white Husqvarnas the Austrian manufacturer has dominated with multiple championships in both the 250 and 450 SX and MX series' the past few years. Saturday night the stage was drenched in orange as KTM swept the 450 podium with Webb, Musquin, and Blake Baggett going 1-2-3. I'm sure there was some anxiety building over in Austria when reigning champion Jason Anderson broke his arm in practice last week. But things have probably settled down now seeing as how they have the points lead with KTM Coop, Marvin only four points away, and Deano and his Husky getting plenty of TV time while holding the the 6th spot overall.



French Fried
Question. Is Cooper's performance having an effect on his new teammate Marvin Musquin? Marvin seems like a really down to earth and nice guy. However, after riding in the shadow of Ryan Dungey for years I thought after Dungey's retirement that last year was going to be Marv's year to win a championship. He was pretty close, only 10 points away from taking the crown, and was only off the podium five times the entire season, which is really impressive. But you have to wonder, now that Copper is riding like how many thought he would when he entered the 450 class and is getting a lot of shine for it, is it rubbing Musquin the wrong way? It's hard to tell off the track because he's not a boisterous person and he's most likely mot going to come and and say anything.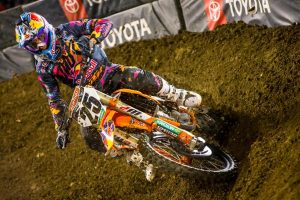 But Marvin isn't exactly letting Webb go either. After giving race leader a run for his money in the first part of the Main and then falling to 4th, Marvin made a hard charge to get back into 2nd. Then with a little more than 6 minutes left and with a 7 second gap separating him from Coop, Marv turned up the heat. In the last 10 laps Marvin put in 8 laps with faster lap times than Webb's and on the final lap had closed the gap to 1 second. It came down to the last turn and if it was any closer with Musquin in position to make a move I wonder how eager he would have been to get his first win of the season and get some sunlight?

250 West Class is Fire
The 250 class is always exciting but this West coast series is exceptionally great. No disrespect to Colt Nichols, but nobody expected him to be carrying the red plate, but there he is with four podiums in a row. There is currently only four points separating the top four riders, Nichols, Cianciarulo, McElrath, and Ferrandis, then there's a nearly 20 point gap between 4th and 5th. Every week it's been anybody's race. Coincidentally, just like Webb in the 450 class, we hadn't seen a two time winner in the 250s until Cianciarulo grabbed the checkers on Saturday.



Speaking of Cianciarulo, I really like the kid; he's got a great personality, gives good interviews, and is just fun to watch. But...as fun as he is to watch, it's also nerve wracking because there's times where he just starts making little mistakes for no reason. I believe he's even admitted that he has trouble getting out of his own way.


Shane McElrath had put in a very impressive heat race on his KTM 250 SX-F after getting clipped from behind by Lopes. They were both right there for the holshot but McElrath had the slight lead, then after the first turn jump Lopes front tire got into McElrath's rear and they both went down. The difference is, McElrath kicked it into overdrive in order to avoid going to the LCQ and rode straight from 18th place all the way up to 6th and nearly took 5th from Pettis. It was a great charge by McElrath.

Lopes had a hell of a night. After his crash with McElrath he wasn't able to regroup like the KTM rider and had to line up for the LCQ. It was déjà vu though for the Suzuki RM-Z50 rider as he had the opportunity for the holeshot but ended up too far to the outside and went over the tuff blocks. And with that his night was done.

Don't Bounce Barcia



Knowing the excruciating amount of pain Justin Barcia must have been in on Saturday night it made me wince just looking at him. There is absolutely nothing you can do for a bruised tailbone but one of the last things you want to be doing is jostling your body up and down across a Supercross track. Between sitting in the corners, the occasional rear fender tap to the butt in the whoops, and seat bouncing, it must have been hell of a ride. But he pulled it off and scored some very valuable points to help keep in in the top five and only 11 points behind Webb. Just shows how mentally and physically tough these guys are.