U.S. Motorcycle Ownership Hits Record Numbers
Chaparral Motorsports
|
January 25, 2019
While it may seem like there's been a grey cloud over the motorcycle industry for the past couple of years, it's not all doom and gloom according to information recently released by the Motorcycle Industry Council (MIC). According to the survey numbers gathered from 2018, the number of motorcycles owned in the U.S. increased by 2.5 million compared to the last time the survey was conducted in 2014. The total number stands at 13,158,100 motorcycles owned, which is 1,453,600 more than the previous record that was set in 2009.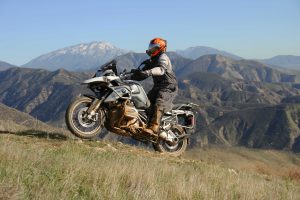 This increase in motorcycle ownership helped push the number of U.S households up to record numbers as well with the MIC revealing that 8.02% of households have a motorcycle compared with 6.94% in 2014. This more than 1% increase means that there are 1.5 million more households, for a total of 10,124,400, that now have motorcycles under their roofs (or outside their front door or back door) compared to 2014. According to MIC President and CEO Tim Buche, this is the number they are always more interested in as it helps spread interest in motorcycling. "The household penetration numbers have always been among the most important figures to us. We're certainly happy to see more homes that have a motorcycle. Riders who talk about motorcycling to friends and neighbors help to inspire people who don't yet ride."

[caption id="attachment_71983" align="aligncenter" width="300"]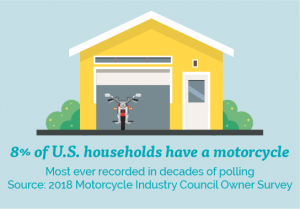 Source: MIC[/caption]



Other good news gleaned from the survey is that the number of motorcycles in use and the number of households or riders with more than one motorcycle also increased. In use motorcycles saw a rise of more than 2 million against 2014 and the number of motorcycles owned slightly inched up from 1.23 motorcycles per household in 2014 to 1.30 motorcycles. According to Jim Woodruff, secretary/treasurer of the MIC Board of Directors and COO of National Powersport Auctions, "The annual pre-owned market is actually three times larger than the new market. Used bikes appeal to many riders because there are so many options in terms of price and style."

The one glaring stat that will upset many motorcyclists is that the percentage of running motorcycles was down three ticks to 93% in the 2018 survey compared to 96% in 2014. A portion of this decline can be directed at the massive population of used motorcycles which may be older bikes sitting around in garages and storage units. Older and popular vintage bikes gathered by collectors and fans that would rather look than ride also account for this slump.

While announcement that delivered this survey info didn't mention any specific numbers in regards to new bike sales we've heard that groups like the hyper sport, sport touring, and cruiser markets are down in 2018 compared to 2017. On the upside scooter, Adventure touring, and motocross/offroad new unit sales were all up in 2018. We've heard that scooter sales were only up a few percentage points, whereas adventure tour and motocross/offroad sales were up somewhere near 20% and 30% respectively.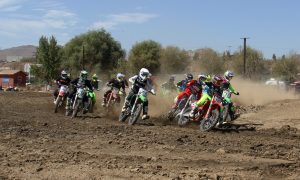 Looking back at what we've seen within our own store and discussed with other industry members these number seem about right. The Adventure Touring market has been growing for the past several years. And now with the addition of mid-displacement bikes such as the yet to be released KTM 790 Adventure, Yamaha Tenere 700 as well as new lighter weight dual sports such as the Honda CRF 405L we expect this trend to continue. In addition, we're seeing that the smaller sub 250cc motocross and offroad bikes are helping to draw in young and inexperienced riders and are accounting for a rise in new bike purchases. We would guess this is partly due to the increased popularity in amateur and youth racing programs such as the Mini Majors, the hugely popular AMA Amateur National Motocross Championship program, and the recently American Motorcyclist Association-sanctioned Supercross Futures.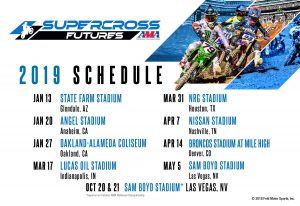 As you can see there are some grey spots, but there's also a bunch of bright spots and then some really bright spots. The used market will continue to be a solid piece of the puzzle to bringing in new riders and with more new electric motorcycles coming to the market soon, who know maybe things will light up across the board.