Top Five Takeaways From Supercross A2
Chaparral Motorsports
|
January 22, 2019
In years past we've recapped each Supercross race with a series of questions posed to several of our Chaparral Motorsports employees and industry insiders. This year we've decided to change things up a bit and will be posing questions to you guys via our Facebook and Instagram (@chaparralMoto) pages, so be sure to head over and give us your thoughts on our questions.

For our blog we are going to give our insight on the Top Five Takeaways from each race. A mix of highlights, lowlights, or just random observations; you'll get to read what we saw, or what we thought we saw.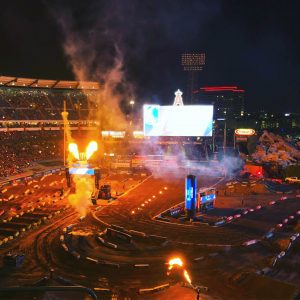 Editor's note: I have never raced dirt bikes, so I have no personal experience as to the grit and grind these guys sacrifice their bodies to week in and week out. But I love watching the races and respect the hell out of each and every one of them for putting their lives and livelihood on the line each and every time they roll up to the starting line.

Three In a Row



Three weeks in a row now we have had three different 450 winners and while that's not all that surprising, what is surprising is that none of them are named Eli, Ken, Jason, or Marvin-you know the guys most of us expect to be on top of the podium. We've also had back-to-back first time 450SX winners with Blake Baggett last week and Cooper Webb this week, pretty awesome! This season really is up for grabs and we could see one of the guys that have been flying under the radar reach out and snatch the crown.



Webb's First Win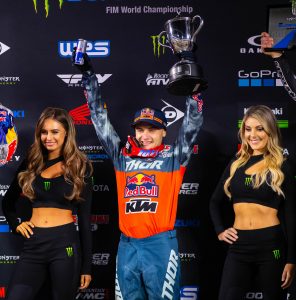 [caption id="attachment_71938" align="aligncenter" width="300"]
Photo: Cudby[/caption]

Webb's first SX 450 victory of his career was nearly perfect and ticked off several milestones in his racing career! He not only won but he essentially won three times in one night. He won two out of the three Main Events and took home the first triple crown of the season. Incredible! Webb's first two seasons in the 450 didn't really deliver the results many had expected-partly because he never raced a full season due to injuries. Granted he was a top 10 overall finisher last season with a 9th place but in his first two years he had only made it to the podium twice. His third place finish in the final main on Saturday night put him on the podium at the end of all three races. He now sits in third place overall trailing behind point's leader Ken Roczen by only 6 points.

Webb spent his first two seasons aboard the Factory Yamaha YZ450 and this year he's riding the 450 SX-F for the Factory Red Bull KTM team. So the question is, is he better suited for and more comfortable aboard the KTM, or is it the infamous Baker Factory training regimen that's helping deliver the positive results? It's most likely a combination of the two as it's been proven multiple times that the Baker and KTM deliver championships. Webb is probably in a different mindset this season as well which is attributing to his success. A fresh reset, another year matured, healthy, and focused-definitely a recipe for success.

Two Race Bikes For Three Races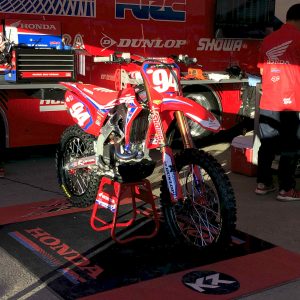 Now into the second season, the Triple Crown events have proven to deliver some exceptionally exciting racing for the fans and a grueling race format for the riders. With limited time between races to address any issues with their bikes, this year race organizers have allowed the riders to tech two bikes. That means if something goes wrong with the first bike in the first main, the riders can opt for their other bike for the second and third mains. The only catch is, whatever bike they ride in the sight lap ahead of each main is the bike they have to ride for that main. Makes perfect sense and is quite a relief for the team, especially the mechanics who often have to scramble between motos to diagnose and repair any issues that arise.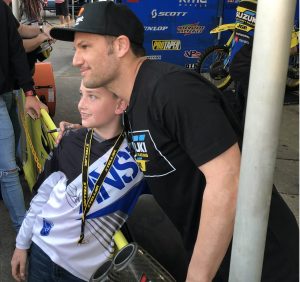 Even with this two race-bike format for the Triple Crown events there's still the chance that some kind of mechanical problem may arise. This apparently happened to fan favorite Chad Reed ahead of the second Main as he opted to pull out just before the gate drop due to a problem with his Suzuki and ended up watching the race from behind the start gate. Reed made up for it though by putting in a really exciting third main. He get off to a great start and was right in the money for the holeshot but got beat out by Tomac. From there he settled into 4th and was mixing it up with Musquin and then holding off Roczen for the first seven laps. Ultimately he finished with a 5th place for the race and 13th overall for the night.

El Chupacabra Chews Up a Tuff Block Cover



Man, sitting up in the stands watching Blake Baggett go from 12th to 21st in the first Main due to a tuff block cover getting caught up in his rear wheel was tough, especially after he pulled down his first ever 450 win last week. Reviewing the highlights video it doesn't even look like that cover was over an actual tuff block. You can briefly see it at the 22 second mark of the video above, the right side corner is totally crushed in and as soon as Baggett puts his left foot on the "block" for support as he gets pinched in the inside corner by Friese, the block completely disappears and the cover latches onto his rear wheel. It appears as though the block that cover was supposed to be on was sitting behind the cover. Was it a false block? Looks like it to me.

Even 250 points leader Colt Nichols nearly got caught up with a tuff block while leading the first main event (30 second mark in video below). Just after taking over the lead from Cianciarulo, Nichols clipped a tuff block at speed and lost control for a split second. Luckily he was able to get through without incident and ride to the win.



Actually, if I'm not mistaken I think one of the Suzuki 250 riders clipped a tuff block (in the same area as Baggett) and spent a ton of time with the track crew pulling, twisting, and turning every which way to get the cover out from the rear wheel. I looked through the highlights and couldn't find it. I can't remember if it was a Suzuki rider or if it was Baggett's scenario ingrained into my head. I just remember cringing as they struggled to get bike free as racer after racer passed by.

I know the tuff blocks are there for the rider's protection but it seems once they start causing problems in a race they continue to cause problems. I remember watching a race last year where multiple riders kept getting tangled up with the same tuff block and the track crew just kept putting it right back in the same spot.

Serious Colt Action



I'll be honest, Colt Nichols wasn't on my radar as a contender for a 250 title; my money is on Cianciarulo. Thankfully that bet is imaginary because if Colt keeps riding the way he has been this season I'd lose. Nichols only has a two point lead over Shane McElrath for the overall lead in the West Coast 250 championship but he just keeps riding so smooth and with such determination that he just might surprise everyone. He's been on the podium at every single race so far and nearly took a podium spot in all three Triple Crown Races except he missed the 3rd place spot by a couple tenths of a second behind his Yamaha teammate Dylan Ferrandis in the final main.

Nichols has led 32 laps this season. That's 24 more than McElrath, 27 more than third place Ferrandis, and nine more than 4th place Cianciarulo. Granted, laps led don't necessarily always equate to race wins or championships, but it does show what a force Nichols has been so far this season. I didn't go back through the records but I would bet that those 32 laps are more than he's ever led in his entire professional 250 Supercross career. I'm sure he's going to add to that lap total and more than likely make a few more podium appearances as well.