ChapMoto/Precision Concepts/Kawasaki 2019 Primm WORCS Report
Chaparral Motorsports
|
January 21, 2019
Text: Robby Bell
The first round of the 2019 WORCS series was a successful one for Chaparral Motorsports, Precision Concepts, Kawasaki Team Green. Conditions couldn't have been much better as mid-week rains made for perfectly wet sand. Zach Bell and Blayne Thompson finished second and third, respectively, in Sunday's two-hour Pro main event. Additionally, Clay Hengeveld earned his first career WORCS Pro 2 victory, while also winning Saturday's 450A qualifier.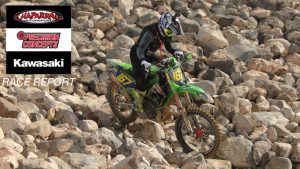 Zach Bell - 2nd place Pro

Zach's race got off to the perfect start as he grabbed the holeshot. The Team Green rider lead the first lap before being overtaken by Taylor Robert following a tricky rock section, which was added for the pro race. From there, Zach stalked Taylor, staying between three and ten seconds behind for over an hour as the two pulled away from the field. Unfortunately for Zach, his hands started to blister badly around eighty minutes in. Though he tried to push through, Bell was forced to slow his pace the last few laps. Still, he held on for second, and a great start to the season.

In His Own Words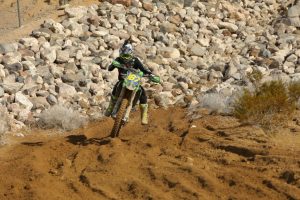 "It feels good [to finish on the podium]. I got off to the holeshot. The Kawi ripped the start and I got out front. Taylor got by me on the second lap and I just kind of tailed him for a little over an hour. We had a really good pace going, we were definitely going for it. Then, my hands just kind of fell apart and I just played it safe and rode it in. I'm just going to keep building, working on the bike and myself and we'll come swinging for the second round."



Blayne Thompson - 3rd place Pro

Blayne couldn't have gotten off to a much better start, bettered only by his teammate. Thompson slotted into second early on, but a couple first-lap mistakes saw him drop outside the top-five. After regrouping, the Team Green racer began picking up his pace and reeling in the riders ahead. By the midway point of the race, Blayne had worked all the way back up to third place. Though he started to receive a little pressure from behind late in the race, Thompson was able to respond, drop his lap times, and finished with a comfortable gap in third.

In His Own Words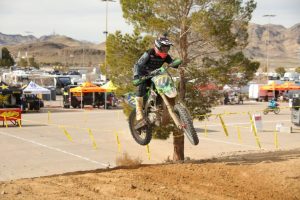 "Usually I throw it away in the first couple rounds of WORCS [laughs]. So, it actually feels pretty good to get on the podium at the first round. We're going to try to keep it going. My ride went really well, overall. I made a couple mistakes in the first thirty minutes. So, I fell back a little bit. But around the forty-five minute, or hour mark, I got into a pretty good grove. I put down some fast laps, caught back up, made my way back into third and held it to the finish. At the next one I'm going to try to not make those mistakes, find that grove on the first lap, send it the whole race and see what we can do."



Clay Hengeveld - 1st place Pro 2, 1st place 450A

Clay's weekend started in Saturday's 450A race, which was a qualifier for the Pro 2 finale on Sunday. With thirty-eight riders entered, the WORCS staff split the start into two rows, each scored based on their elapsed time, to qualify for Pro 2. Though he started on the second row-a minute behind the first-Clay worked his way physically into second place and took the win by just shy of a minute.

Just like his teammates in the Pro class, Clay got off to a great start on the Pro 2 line, grabbing an uncontested holeshot. Clay briefly lost the lead to Tallon Lafountaine on the second lap, but quickly regained the top spot and pulled out a gap. Clay had a couple run-ins with lapped traffic in the tricky rock sections late in the race, which cut into his advantage. However, Hengeveld was able to keep a strong pace to the finish and take his first career WORCS Pro 2 victory.

In His Own Words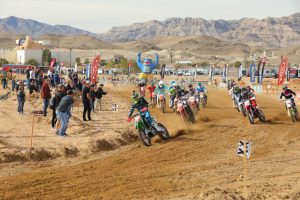 "I've been waiting for this [win] for a while. Last year when we were here I was close to my first win, but unfortunately, I had a mistake and crashed out. But I came back strong for 2019 and I'm so pumped and looking forward to a lot more. The race went pretty well, I got the holeshot. Then, I got passed by Lafountaine, but he actually went down and I was able to hold my lead from the second lap to the finish. I did have a little issue one lap in the rock section with a downed rider, but other than that the race was really, really good!"



Robby Bell, Team Manager

"I don't think I could have asked for a much better start to the season. Well, I suppose I could have, but it would feel a bit greedy. It was fantastic to see all three guys up front off the start of their respective lines. That was a bit of an advertisement for the Kawasaki and the Antigravity Battery we use!

"Zach had a great race. He was riding smooth and smart, tailing Taylor. It was unfortunate his hands went away, but we learned and I'm confident he'll be even better at round two. Blayne equally had a great ride. He was able to recover from a few early mistakes and put down some really good laps late in the race, showing he's strong and fit. Clay's ride couldn't have gone much better on paper, leading wire-to-wire, but I know how he is. He'll want to improve and clean up a few things and I think he's only going to get better. We'll continue development on the bikes as well. We have a great base already, but have only tried a couple different settings and we're learning more every day. I think the ceiling is going to be pretty high!"