Michelin Announces New Anakee Adventure Tires
Chaparral Motorsports
|
January 8, 2019
(Press release) Greenville, S.C., Nov. 2, 2018
- The new MICHELIN® Anakee® Adventure motorcycle tire, available starting in January 2019, has been approved as original equipment for the BMW R 1250 GS. The selection reinforces the collaboration between BMW Motorrad and Michelin, both world-renowned brands acclaimed for their expertise and exacting standards.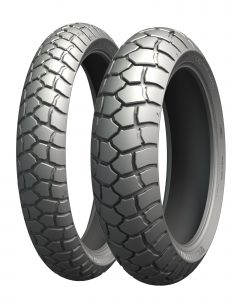 The MICHELIN Anakee Adventure tire joins Michelin's versatile Adventure Touring tire range alongside the existing MICHELIN® Road 5 Trail tire (for 100% road use), MICHELIN® Anakee III tire (for 90% road and 10% off-road use) and MICHELIN® Anakee Wild tire (50% road and 50% off-road use). This latest addition to the range, which is designed for 80% road use and 20% off-road use, means Michelin's touring tire range now provides optimum performance for demanding riders across all aspects of adventure touring.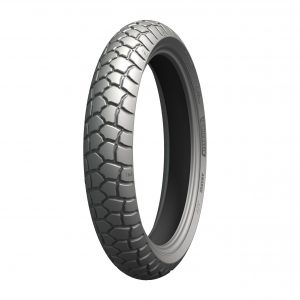 The MICHELIN Anakee Adventure tire stands out notably for its exceptional grip on wet roads, which is due to its new-generation, silica-enhanced compound. It also combines outstanding performance in dry weather with stability and resistance to wear thanks to two Michelin-patented technologies: MICHELIN® Dual Compound 2CT and MICHELIN®Dual Compound 2CT+.

Meanwhile, its new, open tread pattern provides necessary traction for the transition to unpaved tracks and trails.

"Our partnership with BMW Motorrad dates back to 2005, when we initially equipped the iconic BMW GS series," said Matthew Ye, senior vice president worldwide for Michelin's two-wheel business line. "The new MICHELIN Anakee Adventure tire is designed to address the needs of those BMW Motorrad customers who essentially use their adventure bikes on ordinary roads but who occasionally like to indulge in a little off-roading."

Key Features include:
Tremendous Wet Grip
New silica tread compounds provide tremendous wet grip for added confidence on slippery wet roads

A New Level of Stability
MICHELIN Bridge Block Technology™ introduced on MICHELIN Anakee Wild tires combined with
MICHELIN 2CT+ Technology™ in the rear tire provides a new level of on-road stability

Precise Handling and Longevity
The optimized profile combined with all-new tread pattern and MICHELIN 2CT compounds are designed
to provide precise handling and long-lasting performance

Confident Off-Road Traction
The fully grooved geometric tread pattern is designed to deliver uncompromising traction off-road

Editor's note: MICHELIN Anakee Adventure tires are now available at Chaparral Motorsports.