Five Takeaways From Supercross A1 2019
Chaparral Motorsports
|
January 8, 2019
In years past we've recapped each Supercross race with a series of questions posed to several of our Chaparral Motorsports employees and industry insiders. This year we've decided to change things up a bit and will be posing questions to you guys via our Facebook and Instagram pages, so be sure to head over and give us your thoughts on our questions.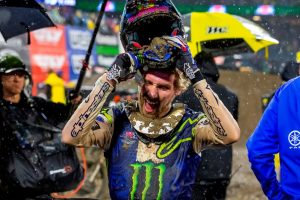 For our blog we are going to give our insight on the Top Five Takeaways from each race. A mix of highlights, lowlights, or just random observations you'll get to read what we saw, or what we thought we saw.

The Season Opener Was a Sopping Wet and Muddy Banger



It had been 245 days since the 2018 Supercross season wrapped up in Las Vegas with its first Champion not named Ryan in almost a decade. Fans were itching for the bar banging excitement that tight quarter racing Supercross racing brings and Saturday's opener delivered in spades. As expected, the Pit party was bumping, fans were huddled around barriers at the big rigs trying to catch a glimpse of their favorite riders. Rain had been threatening to come down most of the day but it wasn't until around 5 p.m. when we started getting hint of what was to really come later.

Due to the wet conditions and to help preserve the track, instead of the traditional ride in announcements of the top 450 riders during the opening ceremonies, the riders were raised from under the center of the main stage like a sci-fi soda machine presenting your selection. Not as fun as the wheelies and transfer jumps we typically see, the crowd was still stoked for the start of the season and cheerer their favorite riders as their names were called. As you might expect, Chad Reed was by far the crowd favorite with Angels stadium erupting in excitement as his name was called.

Light on and off rain early in the night program led to a slippery first turn that only got worse once the drops became heavier and more persistent leading into the 450 main. It hadn't rained at A1 in quite a few years so it made the start of the season much more unpredictable and thrilling to watch. It was well worth the eight month-long wait.

Barcia's Back on Top



While it had been eight months since the last Supercross race of the 2018 season, it had been even longer since Justin Barcia took the top spot on the podium-a lot longer, like 5 years 8 months and 16 days since he'd won a SX race. Barcia wowed the crowd with a steady and consistent main event ride that allowed him to methodically reel in race leader Dean Wilson and then make a clean pass for the front spot. In fact Barcia was nearly flawless all night on his Factory Yamaha YZ450F. He qualified first, won his heat race and then after starting 4th in the main got around reigning Champion Jason Anderson by the third lap and began to chop away at the lead Malcolm Stewart had on him.

By lap 12 Mookie slipped going into a turn and briefly went down which left the door open for Barcia to pass and focus on Wilson. After watching the 15 number plate of Dean Wilson's Husky lead the entire race, fans saw the numbers transpose when with 4:40 left on the clock the lead 15 number plate became 51 as Barcia passed Deano in corner. As slippery as the track was, Barcia whose nickname is Bam Bam, made a nice clean pass on Wilson without can contact and was gone. At one point Barcia had a nearly 8 second lead on Roczen who had taken over the number two spot. When he crossed the finish line Barcia had a 3 second lead on Roczen.

As mentioned in our Five Things To Watch article leading in to the race, Barcia was a fill in rider at this same time last season, so this first place finish was a great way to start off his season and reassure the Yamaha factory team that they made the right decision in giving him a full time ride.

Don't Doubt Deano



Dean Wilson stunned and pleased a lot of people by getting a great jump at the start and was able to navigate the slick first turn in to the holeshot. With the pack behind him Deano had a clear path ahead that enabled him to focus ahead and run his race. He managed to lead for 3/4's of the race first holding off Mookie and then Barcia for a time. As the lappers started to stack up his clear path became cluttered with obstacles and the lines he had been nailing alone now had to be carefully navigated or ditched all together.

Not only was his path a murky mess, it appears his vision wasn't so clear anymore either as he finished the race with no goggles. Even though he didn't get the W or a podium spot it was a great night for Dean as he logged 2nd in qualifying, 2nd in his heat race and finished it all up with a 4th overall.

There was a lot of speculation that he'd pick up a full factory spot from Husqvarna after Zach Osborne went out with a collar bone injury. While it was offered, Dean made it clear that he's happy with the collective of sponsors he's put together and is sticking with the "privateer" route. The Rockstar Husqvarna team is helping him though with parts, some travel money, and working on his bike-so he's living the best of both worlds and if he keep performing like he did Saturday night everyone should be happy.

Anderson's Backward Slide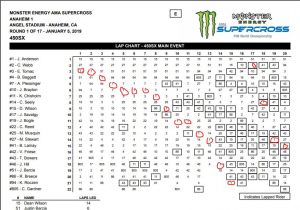 By the time the 450 main started the rain had picked up and made for much slicker conditions but no one seemed to slip more than the reigning champion, Jason Anderson. He looked good at the start of the 450 main taking the inside on the first turn and coming out right behind Deano and then settling into third for the first two laps. But then things went south as he began a backward slide, slowly slipping further and behind the pack ending with a 14th overall.

I'm not sure if it was the mud or nerves but the Champ just didn't look like his smooth and consistent self. There's still a ton of racing left in the season and as we know anything can happen but, it's a little nerve wracking to realize that Anderson beat out Musquin for the title last year by only 9 points and he's currently 17 points behind Barica. It's probably better to get the bad one out of the way early, he's got plenty of opportunities to make up the points.

Colt Nichols Blew The Doors Off the 250 Class



After chasing Shane Mcelrath out of the first turn, Colt quickly jumped into the lead and locked it down. The Star Racing Yamaha rider not only led the pack for all 16 laps but maintained a large lead that allowed him to fly across the finish line 16 seconds ahead of his teammate Dylan Ferrandis. I'm sure Nichols felt a ton of pressure leading the field and was probably sweating each turn and whoop section, but he handled himself calm and collectively without a hiccup. Most people most probably didn't have Nichols on their radar for the win at A1, but after that spectacular performance in less than ideal conditions, things just might change and if they do, this could be a very interesting 250 West battle.