Yoshimura Introduces 2008-2018 Suzuki Hayabusa Alpha T Full System
Chaparral Motorsports
|
December 20, 2018
(Press release)
Few motorcycles have the legacy that the Suzuki Hayabusa garners. The 1300cc inline 4 cylinder engine is still one of the fastest production motorcycles on the planet.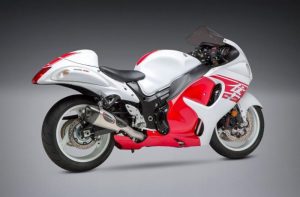 Yoshimura decided to step up the game for the "Busa" and offer our single sided Alpha T Race Series for this legend. The sound our Alpha T generates is nothing short of breathtaking. The Alpha T makes the beastly Suzuki motor growl with excitement!



Not only sound but performance has been refined as well. This new system boosts race peak horsepower up 8.3% and peak torque up 9.7%. WOW! Lastly, this race series system removes an incredible 34.5 pounds! You heard right, Busa owners, what are you waiting for?