Chaparral Motorsports, Precision Concepts, Kawasaki Finalize 2019 Plans
Chaparral Motorsports
|
December 17, 2018
(Press release)
Riverside, CA -Chaparral Motorsports, Precision Concepts, Kawasaki Team Green has finalized their 2019 plans. Former motocross standout and 2017 West Coast Grand Prix pro-class champion Zach Bell joins the roster for 2019. Joining Bell for their second respective seasons with the team are Blayne Thompson and Clay Hengeveld.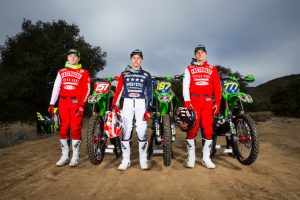 Says Robby Bell, race team manager, "As the new season approaches, I'm feeling incredibly optimistic. We have three very talented riders and a brand new KX450, which has absolutely shined in our preliminary testing. The updated features of the bike, like the hydraulic clutch, more powerful motor, improved cornering, not to mention the electric start, are going to be a big asset to our guys. I'm excited to have Zach Bell joining the team. With his combination of raw speed and his humble attitude, I see him achieving great success. Blayne Thompson is back for his second year with the team. Blayne's coming into the new season healthy and hungry, and with the new 450 under him, I'm looking forward to seeing Blayne achieve his potential and winning races. Like Blayne, 2019 will be Clay Hengeveld's second year on our team. Clay will continue his development in the Pro 2 and A classes, where I'm confident he'll be a dominant force. Our drive is to provide the riders the best effort and environment we're able to so they can achieve their goals and have a good time along the way. With the support of Kawasaki, Chaparral Motorsports and our entire list of team sponsors, I believe we're in a great position to do that."



"I'm really excited to join the team." commented Zach Bell. "I just want to get the ball rolling and get some good finishes. I was with Team Green since I was six or seven, all the way up until I went pro [in SX/MX]. Kawasaki has been family to me. I'm glad to get back to where I was basically raised and looking forward to getting on a really good bike."

"The new bike is hands down going to be a game-changer." remarked Thompson. "We had the bike this year set-up pretty well, but with the new bike we're going to have no problems going for it. The team's been great. I wouldn't change it for anything, it's the best thing that's happened to me [in my career]."



Looking ahead to 2019, Clay Hengeveld had this to say, "I want to give my absolute all and work as hard as I can. I want to accomplish my goal of getting a [WORCS] Pro 2 championship. I've been on Kawasaki for my whole big-bike career and it feels amazing to have Kawasaki behind us. It just makes me want to work that much harder to show them that I can win on their motorcycles and get championships."



The three riders will compete in the 2019 WORCS and Sprint Hero sprint enduro championships, with Bell and Thompson contesting the pro class on their Kawasaki KX450's, while Clay Hengeveld will chase the pro 2 and 450A championships.