Kymco Introduces New Noodoe System On Like 150i
Chaparral Motorsports
|
December 12, 2018
We can connect our smart phones to just about anything these days. From door bells to BBQ thermometers, heck we can even keep tabs on that pot roast in the crockpot. Getting connected to your smartphone while on a motorcycle has typically been achieved via a Bluetooth communication device mounted on your motorcycle helmet or through options like Yamaha's Power Tuner App that connects via WIFI to the YZ 450F.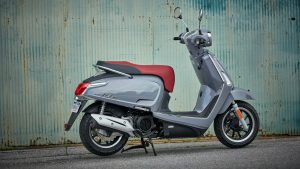 While the scooter world isn't typically bustling with hot new news or tech, other than a new electric scooter hitting the market, Kymco put some buzz into the market with the announcement of its new Noodoe system on the Like 150i. The first scooter to incorporate a smart dash, once connected via the downloadable app you are welcomed into a world of customization through your fingertips and information displayed in the centrally located circular screen mounted between the handlebars.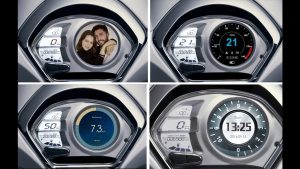 From helping you remember where you parked, to greeting you with your own favorite image upon startup, the Noodoe smart dash can do quite a bit. You can see the forecast for your ride, be notified of missed text messages or phone calls, see Facebook notifications, and be guided by GPS to your destination, points of interest, or to the nearest gas station when your start to run low on fuel. Of course rider's safety is a key priority so certain information and displays only become available when the scooter comes to a stop.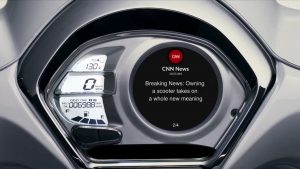 The Noodoe app offers a bevy of options from pre-designed dashboards to the ability to customize your own dashboard and share with others via the Noodoe cloud. Kymco is hoping that cloud connectivity will not only encourage users to share their dashboard creations with one another but also help turn the entire Noodoe experience into a social network.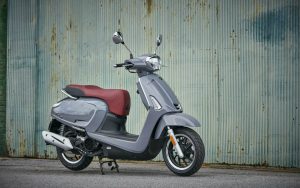 Praised by many for its affordability and ease of use for city commuting and runnig local errands, the Like 150i remains basically the same with its 150cc single cylinder engine piping out a little more than 13 hp and 8.7 lb-ft of torque. What users really like about the scooter though is its gas sipping ability to get 85mpg, enabling multi day stretches from gas stop to gas stop for most users. The under-seat storage comes in very handy as well for the grocery runs.


Who knows, maybe the Noodoe system will grow into something much more sophisticated like offering an autopilot mode and helping Kymco become the Tesla of the scooter world. Or at least be able to tell the crock pot to keep dinner on warm because you're going to be 20 minutes late.