Quick Look: SSR Motorsports ABT-E350 Kids Electric Quad
Chaparral Motorsports
|
November 27, 2018
|
Last Updated: August 28, 2020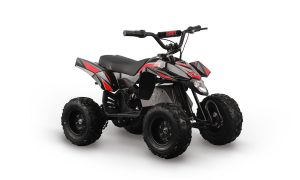 The old saying "The family that plays together, stays together" can mean different things to different families. For those that enjoy spending their time outdoors, exploring, and revving throttles that typically means dirt bikes, ATVS, or UTVs. Amongst these vehicles there's typically something for everyone to enjoy, even little rippers. There's 50cc dirt bikes such as the Yamaha TT-R50E as well as quads like the Yamaha YFZ50. With their ability to reach speeds in excess of 20mph, even with safety features such as throttle stops and rev limiters, these combustible engine kids quads and dirt bikes can be nerve wracking for some parents and a bit overwhelming for smaller/younger riders who are just learning the ropes. And that's exactly where the ABT-E350 Electric Quad (MSRP $564) from SSR Motorsports comes into play.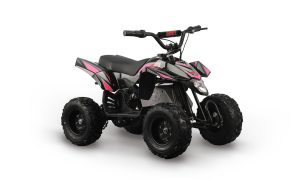 Powered by a 350-watt rechargeable battery that's capable of delivering a top speed of 9 mph, the SSR ABT-E350 is a great option for parents who have a little one that hasn't fully mastered the ability to independently balance a two wheeler but want to introduce them to the concept of throttle control and spatial awareness. With a seat height of only 21" and spacious foot platforms it's easy for shorter riders to climb on board and feel comfortable and safe. At mere 88 pounds, the ABT-E350 only weighs a fraction of the Yamaha YFZ50's 220-pound wet weight. Its overall size is a bit smaller too, making it much less intimidating to small kids and isn't as cumbersome to lug around for parents. The E350 is so lightweight and compact it's easily transportable and can even fit into most large trunks.
Unlike the plastic quads and jeeps that many parents opt for when looking for a little four wheeler, the E350 is designed for durability and to withstand the "learning curve" most beginner riders go through. It features a steel tubular chassis and steel wheels wrapped in offroad worthy pneumatic rubber tires. There is a throttle grip on the right side handlebar and on the left side is a handbrake that actuates the disc brake assembly connected to the rear axle.
With a seat height of only 21" and spacious foot platforms it's easy for shorter riders to climb on board and feel comfortable and safe. The only suspension on this quad is provided by single adjustable, coil-over, rear shock-there is no suspension up front-but shouldn't be an issue with the 9mph top speed.
Actually, if you find that the top speed is still too fast for your newbie rider, there is a switch under the seat that allows you to toggle back and forth between low and high power. An LED indicator incorporated into the throttle control assembly lights up to show battery level. A full battery charge takes about six to eight hours and will net around an hour of play time depending on power level, weight of rider, terrain, and several other factors. The charger and cable is included and the charging port on the quad is located on the right side of the plastic engine cover, next to the power on/off switch.
Aside from being light weight, easy to use, and less intimidating than a 50cc dirt bike or quad there are several other benefits to the SSR ABT-E350. It's nearly silent so it can be ridden practically anywhere without disturbing the peace. There's no need to keep a supply of fuel and oil on hand to keep it running. They are available with either red, blue, or pink graphics to satisfy demanding riders who must have their favorite color. And you can't beat the sub $600 price tag. For that amount the money you could get two SSR E350s to one Yamaha TT-R50Es (MSRP $1,699) or spend a couple hundred dollars more than you would on Barbie's plastic jeep and have something that will actually hold up to some mini offroad action.
If the ABT-E350 doesn't appeal to your little rider or you're strictly a dirt bike family, then the Stacyc 12EDrive or 16EDrive may be options to consider. These are little push bikes that come with removable/rechargeable batteries that basically turn them in to tiny electric dirt bikes. Priced at $649 and $699 respectively, you can get a pair of Stacycs for less than a mini Yamaha dirt bike.