Honda Introduces Ridgeline-Pioneer 1000 Offroad Mash Up Concept At SEMA
Chaparral Motorsports
|
October 30, 2018
Have you ever wondered what would happen if Honda's SUV/truck hybrid, the Ridgeline, and its 1000cc UTV, the Pioneer, mated? Neither have we, but the team over at Honda R&D Americas seems to have some rather perverse predilections and we must admit, the resulting vehicle has us kind of turned on.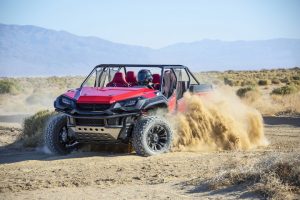 Red ROAV(er) Red ROAV(er)
Meet Honda's Rugged Open Air Vehicle (ROAV) concept. Debuted today at the SEMA show, this concept vehicle sports the silhouette of a compact trophy truck with the open cockpit of a side-by-side. The vehicle sports a mix mash of a modified Honda Ridgeline body and suspension components with Pioneer 1000 doors and other bits.



The interior/cab area is a combination of Honda's SUT and UTV parts with the driver sitting behind a Pioneer 1000 steering wheel mounted to a Ridgeline steering column. The door nets from the Pioneer have been carried over to protect the passengers. Interestingly, Honda dipped into it performance oriented car parts bin by providing seating with waterproofed Civic R Type seats, for a more sportier feel we assume. A pair of dash-mounted Ram Mounts lock in the driver and passenger's phones to capture offroad selfies and video.





Of course the key feature to this vehicle is the main component that both the Ridgeline and Pioneer share-the bed. Quite a bit bigger than the bed found in the Pioneer, the ROAV's bed was based on the Pioneer, however it doesn't appear to offer the same tilting (dump bed) action.

With large offroad tires, aluminum skid plates, and a front bash bar this concept vehicle looks like it could handle a fun day of shenanigans skimming across the high desert or traversing some desolate jeep trails.



Side-by-side enthusiasts have been itching for Honda to release a more sport-oriented vehicle to complement their line of work UTVs, so maybe the introduction of this concept vehicle is a sign that something is coming down the pipeline soon?